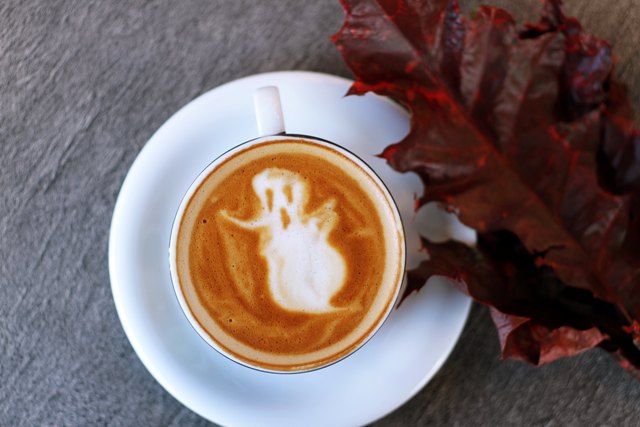 Photo by Toa Heftiba on Unsplash
Don't let the kids have all the fun this Halloween! These Valley restaurants are offering up some frightfully fun dishes and discounts.
Alice in Wonderland-themed Hatter & Hare in Phoenix hosts a spooktacular Halloween holiday event on Saturday, Oct. 27, beginning 5 p.m. Guests can enjoy Malice and Wonderland, specialty "Toxic Tea" and "Killer Cocktails;" music by DJ Riot Earp; and a costume contest with a chance to win cash and prizes. Late-night dining will be available until 2 a.m. (Admission is free; food and drinks will be available for purchase.)
Camp Social celebrates Halloween with a special "Camp Crystal Lake" (from "Friday the 13th") celebration Oct. 27 to Oct. 31 until 2 a.m. Guests will enjoy drink specials including the "Orange is the New Black," "Zombie Juice" with glow sticks, a "Bloody Good Time" Bloody Marys during Saturday and Sunday brunch, and more. Food specials include shareable "Mummy Cookies" featuring pumpkin-flavored Pizookie-style dessert with vanilla ice cream while guests can also enjoy a pumpkin-launching contest ($5 per pumpkin to participate; all proceeds will benefit the Susan G. Komen organization), spooky Halloween classic films on all of the televisions, themed music, creepy guests available for photographs and more. Guests who bring in a carved or drawn pumpkin will receive a free s'mores dessert. On Halloween night, kids can enjoy a pumpkin-drawing contest from 6 to 7 p.m. ($5 to participate; all proceeds will benefit the Susan G. Komen organization). (Admission is free; food and drinks will be available for purchase.)
On Oct. 31, guests can enjoy a nice treat: Dinner on Us (buy one entrée, get the second one free) from 4 to 10 p.m. at Salty Sow in Phoenix.
Guests can enjoy 25 percent off of their entire bill after 6 p.m. on Halloween night at the Vig Restaurants on Oct. 31. The offer will be valid at any of the five Vig restaurant locations: Arcadia, Fillmore, McCormick Ranch, McDowell Mountain and Uptown.
Chase's Diner is offering a special Halloween Pie from Saturday, Oct. 20, through Wednesday, Oct. 31. The "Worms and Dirt" chocolate cream pie features buttermilk pie crust filled with homemade chocolate cream and topped with homemade whipped cream, cookie crumbles and gummy worms. An entire pie is available for $11; cost per slice is $3.75. Also, on Halloween Eve (Oct. 30), from 4 to 9 p.m., children who come in dressed in costume will receive a complimentary treat bag.
Grimaldi's Pizzeria is having an Anti-Halloween dinner on Oct. 30 and Oct. 31. This dinner is $50 per check which includes a salad of your choice, 16-inch one-topping pizza, a bottle of 19 Crimes wine and caramel apple cheesecake.
Marcellino Ristorante in Scottsdale will dish out a "Malocchio" Evil Eye cocktail that will be offered for $15 from Oct. 31 through Nov. 3. The blood red drink is made with the rich coffee liqueur of Kahlúa and black Sambuca topped with fresh whipped cream, a red sugar rim and an "evil eye" for protection against ill wishers.
Inspired by the upcoming release of "Halloween" in theaters, both of these limited-time cocktails are wickedly delicious and available at certain Harkins Theatres through the end of the month. The Bitter & Twisted features Maker's Mark bourbon, Cointreau, lemon juice and club soda and is available at Camelview at Fashion Square, Estrella Falls 16 and Scottsdale 101 14. The Blood Orange Spritzer with Prosecco, San Pellegrino Blood Orange Soda and passion fruit puree is available at Arrowhead Fountains 18, Chandler Crossroads 12, Chandler Fashion 20, Superstition Springs 25 and Tempe Marketplace 16.
On Saturday, Oct. 27, Two Brothers Tap House & Brewery will host a costume party complete with a costume contest, and a pumpkin-painting and -carving contest. After trick-or-treating on the 31st, parents can bring their kids in to continue the Halloween festivities with a kids costume contest, a dog costume contest and a mini-pumpkin-painting contest. Each of these events will feature its signature Halloween cocktails, The Bloody Sunrise, Vampire Drop and Blood Orange Sangria, as well as food specials.
In honor of the season of ghosts and goblins, Luci's at the Orchard and Luci's Healthy Marketplace are taking pre-orders on Halloween-themed soft sugar cookies. They are available in ghost and jack o' lantern shapes for $3.49 per cookie and $33.49 for a dozen. Call 602.633.2442 or 602.773.1339 to pre-order.
Hula's Modern Tiki is scaring up an all-new menu of Halloween-themed Tiki cocktails. Served all October long, enjoy a spooky spin on the classic Pina Colada (aka the Pina Ghoul'ada), sip on a Old Fashioned spiced with house-made pumpkin pie simple syrup, or gather the whole gang and order the Witch's Brew, a seasonal twist on Hula's signature Scorpion Bowl that's been transformed into a boiling cauldron thanks to activated charcoal and a garnish of of creepy-crawly critters (serves two to four guests).
You are invited to join the holiday fun at Rainforest Cafe's Spook-tacular Halloween on Thursday, Oct. 25, at 5 p.m. Families will enjoy fun activities including free arts and crafts, games, raffles, prizes and much more. Attendees will also meet the lovable red-eyed tree frog Cha! Cha!, and children are encouraged to wear their Halloween costume. During the event, the restaurant will offer a $9.99 kid's buffet and Halloween cupcakes. Call 480.418.7340 to reserve a seat. Additionally, Rainforest Cafe is offering a free kid's meal with the purchase of an adult entrée to children who dine in costume on Halloween night, Oct. 31.
Available only on Wednesday, Oct. 31, Chef Christopher Gross of Geordie's at Wrigley Mansion is serving a ghoulish take on a old-school French dish, calves brains.  The brown butter-sautéed calf brains, or Cerveaux de Veau, are served with vinaigrette de xeres and priced at $20.