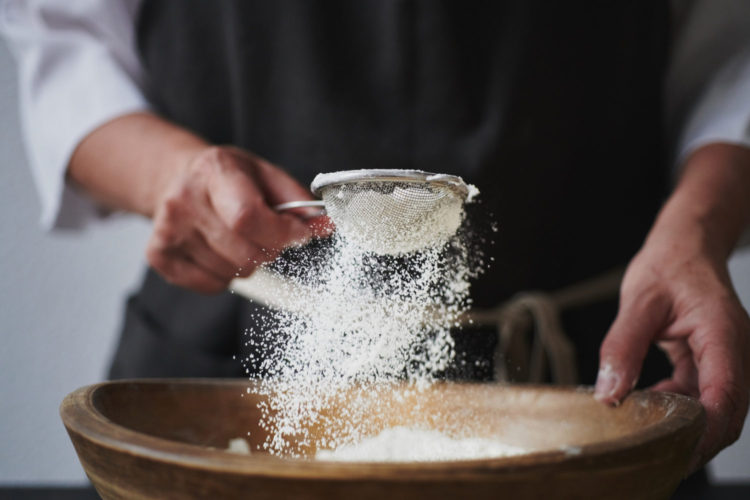 By Anna Brown, Executive Pastry Chef of CIVANA
All-purpose flour (AP) is one of the most common ingredients in baking and cooking. However, many seek gluten-free (GF) options due to celiac disease and other food sensitivities. Want to learn more about GF alternatives to AP flour? Look no further.
Coconut Flour:
Coconut flour offers a mild coconut flavor and light texture that yields similar results to AP. This flour is high in the saturated fat lauric acid, which provide energy for the body and can help lower "bad" LDC cholesterol. This flour is a good source of fiber and can help maintain blood sugar levels. This is also a great alternative to those with nut allergies.
Almond Flour:
One of the most common grain- and gluten-free flour, that is rich in minerals and is a great source of vitamin E. It's also a wonderful grain-free alternative to breadcrumbs. You can typically substitute wheat flour in a 1:1 ratio. If you are baking with this type of flour, use one extra egg, but note the batter may be thicker and more dense.
Oat Flour:
Oat flour offers more flavor than AP and results in a chewier, crumblier texture. Oats contain a soluble fiber called beta-glucan, which can help lower "bad" LDL cholesterol, blood sugar and insulin levels.
Oat Bran:
Oat bran is more of a raw form than flour with a lot more nutrients with an oatmeal texture. Oat bran is high in soluble fiber and packs more protein than rolled or quick oats, which may suppress hunger hormones and boost fullness hormones. Oat bran is high in beta-glucans, a type of soluble fiber that may help reduce cholesterol and blood pressure — two key risk factors for heart disease.
When baking, Bob's Red Mill is one of my favorite shops to source unique flours and organic baking products. One product I use frequently is the 1:1 GF baking flour, which is a blend of GF flours and starches like xanthan gum. This all in one mix is ideal for cookies, cakes and muffins. It also does not contain added gelatins and milk powder which is great to keep items vegan.
Tips When Baking with Gluten Free (GF) Products
Low Temperatures.
Bake at a lower temperature than normal. I prefer baking at 325 degrees.
Avoid Bulk Batches.
GF recipes tend to turn out better in smaller batches, so avoid making recipes in bulk. The end product will be more structurally sound and less crumbly.
Secret Ingredient – Apple Cider Vinegar.
When making GF cakes or muffins I always add in raw apple cider vinegar (roughly 1 tsp per cup of flour). The acid in the vinegar reacts with the soda releasing carbon dioxide. This forms bubbles and assists the GF product to rise. In the end, it creates a fluffier, less dense product.