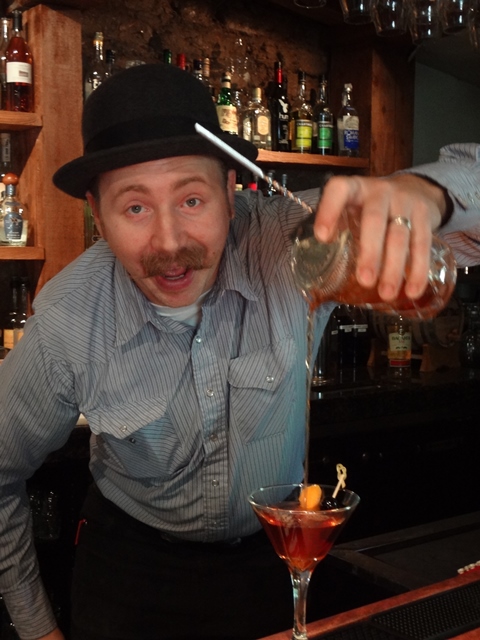 After getting to sample eats (get the sausage pizza and PBJ sliders!) and drinks at the revamped Last Drop at The Hermosa Inn, we just had to get to know the resort's Spirit Guide Travis Nass. (In addition to divine cocktails, the new menu boasts amazing and innovative floats as well as as a selection of refreshing mocktails.) Nass says…
Have you always had a love for the culinary arts?
Since I was a kid, I loved cooking and experimenting in the kitchen. I started my career in the kitchen in college, but it was clear from the beginning that my love for people and my love for culinary creativity was best met behind the bar.
Tell us about the new Last Drop.
We've taken Last Drop from a boutique cocktail program to a casual chic dining option, set aside Lon's fine-dining. Chef Pacheco has gotten creative with the food menu to include offerings such as foie gras, PBJ sliders and wood-fired pizzas and that allows me to get creative with pairings – be it floats and mocktails to classic cocktails and drinks I create on the spot. The casual couches, daily happy hour and live entertainment also bring a new vibe to Last Drop that is really refreshing and appeals to a much broader audience.
What is one cocktail everyone should know how to make? 
Probably the most important cocktail nowadays is a sour, if not only for its versatility. Two parts spirit to one part lemon or lime juice and one part simple syrup. With gin or vodka, it is a gimlet; with rum, it is a daiquiri; whiskey, scotch, and brandy are your standard sours; and all are delicious. But if you are doing a sour with a liqueur, I would do two parts liqueur to one part lemon or lime juice.
What is the difference between mixology and bartending?
A great mixologist knows how to curate and create a great cocktail list. A good bartender knows how to make a good drink, makes guests happy, works well with volume, makes employees/employers happy, keeps the work environment clean and organized, is a salesman, a psychologist, a teacher and a friend. I think you can't be successful unless you are both.
Where does your inspiration stem from?
Antique cocktail books, boutique spirits, and local seasonal produce.
Favorite…
Midnight snack: Chartreuse gummy bears.
Pizza topping: Duck confit.
Breakfast cereal: Sugar Smacks in a White Russian.
Valley restaurant: Rancho Pinot. Duh.
Culinary travel destination: New York. Nowhere else in the world can you visit so many amazing cocktail bars in such a small area!