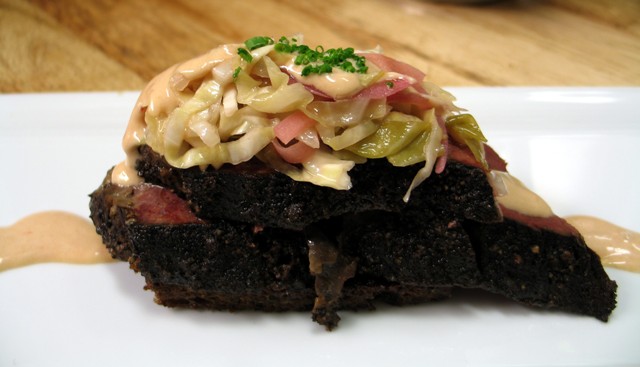 On Thursday evening, Phoenix's NOCA restaurant will be hosting a Four Peaks tasting event. The Tempe-based brewery will supply its award-winning beers–all year-round selections–which will be paired with six delectable courses. Here's the menu:
First Course
Fluke
Pickled Radish, Rice Crunchies, Ponzu Gelee
Sunbru Kölsch-Style Ale
A very light golden ale that is malty sweet, almost honeylike in the nose. This ale has a light-to-medium body and a very delicate flavor. Easy drinking, it has very low bitterness and a soft dry finish. This style originates from the city of Cologne, Germany where all 28 breweries are dedicated to brewing only Kölsch.
Second Course
"Bacon and Eggs"
Onion Jam, Crispy Poached Organic Egg, Blis Maple Syrup
Hefeweizen
This is a Bavarian ale which uses 51 percent wheat malt in the recipe. Very low bitterness. It is unfiltered so the characteristic cloudiness is achieved. The haze comes from suspended yeast. Hefe-Weizen literally means "yeast-wheat." The aroma is reminiscent of cloves and banana and is put out by the yeast. While some of this aroma carries over to the flavor, the dominant flavor is the malty wheat.
Third Course
Wagyu Pastrami
Pickled Cabbage and Red Onion, Pumpernickel, Russian Dressing
Hop Knot IPA
Hop Knot IPA get its peculiar name from the weaving of four different hops added at four separate times during the brewing process, including the cavernous hop-back. Hop Knot is an ale that is to be enjoyed with friends, spicy food or any time you need a good hop fix without the harsh bitterness.
Fourth Course
Columbia River Salmon
Melted Spring Onions, Asparagus, Wild Mushrooms, Bearnaise
The Raj India Pale Ale (IPA)
A strong India Pale Ale that is marked by intense hop flavor and high hop bitterness. This style of beer needed the high hop and alcohol to survive the trip around Africa. Medium-to-light body and very bitter.
Fifth Course
Berkshire Pork Tenderloin
Mustard Spatzle, Caramelized Napa Cabbage, Baby Carrots, Smoked Shallot Jus
Kiltlifter Scottish–Style Ale
Four Peaks's flagship ale. This is an ale made in the tradition of the great strong ales of Scotland. Amber colored, malty sweet with underlying note of smokiness.
Dessert

Warm Chocolate Pudding
Chocolate Pudding, Pretzel Crumble, Oatmeal Stout Sorbet
Oatmeal Stout
The Oatmeal Stout differs from the popular Irish stout in its more subtle roastiness and subdued dryness. The addition of flaked oats rounds out these sometimes harsh characteristics producing a velvet smooth ale. This black stout has a flavor profile unique to all of North America–rich and eminently drinkable.
The dinner is $85 per person. Call for reservations. 602.956.6622,
www.restaurantnoca.com
.