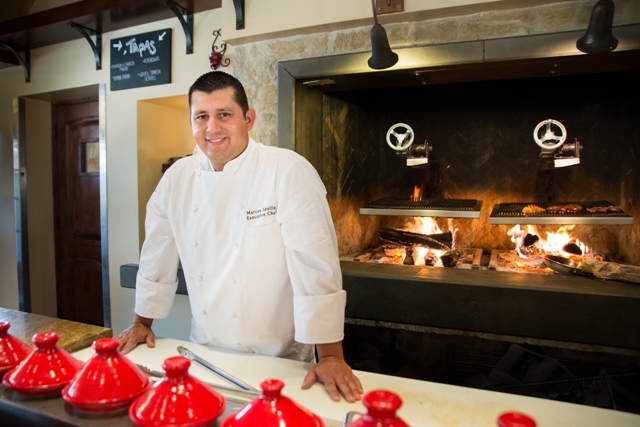 Prado at Omni Scottsdale Resort & Spa at Montelucia is celebrating the small plate at its fabulous tapas bar. Here, Executive Chef Marcos Seville gives us a finger-lickin' lesson in Tapas 101.
What are tapas? Invented in Andalucia, Spain, tapas is Spanish for "to cover" and were originally saucers placed over wine glasses to keep the fruit flies away and also serve as the perfect dish to place small tasty tidbits as patrons travel from bar to bar in Spain. They are also referred to as "pinchos" since many offerings are skewered with toothpicks.
What is special about the tapas bar at Prado? Prado's tapas bar is an open-air wood-fired grill and the perfect spot to have an interactive meal with the tapas chef and friends. The menu is designed to mix and match seasonal and traditional small Spanish dishes along with creating a custom charcuterie board that allow for a unique sharable experience. Top it off with a traditional gin tonic and live Spanish guitar and you have the perfect meal!
What are your favorite tapas on the menu? By far, my favorite is the grilled lollipop lamb chops with mint pesto and the albondigas with sofrito. The sauces are all scratch-made daily and have such a robust, fresh flavor to them.
What do you recommend pairing with tapas? We typically offer a flight of Spanish wines in addition to crisp, house-made, fruit-infused red and white sangrias. The sweetness is a nice complement to the savory and salty flavors from the tapas. Salud!
Why are tapas great for entertaining? Tapas in general are easy to make but pack a lot of flavor. With a variety of offerings, they please a lot of palates, especially for those that may have dietary and gluten restrictions, vegetarians or those looking for a heavy protein diet like paleo. Tapas are celebrated for the social and causal element it can bring to your party.
What are your go-to items when to making the perfect charcuterie board? Start by selecting a variety of hard and soft cheeses that you love as well an assortment of cured meats. Many grocers now have a large variety of international cheeses and meats so it's an easy way to experiment with flavor,s and you can prep ahead. Some of my favorites are jamon serrano (dry, cured Spanish ham) and mildly spicy chorizo (dry, cured Spanish sausage) paired with a hard, mild Manchego cheese and soft pungent blue cheese called Valdeon. We serve our boards with an assortment of marinated Spanish olives, Marcona almonds, dried apricots and guava jelly.
Are there dessert tapas? Yes! We offer a Tapas Tour, which gives patrons the chance to sample the entire menu, and it ends with delicious creamy baked brie infused with Meyer lemon jam that we make from fruit harvested on property. It's accompanied with slices of hearty crusty sourdough bread that we bake daily and it has a wonderful rich, sweet and tangy ending.