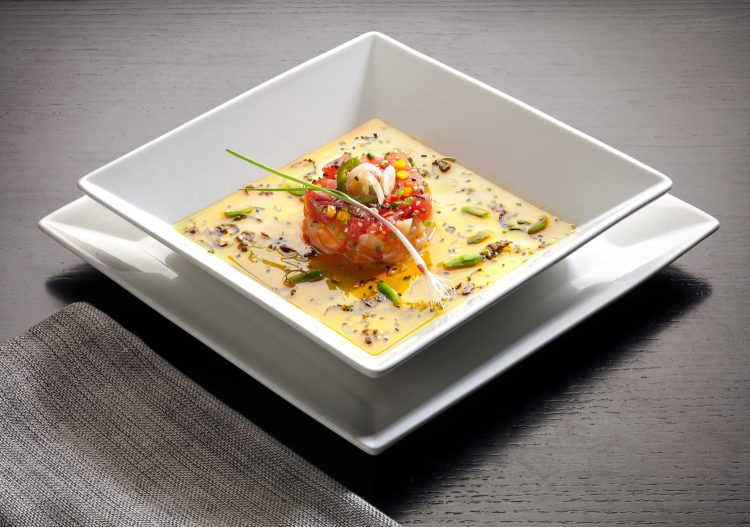 With the arrival of spring's warm weather and lighter dining, there's no better time to try the selection of freshly made ceviches at deseo, the award-winning signature restaurant at The Westin Kierland Resort & Spa.
Low in fat and high in protein, ceviche is an increasingly popular dish for those in search of flavor-packed healthy options. Originating in South America, ceviches with unique ingredients and styles are part of the cuisine of Peru as well as the nations of Ecuador, Chile, Columbia, Cuba and Mexico to name a few. At deseo, the talented culinary team starts with the only the freshest, highest grade of fish available, which is cured in citrus juices and then expertly seasoned with a variety of chili peppers and often with cilantro, salt, onion and avocado or plantain.
Among the most popular dishes for ceviche novices and veterans alike is the signature Millionaire Tacos, which feature a delicate and delicious combination of hand-formed yuca flour taco shell filled with lobster, ahi tuna, and Japanese Hamachi, a mild fish often used in sushi. Another favorite, the Rabo Amarillo ceviche combines Yellow Tail with a sweet and spicy Aji Amarillo chile sauce and Leche de Tigre, a mouthwatering, Peruvian-style lime juice marinade. For ceviche traditionalists, the Mixto Clasico offers chunks of sweet lobster, shrimp, scallops, calamari, octopus, crab, red onion and sweet potato.
These are only a few of the menu of ceviches prepared to order nightly at deseo.  Meaning "desire" in Spanish, deseo offers a passionate and lively dining experience like no other in Arizona including live painting by renowned, resident artist Nelson Garcia-Miranda, lively Latin music and atmosphere. The restaurant's inventive menu showcases imaginative and bold Latin-
influenced dishes with a distinct and skillfully blended combination of flavors and spice. The menu is complemented by an award-winning South American wine list and freshly made muddle drinks.
For information or reservations for deseo, call 480-624-1202 or visit kierlandresort.com