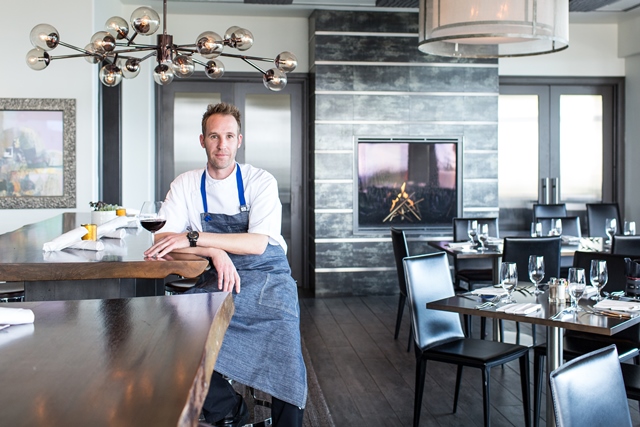 With his post at Flourish at CopperWynd Resort & Club, Chef Paul Steele celebrates his first executive chef position, though he has been in the restaurant biz for some time. Read on to see what excites him about the Valley dining scene, what inspired him to be a chef and, of course, his favorite ice cream.
Have you always been interested in the culinary arts? What drew you to become a chef?
Food has always been something I've gravitated toward since I was very young growing up in Texas. Cooking and making food from scratch was such a big part of my early family life. I was always interested in seeing "how" food works, the science behind great ingredients and flavor. I also loved seeing people enjoy the food you prepared for them – that's always a great feeling.
What is a must-try on your new winter/spring menu?
Staying true to the ingredients available for you use that season is important to me. I try to reflect that on all of my new menus and dishes this season.
What ingredients and/or dishes should at-home chefs try out this season?
Just focus on great ingredients, and work from there. You can take one basic ingredient and do so many interesting things with it. No one ingredient has one purpose, and that's the magic of cooking.
What is most exciting right now to you within the Valley's growing dining scene?
I liked seeing a return to simplicity – to food that looks like food, to simple plating. Using incredible ingredients, in season, and letting them do most of the work.
This is your first executive chef role at resort. What has surprised you about being in this position? What are you excited about?
Working at a hotel allows you to build unique relationships with guests. The same guest who came in for breakfast that morning will often return for lunch or dinner later that same day. It becomes an interesting way to shape a diverse range of experiences.
Where do you draw inspiration from with your new menus and dishes?
Seasonality, but also: who walks in the front door. Working at a hotel you meet guests from all over the country – and the world. Exploring and understanding guests' many different tastes and expectations can be both challenging and exciting.
Fave pizza topping: Simple, fresh-sliced tomatoes.
Fave dessert: Ice cream, particularly at 1 a.m.
Fave drink: I love a good hefeweizen, or a glass of pinot.
Fave midnight snack: Whatever's in my fridge. I'm not a picky eater, just more of a picky cook.
Fave cereal: Classic Raisin Bran.
Fave ice cream flavor: One of my guilty favorite's is "Jimmy Fallon's Late Night Snack" flavor by Ben & Jerry's. Vanilla, caramel, fudge, potato chips – it has it all.
Photo credit: Grace Stufkosky