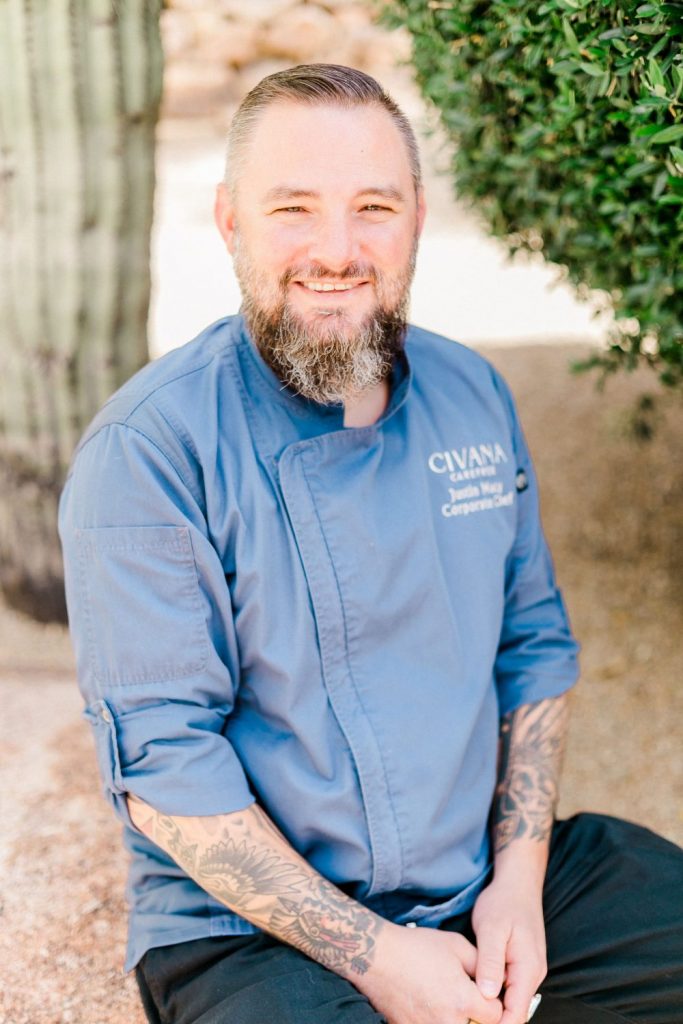 Get to know Corporate Executive Chef Justin Macy of CIVANA Resort & Spa and why the resort's Terras and Café Meto restaurants should be top-of-mind when craving healthy eats.
How did you get into the dining realm? I started out in fast food at age 16. My life changed drastically that year, and I needed a better job to support myself so I went to work in a professional kitchen at Miraval Resort and Spa in 1999. This wasn't supposed to be long term as I didn't really want to be a cook. Before I knew it, I was sucked in. I loved the energy and fast pace in the kitchen.
In a sentence, describe Terras. Terras spotlights seasonal, local ingredients and bright flavors to create innovative, nourishing and flavorful menus.
How do you set your restaurants apart from others in the area?  Terras and Café Meto are unique to the area. Cave Creek and Carefree are very much about local ingredients and purveyors. At Terras and Café Meto, not only do we source local and organic items that are healthful, but we also strive to give our guests a nourishing experience through our food and service.  
What do you consider Terras' can't-miss dish? That's a tough one! I would have to say our heirloom beet salad. Not only is it easy on the eyes, but the flavors are meant to take guests on a culinary journey; from the earthy sweet beets, to the crunch from the pepitas, to the hint of sour from the lemon.
Being the chef at a wellness resort, how does that label affect your decisions in the kitchen? It's all very natural. I have been cooking in wellness resorts for over 18 years. For me now, it excites me to bring a different style of cooking to cooks who have never cooked without butters and creams. Being a chef at a wellness resort also makes you a better chef long term. If you can create great tasting things that are healthy, you can make anything taste good.
I understand CIVANA has debuted culinary classes. Why were those added to the resort's wellness courses and what can participants expect? We sure have! At CIVANA we want to offer an unforgettable experience from pools to spa services and, of course, cooking classes. Our guest can sit in on one of cooking demonstrations, where they learn healthy cooking tips and get to taste our new creations. If they have a sweet tooth, they can hang out in one of our baking classes with our pastry chef and finally learn how to make that really good gluten-free muffin! We will also offer hands-on cooking classes this fall. What better way to learn than with one of our chefs. Of course, if guests just want to unwind and have a cocktail, they can join us for our Shake and Stir class where we teach them how to make some crafty cocktails and delicious small bites to pair with it. Our most popular is our juicing class. Here guests learn how to prepare yummy juices and all things they can do with the fiber.
What is the most rewarding part of your career? Most challenging?  Seeing the surprise on guests' faces when they try our food and say, "this is healthy?? Really?!" YES, it is! That is the best. Staying cutting-edge with today's food world is most challenging as it changes so quickly. It makes for long days in the kitchen.
What are your hopes for the restaurants long-term? I want Terras and Café Meto to become brands in people's mind that when they eat something healthy something and new, they think of us! I want our restaurants to be the voice and future of all healthy food.