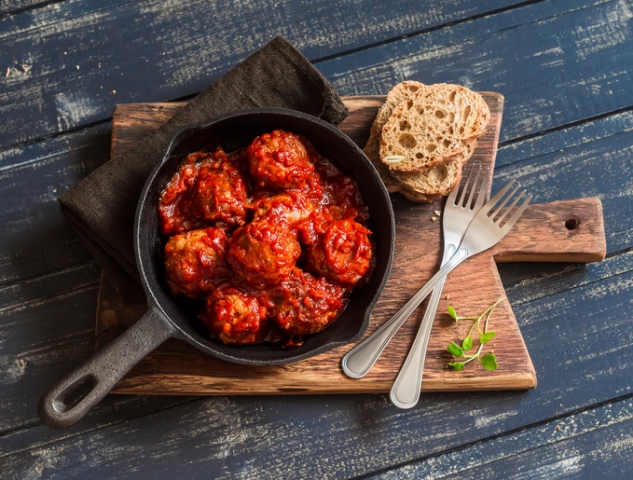 Happy National Meatball Day! March 9 marks this delicious holiday–and we're ready to celebrate. Here are the top places in the Valley to sink your teeth into these comforting, savory balls of goodness.
TopGolf just announced the season 2 winner of its Chef Showdown competition cooking series. The winner, Cat Colaizzi's dish, the spring meatball platter (chicken and lamb blended meatball with arugula, shredded carrots, pickled onions, honey balsamic vinaigrette and a tzatziki sauce) is now on the menu.
Tomaso's Italian Restaurant, dishing up some of the best Italian food in the ​V​alley since 1977, serves rigatoni​ with Meatballs Amatriciana. The combination of braised pancetta, tomato sauce, amazing meatballs and shavings of pecorino cheese round out this classic Italian dish.
St. Francis, a family-owned neighborhood favorite in Phoenix, offers a flatbread from a wood-fired oven called ​Moroccan Meatballs. The dish comprises tender meatballs​ with spiced tomato sauce, pearl pesto and a cheese blend, served with olive oil toast.
Spinato's Pizzeria boasts five Valley locations and serves a ​Trio of Meatballs, three homemade ​meatballs with mozzarella and your choice of marinara or vodka cream sauce.
Oregano's Pizza Bistro offers the ultimate comfort dish: ​two HUGE Meatballs. This family-owned Arizona favorite takes an old family recipe from Chicago to make their meatballs from scratch daily, then covers them in mozzarella cheese and homemade marina sauce. ​
The Strand, an urban-Italian restaurant in Downtown Phoenix, makes a mean Meatball Panini. The meatballs are prepared by Italian chefs, with authentic ​tomato sauce, a three-cheese blend and fresh basil during lunch hours. –Lisa Cardinale