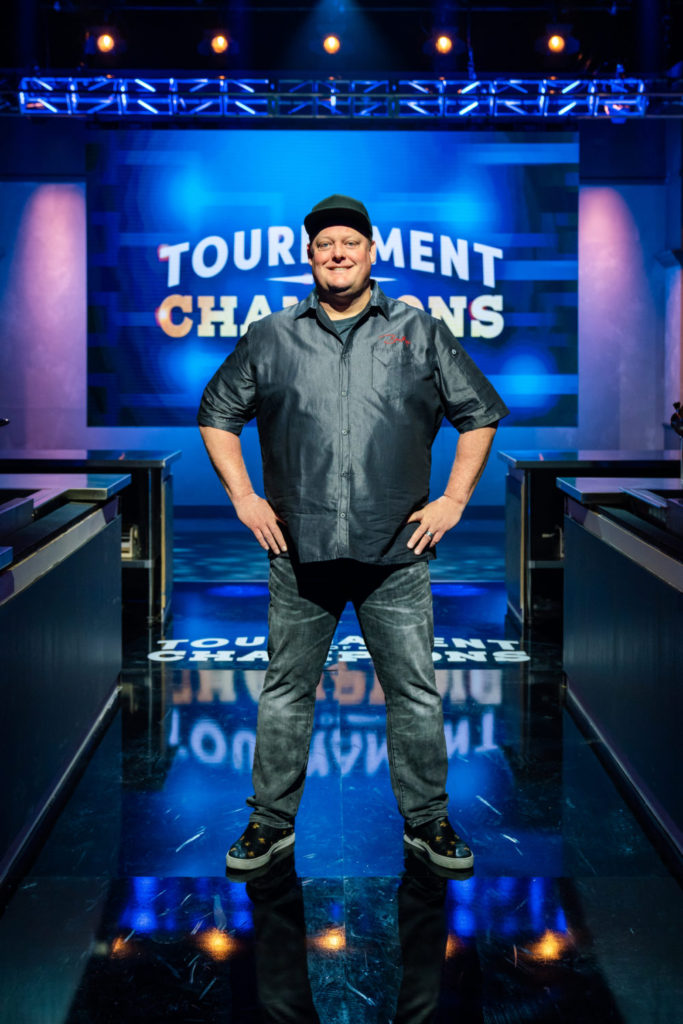 Winner of Iron Chef America and local culinary superstar as Sanctuary Camelback Mountain Resort's Executive Chef, Beau Macmillan has taken the Food Network stage once again on the latest show Tournament of Champions. Hosted by Guy Fieri, the show features 16 fan-nominated chefs who will face off in a bracketed-style head-to-head showdown where each round is sudden death. Adding to the intensity, each round's protein, produce, equipment, cooking style and time is determined by a randomizer, meaning anything is game. The show will decrease from 16 to eight, then four, until there are only two chefs standing in the final round on April 1.
We chatted with Macmillan about his experience during the ultra-intense show, what he thinks sets him apart from the other chefs and more. Catch Tournament of Champions on Food Network every Wednesday at 10 p.m.
You were nominated by fans for Tournament of Champions. What was that feeling like?
There's a lot of rewarding parts of the show but that's one of the biggest. I've been lucky throughout my whole Food Network life since back in 2006 when I started out on Iron Chef and then I worked with Guy on Guy's Grocery Games and it's just a really cool stage and opportunity to gain those fans. So to be able to be included with these 16 chefs from around the country, it was just a super big highlight. It was awesome.
You're no stranger to the Food Network. How did this experience compare to some of the other shows you've been a part of?
This experience had so much. I've worked in so many different spaces but with Guy everything he touches is like gold. His personality, his style, he always wants to do it bigger and better and make it more challenging. He always wants to turn up the heat, so when you're in a bracketed competition with 16 chefs and it's a one-and-done episode until you make it all the way, it's intense. I remember with Iron Chef I couldn't sleep for a couple weeks. This was the same thing. The show is going to live up to all the drama and hype. I felt every single emotion I could feel.
Were there any particular ingredients or a cooking style that you were hoping you wouldn't have to come up against in the cooking competition?
Not really. I love all different types of food. And one thing I knew going into it was they would have every type of equipment, an amazing pantry, butchery and dairy products and everything that you needed. What it comes down to is you're your own worst enemy in these competitions. You can get inside your head and do too much. What really wins is the person that shows the most restraint and does the least, but does it unbelievable.
Do you feel like you did the best that you could do and fared well?
It was phenomenal. I'm very happy with everything from head to toe. There's one person walking away with the championship and then there's others walking away that lost on the show but at the end of the day, I think everybody gained something from it and it was fair and it was awesome.
What, if anything, do you think set you apart from the other chefs that were competing?
There's so many talented people but when I was coming into these earlier competitions, I was one of the younger guys and now I'm one of the older guys so I have a little bit of experience. I also compete on Guy's Grocery Games all the time. I'm a judge and have been on the show since day one. But Guy wants his judges to compete; he doesn't want people judging that don't have the guts to get up here and do it themselves. That might have been the advantage to me because you're put in these unbelievable situations where curve balls come at you and things can change in a minute. You've got to be ready to handle that mentally, physically and emotionally and get it done. So that's where I think my biggest advantage was, is how many times I've competed in this style beforehand or similar.
Did you bring anything back from this experience or learn anything new?
After every battle I compete in, there's such a sense of satisfaction. The pressure builds and builds and builds and when you get through it, there's a sense of relief. Yes, everyone loves winning and everyone hates losing but you still learn so much about who you are and I learned so much about myself in regards to discipline, acceptance, winning and losing. There's probably way more to learn from not being successful in a culinary competition than there is from winning. You strive to be better. I live for those moments. I have a ton of respect for chefs that are willing to get out there because at the end of the day they are bettering themselves and who they are as chefs.
From your own personal experience on the show, what are three words to summarize the show for you?
100 mph, high octane, high energy. Buckle up and let's roll! —Interview by Suzanne Koch