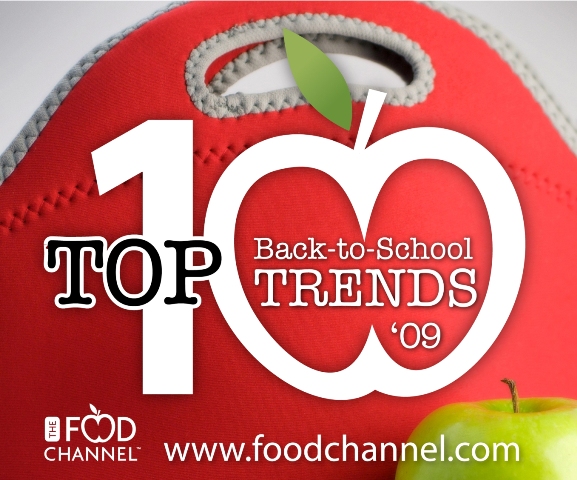 Now that school is officially back in session, FoodChannel.com has released a list of fun back-to-school food trends that are taking cafeterias by storm. (Many of these great ideas pertain to you too, moms and dads.)
1. It's in the Bag: This year, it's all about what you carry. Don't worry about a designer lunchbox, but do think about food safety and practicality–those are winners when it comes to school lunches. Choose a bento box for the child who likes to compartmentalize his food. Turn lunch into an art project with a DIY metal lunchbox that can be personalized.
2. Green is the New Brown: When it comes to snack bags, think recycled, biodegradable or compostable. We predict more people than ever will be choosing reusable snack bags.
3. Let Them Choose: The trend is all about "my way." Making choices starts earlier these days, so let kids practice by giving them a say in what goes in their lunch. It's as simple as giving them a weekly list or a brown paper bag on which to record their choices.
4. Think Fresh: Fresh and local is a trend we see across all categories. Fresh fruit or vegetable sticks are still great to include, and they'll be sure to eat them if you include a local geography lesson prior to packing. That means taking them to the local farmer's market to choose their own apples, and reminding them where the apples came from when you hand them the bag.
5. Push Portability: Even the cafeteria line has gone portable, as schools and universities eliminate those plastic trays. So whether you are buying or packing, we predict portability will be important to you when school starts again.
6. Carry Your Own Water…Bottle, that is: Sure, that's a great lesson for kids who need to learn to do their share. It's also a way to protect your kids and get some extra nutrition in their diet.
7. Make it Healthy: We predict that you'll see lunchboxes full of antioxidant-rich foods. The trend is for students to be attracted to healthier items. Maybe it's a sign that we can mark that obesity trend off our list.
8. Be the Mom with a Heart: Back to school means back to fundraising, so go ahead and do your part. We predict more schools will be choosing food items for their fundraisers–it just makes sense in a difficult economy.
9. Think Social: Social media, that is. School mealtimes are more about time together than they are the meal. This is when you'll find students (assuming cell phones are permitted in their school) Twittering, texting and talking online.
10. The New Home Ec: Your kids are getting exposed to space age vending machines like the one that bakes fresh pizza in minutes. They are already used to ordering their pizza via text message. We call it the "new home economics" because we need to prepare ourselves, and our children, for the cooking of the future. Make sure you know what is available in the vending machines on the school grounds, and know the school rules about delivery.