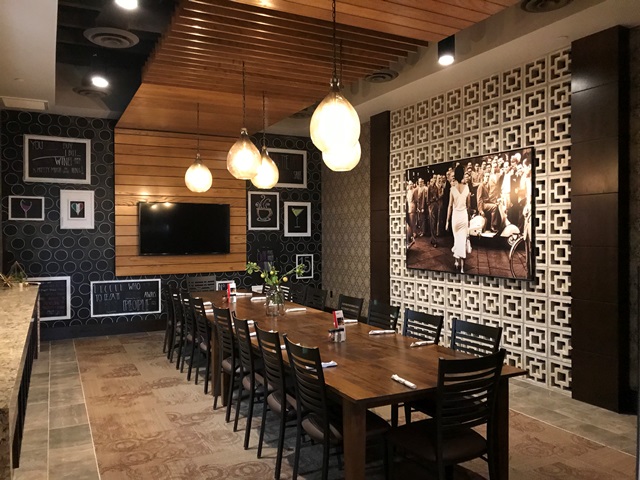 In April, Arizona-based and family-owned Babbo Italian Eatery opened its eighth restaurant in the Valley, this time at Talking Stick in Scottsdale. We had the chance to check out the new restaurant and dig into some of its fresh menu items.
Before even setting eyes on the menu, diners will be impressed by the clean-lined modern good looks of the Scottsdale outpost. The large bar is the centerpiece of the restaurant, surrounded by traditional tables and big, cozy dark blue booths. The lighting throughout the space is super chic, including the circular light chandeliers that oversee the dining room, and the space is filled with beautiful, eye-catching tile work. Even the outdoor seating area designated for those awaiting a table is thoughtfully designed with cozy sofas, an indoor/outdoor fire feature and a sleek chevron tile pattern on the wall. Overall, Babbo seems like the restaurant that can fill all parties–from families with kiddos to co-workers seeking happy hour to couples on date night.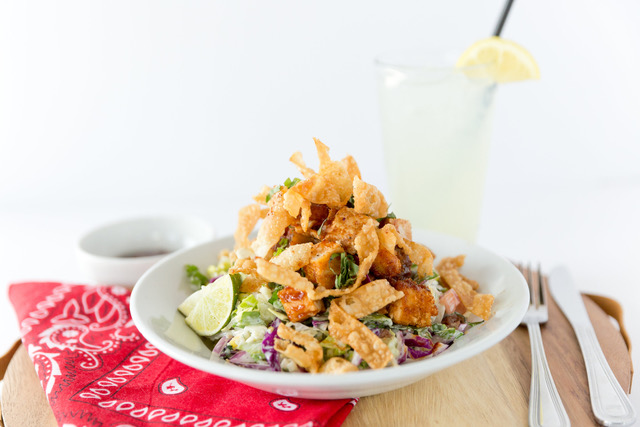 During a recent lunchtime visit, we dug into two of the newer menu options: the fig jam, prosciutto and arugula pizza and the BBQ crispy chicken salad. The pizza, which is featured on Babbo's list of Neapolitan-style thin-crust pizzas, features gouda, Italian sausage and prosciutto that pairs perfectly with the sweet and fruit fig jam. The pizza is finished with a crown of peppery arugula, adding a dose of brightness to the 'za.
Though an unexpected option at an Italian eatery, after trying the BBQ crispy chicken salad, it is now among our favorite Babbo dishes. The salad is a hearty bowl of mixed greens, tomatoes, corn, red onion, bacon, jalapeños, almonds, mozzarella, cilantro, wontons, lime juice, ranch dressing and, of course, crispy barbecue chicken. The sweetness of the chicken (there was quite a bit of chicken, even in the smaller-size salad) and corn balanced deliciously with the smokey bacon and creamy ranch dressing. The almonds and sprinkling of wontons on top provided the perfect dose of crunch, too. This crowd-pleasing dish is sure to win over that one person in your party who wasn't craving Italian food.