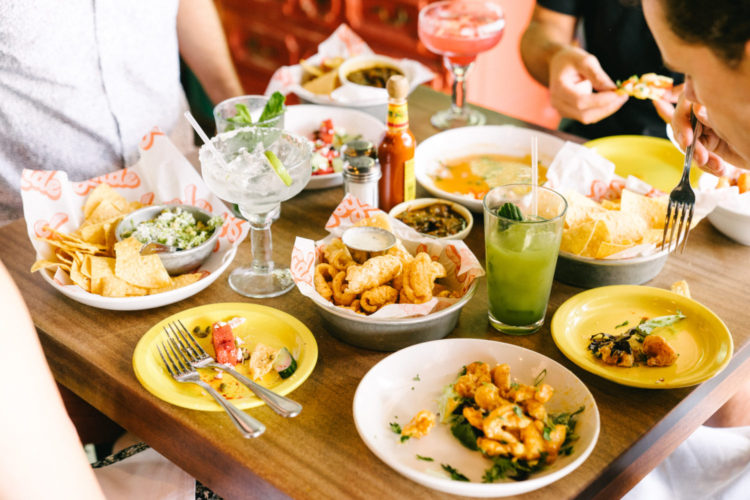 During this time of uncertainty, one thing remains the same: nothing is more comforting than a delicious meal. To support local restaurants over the next few weeks and provide great eats to its loyal guests, many Phoenix favorites have announced take-out, delivery and curbside pick-up–in addition to freebies, discounts, bulk meals, sale of pantry essentials and other great resources–to see us through. Plus, click here to check out the Valley breweries and wineries offering their goods to go or via delivery!
Jalapeno Inferno is offering a Quarantine Happy Hour Package to enjoy at home for $50, with one pound of chips, one pint of salsa, queso and the makings for more than 20 margaritas. For $60, families can order up all the fixings for fajitas or enchiladas, plus chips, salsa, rice and beans (a $90 value). 
Born & Raised Hospitality, including Clever Koi, Across the Pond and Fellow Osteria restaurants, are transitioning to takeout/curbside/delivery-only.  This programming with provide a 25 percent discount on all regular menu items when ordered for pickup. Discount doesn't apply to delivery. Mobile transactions available in advance of pickup. 
Upward Projects locations, including Postino WineCafe, Federal Pizza, Windsor, Churn and Joyride Taco House (pictured), will be moving operations to to-go only, serving guests through curbside pickup and delivery. Visit www.upwardupdates.com for the latest communication on behalf of all Upward Projects brands. This will include information on efforts to give back to those in need, curbside and delivery specials, and recipes and at-home cooking tips from the culinary team.  
The Sicilian Butcher is offering family-style, to-go packs for family sizes of four, eight and 12 people starting at $60. In addition to the family-style, to-go packs, curbside orders for The Sicilian Butcher and The Sicilian Baker's regular menu are also available. To order, guests can call The Sicilian Butcher and The Sicilian Baker in North Phoenix/Paradise Valley and Chandler to place orders, park in designated curbside pick-up areas, and call to notify arrivals for a staff member to bring pre-ordered meals and bakery treats at curbside. The pack for a family of four includes Tomaso's famous meatballs, cazzilli and paccheri and marinara. See full family-pack menu here.
Tomaso's is offering a family-friendly to-go menu at affordable prices including favorites like lasagna, pan-seared salmon and lemon veal scallopine.
Blue Clover Distillery is now offering its menu of elevated bar food for delivery on Postmates, with additional platforms to be added soon. Cocktail enthusiasts can also stop by the distillery for Bloody Mary kits, tonic, soda water and Blue Clover Distillery's house-made premium gin and vodka.
FLINT by Baltaire at the Esplanade will offer a to-go and curbside pickup menu.
Cold Beers & Cheeseburgers and Famous 48 are offering buy one, get one half-off of curbside pickups.
Ghost Ranch in Tempe is now offering Friends & Family To-Go Meals. The pick-up special offers a choice of enchiladas or tacos with rice, beans, chips and salsa for only $25.
Steak 44 will be open for curbside pick-up orders from noon to 9 p.m. daily.
Franco's Italian Caffe is offering an abbreviated menu via take-over service (closed Sundays and Mondays). 
Zinqué at Scottsdale Fashion Square is offering delivery via UberEats, as well as to-go and curbside pick-up for breakfast, brunch, lunch and dinner. In addition, the restaurant is selling groceries which is providing their customers another way to support local restaurants and also skip the lines at traditional grocery stores. Zinqué's pop-up market menu includes $4 organic eggs, $5 ripe avocados, $8 dried pasta, $10 gluten-free brown rice, $5 salami, $35 Époisses de Bourgogne (cheese) and more fresh produce. All wine bottles are 50 percent off including red, white, sparkling and rosé wines. Bottles of wine and groceries are only available for pre-ordered pick-ups by phone. Zinqué is open daily at 7 a.m.
Pomo Pizzeria locations and Pomo Pizza are offering guests 30 percent off their order and the option for free delivery. (This offer is not valid through third-party delivery platforms. The guest will pay tax and tip and to get free delivery, the order must be equal to or greater than $30.) Pomo Pizzeria is also encouraging guests to support local though offering gift card deals to use at a later date for dine-in only. Purchase $100 in gift cads and receive $50 back to use for dine-in at a later date. In addition, Pomo is offering take-and-bake Pinsa and Pizza Romana. The Pinsa and Pizza Romana come partially baked; all you need to do is simply place it in the oven for about five minutes at 500 degrees.
Fired Pie is offering a special date night deal: four-piece rotoli and two pizzas (or salads) for just $20. This deal is offered at all 21 locations, and the offer is available for online ordering pickup only through firedpie.com. Simply use the promo code: DATE at checkout. Additionally, Fired Pie is offering a deal for two pepperoni or cheese pizzas for just $10 using the promo code PEPP-.  During lunch (daily from 11 a.m. to 3 p.m.), order a custom pizza and get a lil' salad for free. Promo code: LUNCH. Every Tuesday in April from open to close, Fired Pie is introducing two-topping Tuesdays. With this deal, guests can purchase a two-topping pizza for just $6 with the purchase of a beverage. Promo code: TWOTOP. Plus, every day in April if you spend $40 or more, get $10 off your bill. Promo code: TENOFF.
All Koibito Poke locations are now offering convenient delivery through Postmates, Door Dash and UberEats. Koibito Poke is also helping to serve children in the community with a new special offer. For every Kid's Bowl Special (which includes 2.5 ounces of chicken with rice and two toppings) purchased, Koibito Poke will donate $1 to the Paiute Neighborhood Center from Wednesday, March 18, through Wednesday, March 25.
Provision is now offering additional ways for guests to get their java fix, as they may easily order online through Square via www.provision-arcadia.square.site or www.provisioncoffee.com/order, or they can place orders by calling or texting 602.626.3866. Pick-ups can be made through the pick-up window on the east side of the building. In addition, coffee boxes are available for order and mail delivery through the online store. In response to recent mandates, Provision's amended hours now in effect are from 6:30 a.m. to 5 p.m. daily. 
Order by phone or website for pick-up at Grimaldi's Pizzeria. Delivery by Doordash and UberEats.
Order by phone or on the website for curbside pick-up at Kale and Clover. When you arrive, call 480.568.8707 to let them know you're outside for your pick-up order. 
Local Bistro allows guests to order by phone for curbside pick-up. When you arrive, call 480.302.6050 to let them know you're outside for your pick-up order. 
Order by phone for curbside pick-up at SumoMaya. When you arrive, call 480.397.9520 to let them know you're outside for your pick-up order. 
Angry Crab Shack invites guests to order by phone for curbside pick-up or delivery within a five-mile radius of the restaurant, available at all locations.
Kaleidoscope Juice is saying "thank you" to all first responders and health care workers by offering them a free juice, smoothie or coffee. These workers can simply show their badge when checking out. Additionally, the company is going back to its roots and making direct home deliveries within a 25-mile radius of the Old Town Scottsdale location of its entire menu of healthy fresh-pressed juices, smoothies, wellness shots, gluten-free snacks and more. Minimum order of $80. Visit the website to place your order www.kaleidoscope.love.  Guests outside of this range can place their orders through online delivery platforms UberEats and Postmates.
Ling & Louie's delivers via Postmates and DoorDash. Follow the link to place your order; first-time orders get a $0 delivery fee and $5 off orders of $20 or more (Scottsdale only). Also, enjoy a family meal to-go with two starters and four entrees for $65. Enjoy happy hour in your own home with Ling & Louie's Happy Hour Party Pack. With this limited-time offer, take pleasure in your choice of a bottle of wine, spirit or four-pack of one of their  signature cocktails paired with four of your favorite happy hour appetizers for just $55. As long as the dining area is closed, 50 percent of every Ling & Louie's gift card will go toward the employee relief fund which supports Ling & Louie's team members impacted by this public health crisis. Your gift card has no expiration date and can be used for any future visits or take-out orders.
Mixt is offering discount codes that can be used at MIXT.com, via the MIXT app, or at split com for pick up orders Codes: Mixt100 for a free meal, Mixt50 for 50 percent off and Mixt25 for 25 percent off.
All Macayo's are open for delivery and takeout daily from 11 a.m. to 8:30 p.m. Enjoy a 20 percent discount off entire order through March 22 here. POS: 20%. Not valid for third-party delivery.
Cafe Lalibela is offering take-out and delivery services. Get 25 percent off take-out order if ordered directly from the store. Order online or call here.
Matt's Big Breakfast is offering take-out and curbside pick-up at their Downtown Phoenix, Biltmore and Tempe locations from 7 a.m. to 2 p.m. daily. Delivery is coming soon. 
The Gladly and Citizen Public House is offering take-out and curbside pick-up. Guests can even call right from the parking lot.
Aioli Gourmet Burgers will immediately begin offering meal-prep packages available for pick-up or home delivery. Chef Tommy D'Ambrosio has put together a weekly meal plan program of gourmet deals on a budget that can be customizable to fit any quantities needed. Here's how it works: All orders need to be placed by Thursdays at 5 p.m.; Sunday delivery between 11 a.m. and 5 p.m. Or, pick-up times at Aioli Gourmet Burgers are between 4 and 8 p.m. Pricing is five to nine meals at $9 each plus tax and delivery; 10 to 13 meals at $8.50 each plus tax and delivery; 14-plus meals at $8 each plus tax and delivery. Menu options will change weekly and may include gyros, Southwest salad, fish tacos, pork loin, burger kits and more. 
Voodoo Daddy's Steam Kitchen is offering $3 kid's meals during this difficult time and school closure. The kid's menu is available for call-in/curbside take-out, online ordering through Voodoodaddy.com as well as DoorDash, UberEats, GrubHub and Postmates.
Sushi Roku Scottsdale is offering white glove curbside pick-up. Plus, for pick-up/curbside orders of $50 or more, guests will receive a $20 bonus card for dine-in service once the dining room re-opens. The restaurant is also serving four different bento box meals: chicken, salmon, beef or wagyu and each featuring miso soup, garden salad, spicy cucumber, vegetable fried rice, popcorn shrimp and a protein choice over sautéed garlic green beans. Free delivery is available through Door Dash and UberEats from 5 to 9 p.m. every day.
Get your favorite Maple & Ash dishes via pick-up or delivery from 3 to 9 p.m. Currently, guests can buy one family meal and gift one to another family at half price. Family meals serve two for $60, are avail Sunday through Thursday and change menus nightly. Maple & Ash is also offering to-go signature cocktails that serve two, cocktail kits that serve 12 to 15 and help from their sommelier for people to stock its at-home wine cellars. Delivery is available via GrubHub, Doordash, Uber Eats and Postmates.
Maple & Ash is also offering to-go signature cocktails that serve 2, cocktail kits that serve 12-15 and help from their sommelier for people to stock their at-home wine cellars. Delivery is available via GrubHub, Doordash, Uber Eats and Postmates.
U.S. Egg Breakfast and Lunch is offering curbside pickup at all six Valley locations. Guests can call and place orders and the full menu is available for purchase.
Chef Justin Beckett's restaurants, Beckett's Table and Southern Rail, will be offering curbside pickup from 4 to 8 p.m., and food can also be delivered via Postmates. 
PHX Beer Co. in Scottsdale has added some delicious lunch curbside pickup options to enjoy at the home or office for just $12. The lunch menu is available weekdays from 11 a.m. to 2 p.m. and includes a soft drink. Plus, crowlers are $10 for 32 ounces and growlers are $20 for 64 ounces (special release prices may vary).
Daily Dose Old Town is open for takeout, curbside pickup and delivery within a 5-mile radius ($25 minimum delivery) from 8 a.m. to 2 p.m. Gift card offer: Buy $25, get $5. Plus, Daily Dose can deliver an assortment of drinks, including mimosas and Bloody Marys!
Fox Restaurant Concepts will offer pickup and curbside services at all restaurants for 35 percent off. This applies to all locations of The Henry, Olive & Ivy, Zinburger, The Greene House, Culinary Dropout, Doughbird, and Blanco Tacos + Tequila (excluding Flower Child and airport locations, cannot be combined with other offers). Fox Restaurant Concepts has also partnered with DoorDash to offer no delivery fee on all orders over $15 at all locations, now through March 31 (includes Flower Child; service fees may still apply).
All Sauce Pizza & Wine locations will offer takeout, curbside and third-party delivery. Sauce is also offering the following wine selections to-go for just $12: Canyon Road Chardonnay, Placido Chianti, Menage A Trois Moscato, Trinity Oaks Pinot Noir, Coppola Pinot Grigrio and Coppola Red Blend.
OBON Sushi + Bar + Ramen is directing 100 percent of all gift card sales, from now through the closure, to its staff. The gift cards can be redeemed once OBON reopens.
All 23 Arizona locations of Pita Jungle (including Flagstaff and Tucson) offer online ordering for pick-up, curbside or delivery. Pita Jungle offers tamper-evident bags for takeout so your food is safe and untouched the minute it leaves the restaurant. Plus, Family Meals for take-out and curbside pick-up. For only $35, the meal includes a generous starter of Pita Jungle's signature hummus or caramelized cauliflower; a family-style service of healthful ingredients to wrap your own pitas or build your own bowl; a choice between signature salads and sides; and a free sampling of Pita Jungle's walnut baklawa. Pita Jungle is also selling wine ($15 select bottles) and beer by the bottle with any meal purchase at select locations.
Nico Heirloom Kitchen in Downtown Gilbert is offering a limited menu for curbside take-out. Free delivery also available via Grubhub.
Curbside take-out is available daily as well as free delivery within a 5-mile radius of S & V Urban Italian. The Scottsdale restaurant is also offering a gift card promotion: buy $100, get a $30 bonus card.
Though The Mission Possible Café is closed for the foreseeable future, including GrubHub deliveries, Mission Possible Catering and Cookies continues to be open for service. The team is following stringent health and cleanliness procedures to make sure food arrives fresh and delicious..Mission Possible Cookies can still be ordered online and shipped anywhere in the US at www.missionpossiblecookies.com. Mission Possible Catering be ordered online and shipped throughout the Valley at www.missionpossiblecafe.com/catering.   
Dog Haus is offering its signature items via pick-up and delivery.
Take $10 off of $35-plus orders at Sol Cocina. POS code: B0420. Available for phone and in-person orders only. Not valid for online orders or delivery. Curbside pick-up available. The restaurant is also offering free kid's meals to those 12 and under, no purchase necessary. 
Original Breakfast House is hosting a "Grab and Go BBQ" Saturday, March 21, in support of its employees. Guests can choose a cheeseburger or hot dog plus chips and a soft drink to go for $9 per plate; 100 percent of the proceeds will be donated to their employees and their families. Daily, Original Breakfast House is serving take-out breakfast from 7 a.m. to noon.
For curbside pick-up only, CRUjiente Tacos is offering taco kits with four tacos per kit and a limited takeout menu featuring CRUsader favorites such as posole rojo and guacamole with pico verde. CRUjiente Tacos can be made at home now with simple step-by-step instructions and pre-measured ingredients for pork belly tacos, green chilli chicken tacos, Thai shrimp tacos, Texas wagyu tacos and garlic roasted mushroom tacos. Taco kits are prepared and boxed tacos ready to cook which include par cooked proteins, house-made organic heirloom blue corn tortillas, accompaniments and cooking instructions. All curbside orders can be made by phone between 10:30 a.m. to 6 p.m. for curbside pick-up between 2 to 7 p.m. 
From 7 a.m. to 2 p.m., the Fourtillfour cafe in Old Town Scottsdale will offer to-go orders only for coffee beverages from the coffee shop. The full menu is available here. Available online on fourtillfour.com are the 12-oz. coffee tins which consist of the Sunday Motor Club blend, featuring Honduran and Ethiopian whole beans to enjoy Four Coffee at home. Utilize the online promo code "HOMIES" for 15 percent off orders. Plus, the cafe is helping small businesses with Four Favorites, a curation of locally-made favorites in a brunch-ready box perfect for a weekend morning at home. To help support other small businesses, the café is curating items like cocktail kits, breakfast dishes, desserts and more, from favorite Arizona brands like Kaleidoscope Juice, Clever Koi and Ruze Cakehouse, packaging it with its own house coffee blends, Four Coffee, into a box valued at over $100 and selling it to brunch and breakfast enthusiasts at just $50 for the breakfast for two package. The Four Favorites package features four rotating small businesses each week.
Over Easy is offering takeout and delivery options at all eight of their Arizona locations (including Flagstaff). The entire menu is available including Press coffee and fresh-squeezed orange juice as well as their "As Seen On TV" dishes, like the Waffle Dogs and Banana-nut French Toast.
Diego Pops is offering its full menu of vibrant Mexican favorites for takeout from 11 a.m. to 10 p.m. and offering a 20 percent discount to all who order directly from the restaurant by phone. The restaurant is also offering delivery through Doordash.
The Hot Chick is offering its full menu of chicken-focused classics for takeout from noon to 10 p.m. and offering a 20 percent discount to all who order directly from the restaurant by phone. 
The Montauk is offering its full menu including salads, bowls and sandwiches for takeout from 11 a.m. to 10 p.m. and offering a 20 percent discount to all who order directly from the restaurant by phone.
Sonson's Pasty Co. is remaining open during its regular business hours from 9 a.m. to 7 p.m. asking that diners call ahead to order hot and take-and-bake pasties. Frozen pasties are available for bulk purchase as well and can be delivered upon request to those who are not able to visit the restaurant. 
SaltRock Southwest Kitchen at Amara Resort and Spa in Sedona will now be offering a modified take-out and in-room dining menu in order to provide chef-driven cuisine and support to locals and hotel guests. 
Taco Guild offers free in-house delivery for orders over $30 and 25 percent off orders on GrubHub (Postmates also available) from 11 a.m. to 7 p.m. canned and draught beer as well as the 1893 Margarita are also available. 
Enjoy brunch in bed this weekend with pick-up or delivery (via) from The Lola from 9 a.m. to 2 p.m.; savor two brunch entrees and mimosas (one bottle of champagne plus juices) for $35.
Common Ground Culinary—The Collins in Phoenix and Grassroots Kitchen & Tap in Scottsdale–has curbside to-go, available from 11:30 a.m. to 8 p.m. 
In addition to offering walk-in carry-out, call ahead and Postmates delivery, Gadzooks Enchiladas & Soup is offering its Osborn Oro margaritas to-go out of all Valley locations.  The Osborn Oro margarita features fresh-squeezed pink grapefruits and limes, along with brown sugar simple syrup, tequila and Cointreau. Need food for the fam? Gadzooks Family Meal features an Enchilada Party Tray, chips and salsa and four cookies and can feed four adults and two children or three to four adults.  Choose from a variety of enchilada filling options including Tomatillo Chicken, Green Chile Pork Shoulder, Guajillo Braised Short Ribs, along with veggie options, plus Gadzooks' wide range of salsas and toppings. 
From 11 a.m. to 7 p.m., Miracle Mile Deli is offering catering (delivery available on orders of $100 or more), in-store takeaway (people will be allowed to enter the restaurant at a max of 10 people at a time) and delivery by Postmates and UberEats.
Prescott's Rosa's Pizzeria and Taco Don's will remain open for curbside takeout and delivery. Rosa's is offering 20 percent off of delivery through Postmates and 50 percent off for service industry workers. The Taco Don's drive-thru and pick-up will also now be open Monday through Saturday as usual. Ordering from Taco Don's will be available on Postmates soon.
Mastro's is now offering a variety of kit dinners for home. Each kit includes 28-day wet-aged Cryo-vac sealed steak, Mastro's secret house steak rub, Caesar salad, ready-to-bake side dishes and Mastro's signature Butter Cake. Bottles of wine are also available with these to-go dinners. Additionally, the entire Mastro's menu is available to go with a 10 percent discount. Guests can order a la carte items outside of these dinner options. Curbside service is available.  
Ahipoki in the Valley and Flagstaff is offering $2 off any order $10 or more on take out orders. Or if delivery is preferred, UberEats is offering free delivery. 
Copper Mule Kitchen & Bar has announced pick-up and curbside meal and beverage service along with specials, available from 4 to 9 p.m. Monday through Saturday, and Sunday from 4 to 8 p.m. Specials include half-off all appetizers and wings and 20 percent off entrees, among various other deals.
24 Carrots is now offering family meals available every Sunday, Wednesday and Friday. Each freshly made meal serves four to six people and is designed to provide a comforting, decadent and nutritious dinner for the whole family. Menus will be posted under events on the 24 Carrots Facebook page; pre-order and purchase can be made via the new online store. Limited items specials and creative menu additions will also be posted on social media, which guests can order by texting 480.753.4411. A member of 24 Carrots will then confirm order and get it ready to go. Guests can request curbside service when ordering; current delivery options include Postmates, Grubhub and DoorDash. Plus, 24 Carrots is currently working on its own delivery service with one-day advance pre-orders within a regional delivery window, with future expansion of range as well as delivery hours in the works.
U.S. Egg will be accepting carry-out orders and offering curbside pickup. Delivery orders are offered through DoorDash and PostMates. Due to increased demand for staple items, the restaurant is also offering some of the basics to help the community. Any carry-out order of $20 or more will be able to purchase toilet paper, bleach, eggs, U.S. protein bars, milk, coffee, juice, bread and more. These items are available to purchase at all six Valley locations from 7 a.m. to 2 p.m.
All My Pie Pizza locations remain open for take-out (curbside) and, in most areas, third-party delivery is available through DoorDash, Postmates, UberEats and Grub Hub. Guests can enjoy the entire menu as well as a new family meal deal for $40. The deal includes any four classic/My Pies (depending on location), extra-large order of garlic knots with marinara and extra-large Going Green or Caesar Salad. Feeds six to eight people.
Hot Bamboo has modified its hours to Tuesday through Sunday, 11 a.m. to 6 p.m. and is offering curbside pick-up and online ordering for its entire menu of steamed bao buns, dumplings, potstickers, bubble waffles, boba teas and more. Third-party delivery options will be available shortly.  Plus, Hot Bamboo is now offering frozen items that can be purchased in any quantity and steamed at home as well as two $10 lunch specials.
SanTan Brewing Company offers take-out, curbside pick-up or delivery through Grubhub, Postmates, DoorDash and UberEats. The pub menu is available as well as bulk meal options for beef brisket, carnitas, short ribs, pulled pork, smoked sausage, chicken, mac and cheese, bacon potato salad and coleslaw. Bonus:  when you order $50 or more in food, you will get a free 32-oz. can of beer. Use promo code: BEER.
Macayo's is offering up kid's meal for $3.99, starters from $6.99 to $8.99, and Macayo favorites via to-go or delivery. Even Macayo's famous margarita is getting the to-go treatment, with shareable 12-oz. bottles (each makes two drinks) going for $10 each. Draft beers, too, are now available to-go for $5 apiece alongside any food purchase. In terms of essentials that have become hard to find elsewhere, Macayo's has bottled water ($24 per case), Gatorade ($24 per case; $12 per half case), flour tortillas ($4 per dozen; $6 per two dozen) and mini-meal kits containing chicken and tortillas or beans and tortillas for $9.99 or $7.99, respectively. Macayo's also has bulk/freeze items up for grabs, with tamales, mini chimis, bean and cheese burros and other freezable favorites available in large quantities.
True Food Kitchen at Biltmore Fashion Park is open from 11 a.m. to 8 p.m. for no-contact takeout and delivery. The restaurant offers a limited menu of vegan and vegetarian dishes: Spaghetti Squash & Mushroom Casserole, Spring Immunity Bowl, Teriyaki Grains Bowl and Arugula Salad. For added protein, there is an option to add on chicken or tofu. These freshly-made menu items will be packaged cold and each order will include heating instructions. For one-stop shopping, True Food has a selection of wines: $20 for one bottle, two bottles for $35 or three for $50.
ZuZu at Hotel Valley Ho is offering a new to-go menu featuring ZuZu favorites and a second bottle of wine included when you purchase one. One of the featured items is a new, family-style meal that serves four for $40, and includes your choice of herb-roasted Petaluma chicken, Korean BBQ glazed short ribs, or half of each, served with butter whipped potatoes, dark chicken jus, roasted brussels sprouts, green chili mac and cheese, parker house buns, and mini chocolate chip cookies. The to-go menu is offered from 11 a.m. to 8 p.m. daily; place your order at 480.376.2600. Valet parking is always complimentary for those stopping in to ZuZu. Plus: get a free $20 hotel gift card or every $100 you purchase in gift cards, which can be used at ZuZu, OH Pool, VH Spa,and for overnight stays.
Mountain Shadows in Paradise Valley is featuring a special take-out menu with everything from savory breakfast burritos, burgers and sandwiches to ahi salad and chorizo cavatelli with oven-dried tomatoes and broccoli. Bottles of wine start at $15, and orders can be placed at 480.624.5442 for pickup at Rusty's between 7 a.m. and 7 p.m. daily. Plus: get a free $20 resort gift card for every $100 you purchase in gift cards, which can be used for food, drinks, poolside cabanas, tee times and overnight stays.
From 4 to 8 p.m. every day, Buck &Rider and Chelsea's Kitchen offers daily specials, discounted pricing and cocktails/bottles of wine to-go.
From 11 a.m. to 8 p.m. every day, special deals and greyhounds to-go are available at Ingo's Tasty Food.
La Grande Orange Grocery & Pizzeria offers special deals and bottles of wine/packaged beer to-go daily from 8 a.m. to 8 p.m.
All three locations of HULA'S Modern Tiki in Phoenix and Scottsdale are offering a new takeout-only menu daily from noon to 8 p.m., including six different pre-mixed tropical cocktails to-go. Get take-home versions of HULA'S award-winning Mai Tai, Painkiller and more, paired with a mouthwatering menu island-style eats. Coming soon, HULA'S will be available via Postmates or DoorDash.
EVO has transitioned into a marketplace for the neighborhood to purchase the products and supplies they need.  EVO Scottsdale Market will feature a rotating list of daily essentials like fresh veggies and fruit, eggs, pasta sauce and dried pasta.  In addition, EVO Scottsdale Market will have some of your favorite entrees from EVO Scottsdale. Pick-up is between 10 a.m. and 6 p.m. on Tuesdays, Thursdays and Saturdays, and orders must be received by 5 p.m. the day before for next day pick-up, plus limited delivery is available.
Gertrude's inside Desert Botanical Garden is offering Family Meals for delivery while the restaurant and Garden are closed. Locals can order a pre-set dinner option and add on lunch or smaller meal items. The a la carte, ready-to-go menu of meals is designed with four servings in mind. Signature cocktails, beer and wine are also available. Family Meal deliveries are available Monday through Friday. The delivery window will be confirmed 24 hours prior to the delivery date. Order by emailing Gertrude's general manager Michelle Jacob at mjacob@gertrudesrestaurant.net or texting 918.260.4399. You will be contacted to confirm the order.
All Barro's Pizza locations are offering delivery and takeout. People can order online, through the app or via phone. They are also still offering a lunch specials but you have to physically go in, order the lunch specials and take them out. (You can't call them in or have them delivered.) To view lunch specials, click here.
Venezia's are offering delivery and curbside. Customers must place and pay for their order ahead of time over the phone, via the website or the mobile app. In addition to its full menu being available, they are also offering six packs of beer and 750 ml bottles of wine with delivery or curbside. (Someone over the age of 21 with a valid ID must pickup curbside or answer the door for delivery orders.) The wine will be poured into a 750ml reusable bottle that they provide. 
Grimaldi's Pizzeria is now offering family meal deal options ($25 for two to four people; $40 for four to six people). Also, all bottles of wine are 50 percent off with any food purchase. Must be ordered by phone for carry-out only. This offer cannot be combined with any other promotion or discount. 
Original ChopShop is offering free delivery on all orders over $20 with code CHOPCARES, and $5 off all to-go and pickup orders with code DISTANCING. The restaurant is also offering a family bundle for $40, which includes four entrees, four sides of your choice and one gallon of tea. This is available for delivery or pickup.
Roka Akor offers takeout/delivery options including the Family Packs for $24 per person and have added ways to donate to the Employee Relief Fund. Click here for the menu. Roka Akor also has a Drink and Donate 20/20 Deal (with every bottle of wine or sake purchased, you will receive 20 percent off and Roka Akor will donate $20 to our Employee Relief Fund).
Beginning April 2, Roaring Fork will be introducing a brand-new, limited-time menu that will be available for takeout and third-party delivery Monday through Sunday from 4 to 9 p.m.  Diners' local favorites (like green chili pork stew, the Big Ass burger and much more) will be served in addition to 50 percent  off bottles of wine, including appetizers, entrees and desserts. 
Farm & Craft is reopening its doors as a Community Kitchen to now serve touchless take-out and curbside pickup starting Thursday, April 2. The limited menu, which offers individual options and family-style meals, will be available Thursdays through Sundays from 10 a.m. to 7 p.m. The individual menu features fan favorites of appetizers, salads, bowls, entrees, desserts and drinks. Select bottles of wine will also be available for purchase. The new family-style menu offers large portions that feed six to 12 people. Online ordering is available at www.ilovefarmandcraft.com and over the phone by calling 480.568.8980. Deliveries are also available through Postmates and DoorDash.
Chauncey Social in Scottsdale is offering a selection of menu favorites, as well as family-style meals available for curbside pick-up and delivery via UberEats and GrubHub.  Chauncey Social features a nightly to-go special that serves four, including tacos on Tuesday, pot roast on Thursdays and fried chicken on Friday.  Plus, Chauncey Social will feature to-go liquor and drinks. Plus, every order comes with a roll of TP. 
Bourbon & Bones is offering 25 percent of all to-go orders, 50 percent off bottles of wine, beer and spirits. Call 480.629.4922 to order.
Intentional Foods Cafe & Market, which caters to those with severe food allergies, is offering its full menu, including daily changing soups and desserts, for curbside take-out. They also have a market offering shelf-stable allergen-friendly snacks, essentials and beverages, as well as loaves of gluten-free, vegan and yeast free sourdough bread from San Francisco and gluten-free bagels.
Sweet Dee's Bakeshop is offering a variety of Quarantine Survival Kits including vegan and gluten-free options. Options include a cookie decorating kit for the family, a macaron box with fun and edible cookie shapes like tacos and toilet paper and a dessert and wine pairing box in collaboration with local wine guru and certified sommelier, Samantha Capaldi. Kits are available for curbside pickup and can be purchased here. 
KOVO Modern Mediterranean is offering take-out and delivery of its normal lunch and dinner menus. Those who order take-out will receive a free $5 gift card when downloading the Gift3R gift card app. Every Monday and Tuesday from 4 p.m. to close, KOVO's Wine & Board special is available for take-out. For only $20, get a wood-fired pizza or an order of bruschetta, plus a bottle of select wine. From Wednesday through Sunday, add a bottle of wine to your food order, and they'll take 30 percent off the bottle. Both of these offers are available for take-out only. Also, for take-out orders, KOVO is extending a 25 percent  discount for healthcare workers and first responders. Delivery is available through Uber Eats, Door Dash, Postmates and GrubHub.  
Johnny's Burgers and Dogs is offering take-out and delivery of its normal menu. They are extending their happy hour offer to take-out orders. Monday through Friday from 3 to 5 p.m, get $2 off all combos. Delivery is available through Uber Eats, Door Dash, GrubHub and Postmates. 

Sierra Bonita Catering Co. is offering single-serving, complete dinners that can be taken home and heated up and enjoyed later. These are chef-made meals, prepared from scratch with the highest quality ingredients. Entree items are fully cooked and reheating instructions are included. The menu changes weekly, and entrees start at $15, with side items and dessert available as well. Orders must be placed in advance and pick-up times are available on Tuesday, Thursday and Friday. Check www.facebook.com/sierrabonitacatering for the menus. 
After two years of planning, the family owners of a new restaurant concept, Mochilero Kitchen, have decided to move forward with its scheduled grand
opening in April, but now, with a twist: the restaurant is limited to serving food to its guests through take-­out and deliveries only. Join in the celebration of their "virtual grand opening" on Wednesday, April 8, from noon to 8 p.m. Customers are invited to connect on social media for all the fun and for chances to win family meal giveaways, as well as, the chance to nominate other families amidst the current crisis.
Serrano's Mexican Restaurants recently launched a "Burritos for Badges" donation program as a way for the community to come together and support our first responders, including police, fire and medical professionals. By making a secure donation online at serranosaz.com/shop, customers can donate toward a fund that Serrano's is using to provide meals to essential workers. Customers may also choose to donate over the phone at 480.857.0343.  Anyone who makes a minimum $10 donation will receive a digital coupon to enjoy a free cheese crisp ($7 value; valid through 12/31/20 with purchase of an entree). Additionally, Serrano's have moved to curbside pickup and delivery only, so customers need to call when they arrive and remain in their car unless they are using a delivery partner like UberEats, DoorDash or Postmates. Serrano's is offering five to-go $39.99 family packs as well as a $7.99 Quesadilla Pack, $5 burrito, and its regular to-go meal options and $8.99 lunch specials. Jarred salsa ($6.99), hot sauce ($5.99), fresh tortillas ($3.99/dozen) and shredded meat (16 oz. for $14.99) are also being offered for purchase. Serrano's also recently added the option to purchase to-go margaritas and bottled domestic/imported beers via curbside pickup. All orders come with a complimentary serving of chips, salsa and bean dip.
Steak 44, Dominick's Steakhouse and Ocean 44 are continuing to stay open from noon to 9 p.m. daily for its white glove curbside service of the full menu, as well as the complete wine list. The service is easy to use: order via phone or online, call the restaurant upon arrival, drive-up, sign and pick-up the food without ever leaving the comfort of your own car. Delivery is also still available on UberEats, Door Dash and Postmates.
Farm & Craft is now offering takeout and curbside pickup every day from 10 a.m. to 7 p.m. You can order online here. The restaurant is now serving its signature Kombucha cocktails to go along with beer and wine. Enjoy a delicious Kombucha & Tequila or Kombucha & Cucumber for $7 each or get a Kombucha Cocktail Kit to go for $50 (makes approximately 12 to 15 cocktails). Cocktails must be purchased by calling 480.568.8980 and available for pick-up.
Curbside pickup is now available at The Macintosh in Phoenix from 4 to 8 p.m. on Monday through Saturday, with phone orders accepted starting at 2 p.m. The Macintosh's new curbside menu includes menu favorites, along with 50 percent off kids meals for the month of April, as well as 50 percent off all beer and wine to-go. The Macintosh is also offering a Family Combo Platter for $45 featuring baby back ribs, whole roasted chicken, jalapeno-cheddar grits, and butterscotch pecan pie for dessert.
The Wrigley Mansion will be offering curated picnic baskets for delivery and curbside pickup. Guests can pick from a variety of house-made items like breads and pastries as well as cured meats, cheeses, and caviar carefully chosen by Chef Christopher Gross. Wine selected by Wine Director Paola Embry can also be purchased – curated wines for each basket are suggested, but their entire award-winning wine collection is available at member pricing. The baskets are built to order, and 1-hour delivery is complimentary within a 15-mile radius of the Wrigley Mansion, but any guest outside that radius must order for curbside pick-up. Pricing begins at $85, and orders can be placed online on the Wrigley Mansion's website.
Starting Monday, April 13, Provisions at the Fairmont Scottsdale Princess provides access to items that may be hard to come by at your local grocery store. Offerings include fresh fruit, dairy, eggs, pasta, wine, toilet paper, and more. Call 480.294.1819 to place your order. Orders will be available to pick up at the Provisions Market, located adjacent to the resort lobby between 8 and 10 a.m. on your designated pick up day.
In addition to takeout menus and deliveries, Giving Tree Cafe in Downtown Phoenix is selling produce boxes and organic bulk groceries. Giving Tree Cafe's market includes custom, organic produce boxes on Tuesdays and Fridays from 4 to 7 p.m. Community members can also purchase a variety of bulk goods including organic almonds, cashews, chia, cacao paste, coffee, microgreens, matcha, rice and more.
Sweet Provisions in Scottsdale is open for sweet treats, ice cream and more for to-go orders.  Sweet Provisions will have their signature ice cream flavors available, along with fresh-baked treats, candies and more daily from noon to 8 p.m.
The Churchill in Downtown Phoenix has partnered with local farmers, bakers and chefs to launch an innovative weekly curbside produce and food pickup service that helps people Valley-wide to cook like a chef, while directly supporting local farmers and restaurant workers in need. The new Community Supported Agriculture (CSA) program will offer three different sizes of pre-packed boxes ($20, $30 or $40) filled with the freshest foods from the Valley's own Sun Produce Co-op, Noble Breads, Hickman's Eggs and Northerly Oats (plus optional to-go beer, wine and cocktails from The Churchill's on-site The Brill Line). The ingredients and recipes are personally curated by each week's featured chef. Available for order online, each week's CSA box options will be posted on Tuesdays, with all orders due on Sunday for pickup the following Friday.
Urban Margarita is offering new family meals, like build-your-own tacos and grilled fajitas for four, as well as a wide range of menu options available for pick-up and delivery via Uber Eats. Family meals are designed to feed a family of four and include rice and beans, all for $49. To wash down the delicious deals, Urban Margarita is also offering cocktails to go, like sangria for $5 or pitchers of house margaritas for $20. Temporary hours are Tuesdays through Saturdays from 4 to 8 p.m. 
Chompie's is feeding families with new spring meal packages, like Spring Brunch that serves four, a Spring Feast for eight, a NY Deli feast for six and much more. Each family meal can be called in for curbside pick-up.
Nobu Scottsdale offers a special menu to-go that includes bento boxes, Omakase sushi sets and a variety of Nobu sushi, hot and cold specialties served a la carté. A special list of wine, Champagne and sake is available and priced at a 20 percent discount. The menu is available Wednesday through Sunday from 5 to 8 p.m.; phones open at 4:30 p.m.
Toca Madera is open for curbside pickup and delivery Tuesday through Saturday. The Scottsdale restaurant offers family-style meals as well as entrees and single plates, craft cocktails to-go, beer and wine. Delivery is via Postmates, DoorDash and UberEATS.
Wally's American Gastropub is now offering curbside to-go. Wally's is available for curbside Monday through Saturday from 3:30 to 8 p.m. and will include to-go wines, beer and cocktails.  Plus, you can get happiest hour food specials every day from 3:30 to 5:30 p.m.
MIXT is offering its locally sourced farm-fresh salads, market plates and sandwiches for takeaway, curbside pickup and delivery at Scottsdale Quarter. Plus, the restaurant has introduced First in Line, a program to serve meals to healthcare workers by providing guests the option to pre-purchase a meal to be donated to a first responder.
Chart House is offering diners Backyard Grilling Meal Kits: salmon, New York strip and filet mignon. Each kits serves two people, comes with a perfectly paired side to create delicious meals at home and is available Friday to Sunday. 
Hand Cut Burgers & Chophouse offers touchless takeout, curbside pickup or free delivery. Hand Cut will be open daily from 11 a.m. to 8 p.m. with a limited food and drink menu featuring signature cocktails, starters, burgers, entrees and more. Online ordering is available at www.handcutchophouse.com and over the phone by calling 480.494.2008. Free delivery also available through Postmates, DoorDash, UberEats and GrubHub.
Dierks Bentley's Whiskey Row in Gilbert serves touchless takeout, curbside pickup and delivery. The award-winning live-music restaurant and bar is offering a limited menu featuring a la carte options, kid's meals and family meals that serve four to eight daily from 11 a.m. to 8 p.m. Online ordering is available at https://dierkswhiskeyrow.com and over the phone by calling 480.476.8595. Free delivery also available through Postmates, DoorDash, UberEats and GrubHub.
Twisted Grove Parlor & Bar in Scottsdale is now open for curbside to-go seven days a week for lunch and dinner from 11:30 a.m. to 8 p.m. Twisted Grove's updated menu features appetizers, salads, entrees and sweet treats. Plus, you can order wines by the bottle and glass, draft beers to-go, and cocktails. 
Starting May 1, Chef Matt Carter's Fat Ox, The Mission and Zinc Bistro will be open for curbside carryout. Fat Ox and The Mission in Downtown Scottsdale will be open daily for lunch and dinner from noon to 8 p.m., while Zinc Bistro and The Mission at Kierland Commons will be open from noon to 7 p.m. Plus, each restaurant is dishing up all-new family-style meals starting at $100 for a four-person feast in addition to carryout-friendly customer favorites.