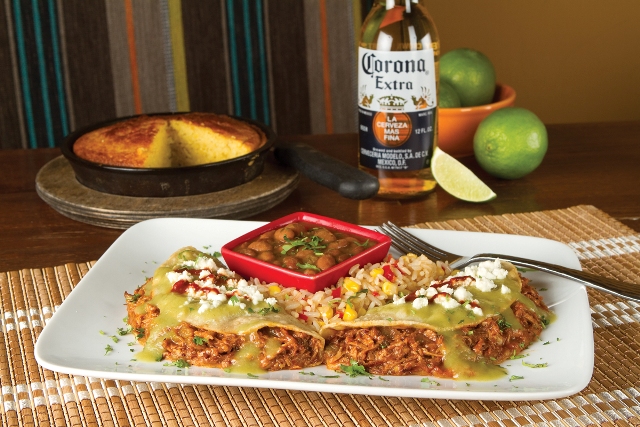 Just about everyone is looking for a way to spice up their lives. Well, read on for the perfect, lip-smacking opportunity to do so–and you only have to wait until tomorrow. Z'Tejas Southwestern Grill kicks off its 7th Annual Chile Fest tomorrow at the restaurant's four Valley locations (Phoenix, Scottsdale, Tempe and Chandler). Through Sunday, Sept. 25, one dollar from every entree on the menu (see below for a sneak peek of select menu items that incorporate delicious Hatch chilies from New Mexico) will benefit Phoenix Children's Hospital. (On Sept. 26, Z'Tejas will debut its new fall menu.
Ancho Trout Fresh trout crusted in an Ancho bacon panko, topped with a mesclun mix salad, avocados, onions, tomatoes and queso fresco in an apricot dressing.
Green Chile Carne Guisada Chile beef guisada, mixed with red and yellow peppers and Hatch New Mexico chiles in a green chile sauce, topped with cilantro and queso fresco, served in a cast iron skillet with hot flour tortillas.
Corona Pork Enchiladas Pork simmered in Corona beer and Jack cheese, topped with a green chile sauce, queso fresco and chipotle puree, served with a sweet corn rice and borracho beans.
Chicken Tinga Rellenos Smoked chicken marinated in tinga sauce, stuffed into Hatch New Mexico Chiles, topped with chipotle sour cream and queso fresco, served with nopalitos salad.
Jambalaya Farfalle Bay scallops, smoked chicken, andouille and pesto marinated shrimp in paella sauce with farfalle pasta, peas, ancho chiles, topped with queso fresco.
 For more info and Z'Tejas locations, visit http://www.ztejas.com/.