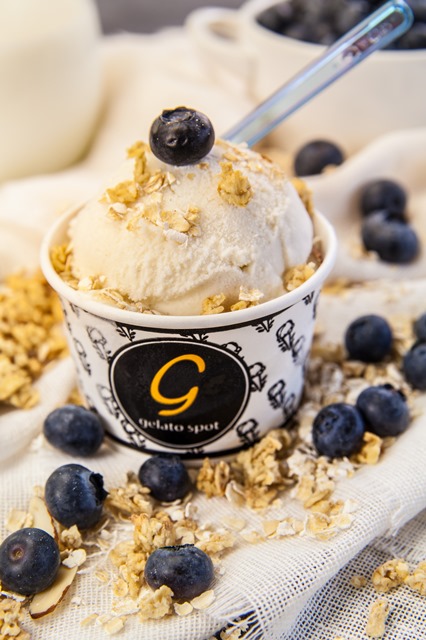 August 1 marked the kick-off of The Gelato Spot's 2014 Gelato Wars. Ten of the Valley's most popular chefs were invited to create a one-of-a-kind gelato concoction for Gelato Wars–and all for a good cause. Held at all three Valley Gelato Spot locations (Phoenix, Biltmore and Old Town), and at participating chefs' restaurants, the 2nd Annual Gelato Wars will take place from August 1 to August 31.
The chef who sells the most gelato at all three Gelato Spots combined will receive a custom molded gelato cone trophy, $500 cash and have a $5,000 check presented on their behalf to Make-A-Wish Arizona.
Participating chefs include:
* Keenan Bosworth, Pig & Pickle – Goat Cheese Gelato with Carrot Cake
* Gio Osso, Virtu – Honey Toasted Almond Biscotti
* Michael O'Dowd, Urban Vine – MOD Mole
* Matt Carter, The Mission, Zinc Bistro and The House – Sweet Corn with Truffle Honey with Wild Blueberry sauce
* Josh Hebert, Posh – White Chocolate Stracciatella with Amarena Cherry Sauce
* Tracy Dempsey, Tracy Dempsey Originals (2013 Gelato Wars Winner) – Camelback Crunch with White Chocolate, Roasted Pistachios, Honey Comb, Dried Apricot, Chocolate and Ganache Swirl
* Josh Bracher, The Second Story Liquor Bar – Flower Cream with Sage Brown Butter and Candied Cashew
* Justin Beckett and Jeff Schoening, Beckett's Table – Buttermilk Pie with Wildberry Sauce
* Scott Holmes, Little Miss BBQ – Smoked Banana Pudding with Vanilla Wafers
* Walter Sterling, Ocotillo (opens late 2014) – Vegan Coconut Chocolate Sorbet with Smoked Almonds and Caramel
Though all the flavors are truly delicious and unique, more adventurous gelato-eaters will savor the spicy MOD Mole (with homemade Nutella) and Chef Carter's Sweet Corn offering, which is fragrant with truffle. Kids will adore the sweet, berry-ful Buttermilk Pie with Wildberry Sauce. Other standouts include the Camelback Crunch and the simple yet scrumptious Honey Toasted Almond Biscotti. www.gelatospot.com.