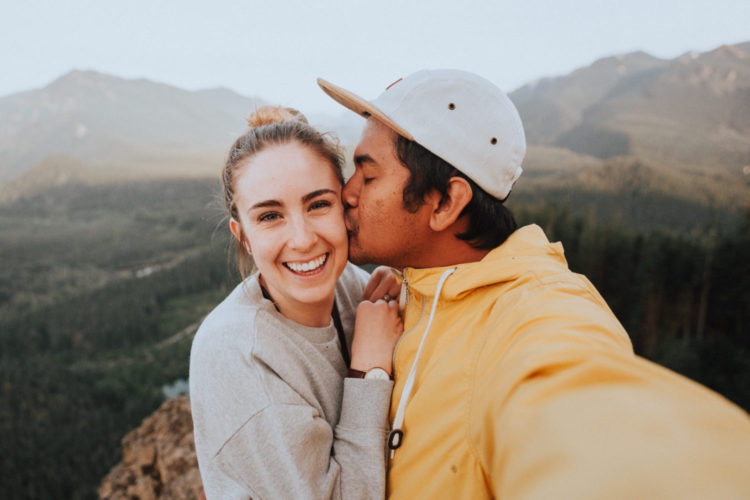 Names: Emily and Berty Mandagie
Instagram: @themandagies
Website: TheMandagies.com
Title: Adventure Travel Bloggers & Photographers
Age: 27 & 28
Married/Single: Married!
Kids: None
Our city: Seattle, Washington
Our favorite part about our city is… The proximity to nature! A morning hike is always an option when you've got the mountains just a short drive away!
The best time of year to visit is… Early summer. The beautiful flowers are bursting with color, the waterfalls are full and everyone is out exploring in the sunshine!
Our ideal weekend in town… Grabbing coffee from literally any shop on the corner of the block (they are all good).
The one attraction you can't miss… Visiting the newly renovated Pike Place Market and see people throwing fish, grab a fresh bouquet of flowers, and shop for local gifts and produce. Yes, it's a touristy thing to do, but it's famous for a reason!
Our top 2 picks for breakfast… General Porpoise for coffee and pastries, Portage Bay for a delicious locally sourced breakfast spread.
Our top 2 picks for lunch… Pho Than Brothers for Vietnamese bowls, and Paseo for Caribbean sandwiches.
Our top 2 picks for dinner… The Matador for Taco Tuesday and Red Cow for a perfectly cooked steak.
The best happy hour is… Japonessa downtown for half-off sushi rolls!
The best local cup of coffee… Milstead with their homemade vanilla syrup.
Our go-to for the best Instagram photo op is… Kerry Park on Queen Anne for views of the Space Needle.
The best place for a great cocktail… Navy Strength Tropical Bar.
When we want to shop local, we go to… The weekly neighborhood farmers markets around the city.
Our tips for a great night out… Don't restrict yourself to one neighborhood. Everything is so close – you can uber around the city for the best bars!
We recommend staying… on a houseboat on Lake Union for a unique experience!
To unwind and relax… Take a walk around Discover Park with a pup!
Something people get wrong about our city is… That it rains all the time. The summer is sunny, beautiful and full of life!
Something not many people know about our city is… It's super easy to get around the city with public transportation. From buses to underground rails, you can virtually get anywhere on just a few dollars!
Our No. 1 tip for out-of-towners is… Leave the umbrella at home and just bring a rain jacket. Umbrellas are the first sign we know you're from out of town because the locals don't use them!
You'll love our city if you love… Coffee and nature! The two go hand-in-hand here, so you'll have a fabulous time enjoying one of many nearby Washington hiking trails, and meeting a friend for coffee and snacks in the afternoon.