One of Arizona's top luxury resorts is about to amp up its already lavish reputation. The Royal Palms Resort and Spa is currently amidst a $1.2 Million revamping of its 30 Valencia Casitas.
The 30 Valencia Casitas are located in the resort's Valencia Gardens and offer guests dramatic views of Camelback Mountain or the surrounding gardens, many with fireplaces and all with handsome wrought-iron four poster king or queen beds and elegant French doors that open to beautiful patios.
The resort's aim is to upgrade the residential-like guest casitas while maintaining the resort's well-known Mediterranean charm.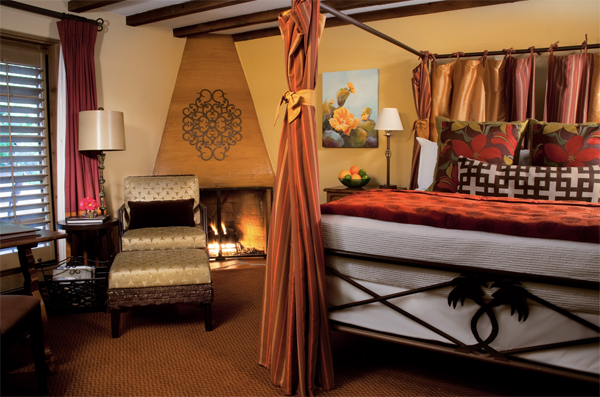 The Royal Palms tapped into the local design talent pool when it came time to decide on who would make their design visions a reality.
Two local, yet nationally acclaimed design teams were selected for the project, which will be completed by early September 2012. Est Est Interior Design was awarded the opportunity to refresh the 'eclectic elegance' of the bedrooms, which are built in classic estate style and are appointed with plush Desert Dream mattresses and hand-selected furnishings.
A model casita, which is already completed, is pictured above and serves as a representation of what resort guests can expect when the renovations are completed.
Stacy Meisterheim, Allied ASID, led the team with the desire to "update the color palette and create a vibrant, welcoming and unique feel to each room through the use of an eclectic blend of woven natural materials, custom designed fabrics, bright colors and local artisan painted finishes. The emerging result truly captures the essence of the Royal Palms Resort."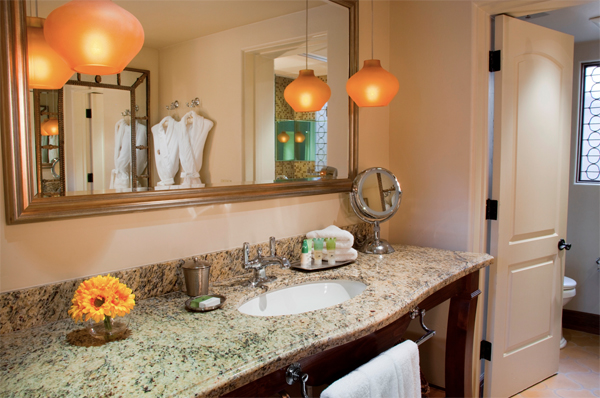 The bathrooms will also undergo a dramatic renovation and will be a "welcome surprise of comfort and privacy as they will be generously expanded to include a luxuriously-sized vanity, dressing area, built-in coffee bar and privatized water closet," said lead designer, Catherine Hayes, Principal with Architecture/Interior Inc. New finishes throughout will reinforce the spirit of the Mediterranean design with vintage floor tile, marble and mosaic surfaces and elegant leaded glass windows "to welcome the sun."
To Learn More
The Royal Palms Resort and Spa, www.royalpalmsresortandspa.com.