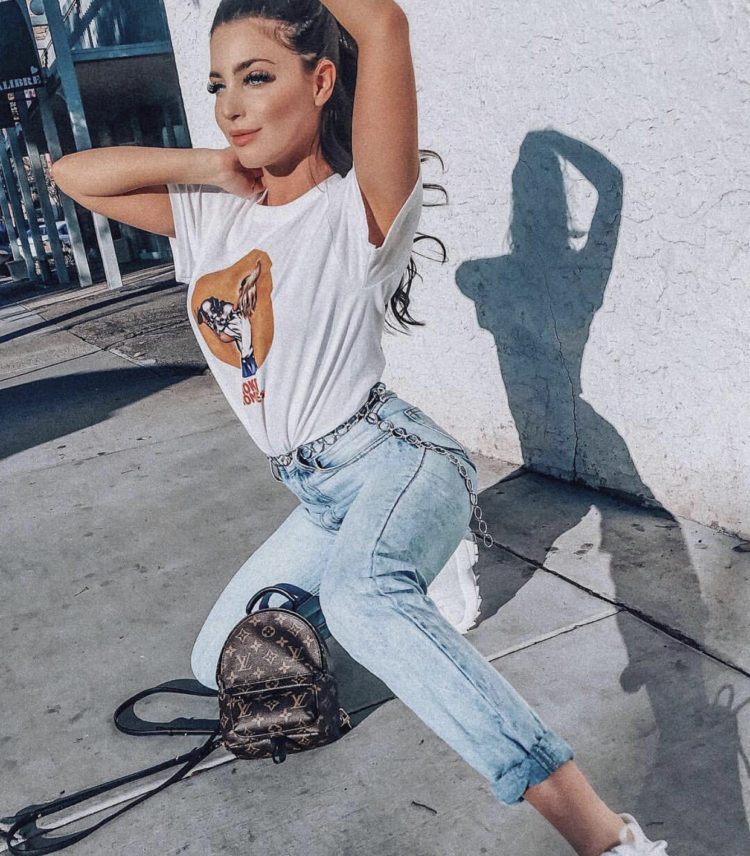 Name: Samantha (Sammi) Landsman
Title: Freelance Model and Social Media Influencer
Age: 21 and I will be 22 as of March 8! I am a Pisces through and through.
Married/Single: single
Kids: my pups of course! Molly, Zoey, and Goose (hopefully a new addition will be joining me soon)
City you live in: Scottsdale, AZ
A typical day in my life includes…
I like to start my days off with a workout or a yoga class. I am usually running errands or getting homework done as I'm still a college student. Most days you can find me working at my job. In between all the running around I love to create content and brainstorm different ways in which I can utilize my social media platforms. Lately my days have been filled with planning my YouTube channel which I am very excited to release soon!
I was born…
in Cleveland, Ohio.
My favorite thing about Arizona…
our sunsets, restaurants and the fact that we are becoming a strong hub for business and networking.
I'm listening to…
a wide range of genres from Billie Holiday (my favorite singer) to Kendrick Lamar. Most of the time you can find me listening to music from the 60's-80's
My family…
is the most important thing in my life! I look up to my mom and dad very much. I also have one sister, Anna who is 16. I consider her to be my very best friend.
If I could have dinner with anyone, it would be…
my grandpa Sidney who passed away. He had the greatest laugh and could make friends with anyone! I would love to ask him for advice and joke around with him again.
One thing I cannot live without…
my planner, hot tea, juices from Kaleidoscope, my personal trainer, my dogs and my laptop.
When I was younger, I wanted to be…
an actress. I was constantly making short films with my friends using those flip cameras and iMovie. Acting and films have always been a passion of mine so who knows, maybe one day I'll be on the big screen!
I'm inspired by…
I am constantly inspired by women empowering other women. Us girls gotta stick together! I love seeing women bring each other up instead of drag each other down. We live in a very cut-throat society where various standards are constantly trying to be met and I love seeing women lean on one another for support and build each other up. Another thing that inspires me is the Instagram account, @SpecialBooksBySpecialKids. I love the message that they preach – we are all deserving of love and acceptance no matter what.
The one person who motivates me is…
my mom is my biggest motivation! She has always been my biggest supporter and is always there for me no matter what. She has helped me through my absolute hardest times and is always there to remind me that I am strong and capable of what I may think is impossible.
If I could change anything in the world, it would be…
for human beings to be more understanding of one another. We are all fighting our own battles and we are all special and cool and beautiful in our own ways. Judging people based off of looks, interests, the way they dress, etc. is not cool. I would love for everyone to treat others with kindness.
The perfect day would be…
waking up in a city I love (preferably Miami, FL) surrounded by people I love. I would spend the day shopping, creating fun content, laying out by the ocean and going out dancing at night with my friends.
My first job was…
at Sephora – I learned a lot about marketing, branding and what it takes to create your own product line.
My favorite escape…
late night drives listening to Billie Holiday, creating content or spending time with my sister who makes me laugh more than anyone.
My life…
is just getting started.
I'm currently working on…
my YouTube, graduating college, travel plans and myself.
Always…
remember that there is a bigger plan at work. Let things flow and remember that whatever is meant to be will be. Be yourself and love yourself! Always trust your gut, seek help if needed, take time for you. Always celebrate your journey so far and the lessons you've had to learn that have shaped you into the beautiful human being you are. Always treat others with respect and kindness. And always listen:to your mama (she is usually always right), music that makes you smile, funny YouTube videos and your gut feelings.
Never…
skip on self care, settle for someone who makes you guess your worth or stay in a toxic relationship. Never stop loving yourself and who you are. Never stay around people who belittle you. Never abandon your values for popularity.
Favorite Quote…
"Everything happens for a reason." There is a larger plan at work and doors don't close without other ones getting ready to open and offer bigger and greater things.
Biggest Dream…
having my own skincare/makeup line, having my own fashion line, being able to inspire and help others, being a role model, making people laugh and smile on a larger scale and traveling wherever I can with people I love.
My Pet Peeve(s)…
people who do not follow through on their word, when people are overly judgmental, disorganization, sleeping through my alarms, when people don't listen when you're speaking, fake flexers (trying to appear wealthy in order to look cool) and liars.

Click here to order a Trendsetters wall plaque.