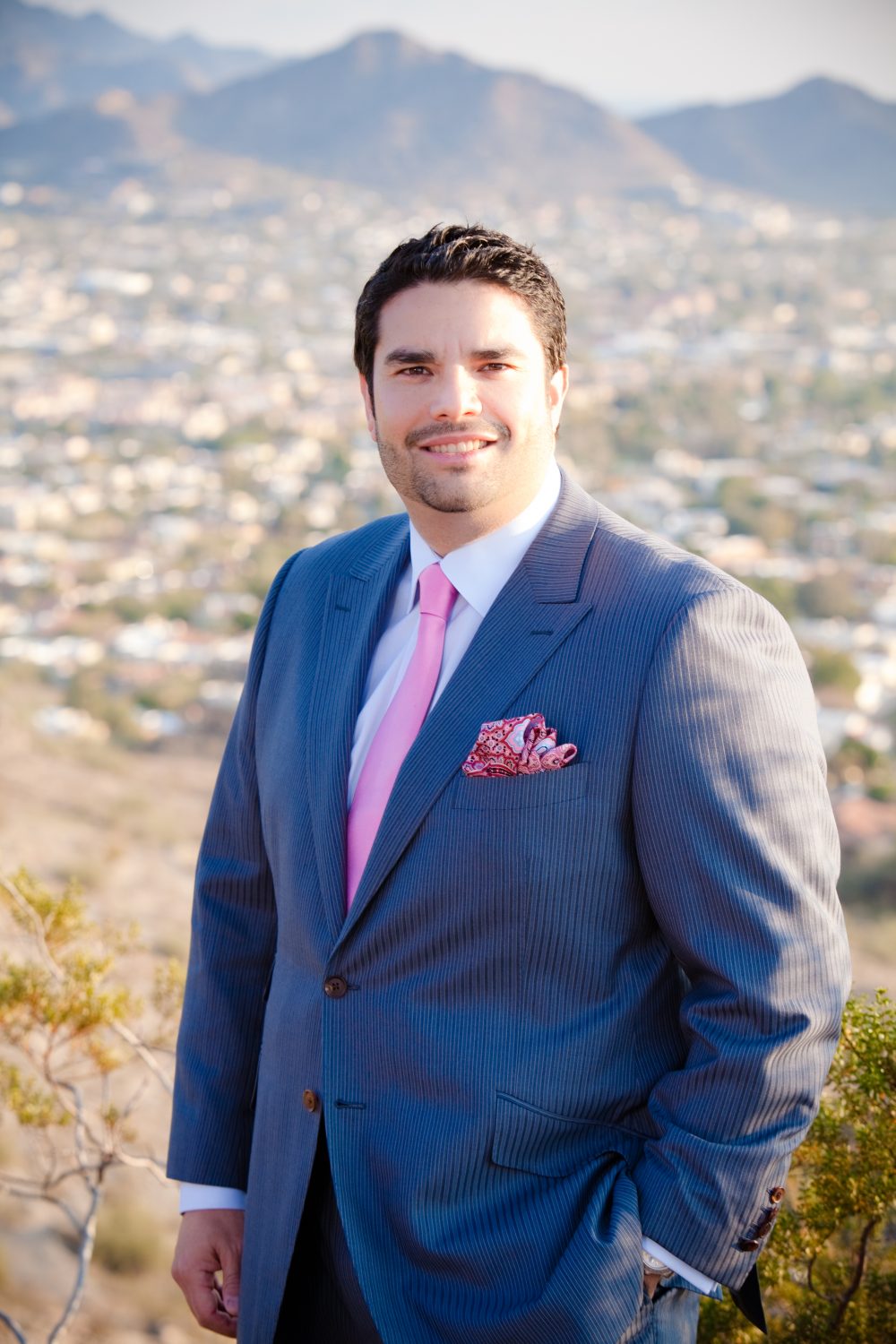 Meet Juan, this family guy loves Arizona for more then the obvious reasons, and did we mention he finds serving others inspiring. Read how he finished these 20 sentences.
Name: Juan Pablo (J.P.) Dahdah
Age: 37
Title: Chief Executive Officer (CEO)
Married/Single: Married (5 years)
Kids: 2 Children.  Liliana Sofia and Juan Pablo II
Live: Scottsdale, AZ (DC Ranch)
I was born…
in Guatemala City, Guatemala.
My favorite thing about Arizona…
I literally LOVE Arizona, so it's hard to pick one favorite thing.  I love the weather, I love how affordable it is and that you can truly build a life for yourself here.  I love that it is a big city with plenty of entertainment (i.e. 4 pro sports teams, concerts, outdoor adventures). I love its central location to other wonderful places to visit (i.e. L.A., Vegas, San Fran, Mexico, Denver, Santa Fe).  I love that professionally it feels like a small community even though it is a global marketplace.  Ok, I'll stop there!
I'm listening to…
I primarily listen to Hip Hop, Latin and Electronic Music.
My family…
grounds me.  My family keeps me focused on what is truly important in life.  It is through family that one is able to leave a legacy and have an impact in the lives of future generations.
If I could have dinner with anyone, it would be…
Jesus Christ.
One thing I cannot live without…
my cell phone.  I am not a tech guy at all, but I am a connector and very social.  I have to have a way to connect with my circle of friends and family constantly.
When I was younger, I wanted to be…
a Doctor like my Dad, but then I smartened up!
I'm inspired by…
Serving others.  Making a positive impact in the lives of others brings me true joy.
The one person who motivates me is…
my Dad.  Anytime I begin to complain about something, thinking about my dad's road to success always inspires me and serves as a reminder to be very grateful for how great I have it.
If I could change anything in the world, it would be…
I would ensure that every human being believed in themselves and their ability to design the life they want for themselves regardless of social economic status.
The perfect day would be…
Sleep in late, eat a yummy breakfast, hit the gym, spend time with my kids doing an activity they love, eat a yummy lunch, hang out with my best friends poolside listening to tunes, have a yummy dinner with my wife at our favorite restaurant, after dinner drinks and dancing followed with some late night eats before heading to bed.  Oh yeah, and all that food I ate doesn't make me gain weight.
My first job was…
working in a greeting card shop when I was 17.
My favorite escape…
traveling to a new destination and disconnecting.  I also love going back to Guatemala, enjoying its beauty and giving back to those in need through my non-profit, Advance Guatemala.
My life…
is what I make of it every day.
I'm currently working on…
creating a Self-Directed IRA marketing and educational platform for Realtors that will help them tap into the $5 Trillion dollar IRA marketplace and help investors buy and sell real estate tax-free!  I believe it will be a game changer for the real estate industry. I am also a member of Entrepreneurs' Organization Arizona, an amazing group of successful, local entrepreneurs.
Always…
Do something you love.  Place all your energy, money and time in things you love and exercise patience.  In time all your dreams will come true.
Never…
give up.  Quitters never win and winners never quit!
Favorite Quote…
"Live Life By Design, Not Default."
Biggest Dream…
Professionally, I want Vantage to be the brand that is known for informing investors that they have more choices beyond Wall Street investments within their retirement accounts and to be a household name across the United States.  Personally, to leave a legacy of serving others for my family's future generations.
My Pet Peeve(s)…
long lines and over-crowded spaces.