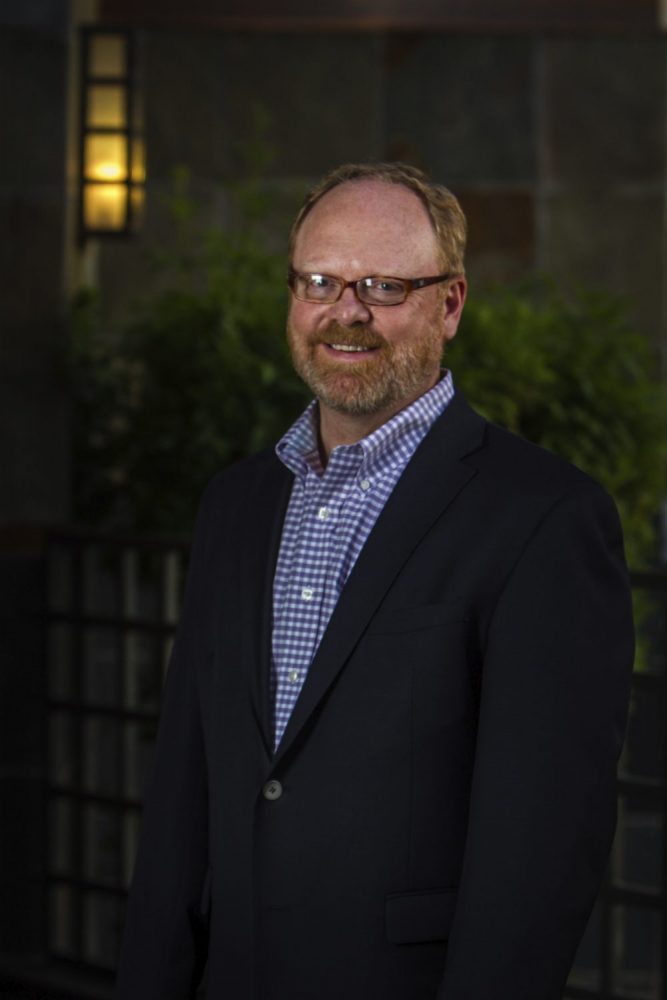 Name: Wes Gullett
Age: 57
Title: CEO of OH Strategic Communications
Married/Single: married to Deb Gullett.
Kids: three: Nicole Petersen (27), Catie Gullett (25) and Kelly Gullett (23).
City you live in: Phoenix
A typical day in my life includes…
working hard for the OH Strategic Clients, playing with my dogs, working in my garden, raising money for the Leukemia and Lymphoma Society, playing a little tennis and having a glass of wine with my wonderful wife
I was born…
in Ottumwa, Iowa and had a bucolic childhood and went to the University of Iowa.
My favorite thing about Arizona…
I love the diversity of our state. We have natural beauty, wonderfully diverse people, great food and practically perfect weather.
I'm listening to…
whatever Alexa thinks is cool.
My family…
is awesome. Raising three young women was an adventure. There is always something new going on, sometimes challenging but always rewarding. I love most that they have all turned out to be great cooks and love good food. Sharing new dishes, trying new ideas and creating awesome meals gives us all a way to come together.
If I could have dinner with anyone, it would be…
Yogi Berra (my favorite philosopher) or John Madden.
One thing I cannot live without…
my incredible wife.
When I was younger, I wanted to be…
President of the United States (that hasn't worked out yet).
I'm inspired by…
the power of nature.
The one person who motivates me is…
Kathleen Lee.
If I could change anything in the world, it would be…
finding the elusive cure for cancer and bringing civility back to public life.
The perfect day would be…
playing some tennis, working in the garden, cooking a great meal and drinking a nice bottle of wine. Throw in a trout stream or a ski run and that would make it even better.
My first job was…
building chain link fence at Gullett Fence Company.
My favorite escape…
is the North Shore of Oahu.
My life…
has been a tremendous adventure with many more bends to go around.
I'm currently working on…
building Applied Research Centers for the Partnership for Economic Innovation and raising money for the Leukemia and Lymphoma Society to help patients and find a cure for cancer.
More about Wes…
Wes Gullett is the Chief Executive Officer of OH Strategic Communications. He leads the firm's strategic planning projects, campaign management and represents businesses and organizations engaged in public policy efforts. He has directed and worked on numerous public policy projects, including successful efforts passing Propositions 126, 203 and 100. Gullett's main focus is providing corporate and community leaders with strategic communications advice so that they can accomplish their objectives
During the past 20 years Gullett has directed a variety of strategic planning projects. He has provided strategic advice to the Arizona Supreme Court, Arizona Cardinals, Salt River Project, University Medical Center, TGen, Competitive Arizona, Greater Phoenix Economic Council, the Partnership for Economic Innovation and Greater Phoenix Leadership to name a few.
Gullett served as Deputy Campaign Manager for McCain 2000 during John McCain's campaign for the Republican Presidential Nomination. He was in charge of www.mccain2000.com, the pioneering effort to bring web technology and web applications to a major political campaign. This Internet program was heralded as the first serious effort to bring Presidential politics to the Internet. Time, Newsweek and U.S. News & World Report as well as the Wall Street Journal, the Washington Post and the San Jose Mercury News reported on the spectacular success of the McCain Internet Campaign. Gullett also served as the co-leader of the McCain 2008 Arizona Campaign Leadership team.
He was Chief of Staff for Arizona Governor Fife Symington from July 1993 to April 1996. In addition he served as Administrative Assistant to U.S. Senator John McCain. He also served as Senator McCain's 1992 Campaign Manager. Gullett's tenure with McCain was seven years and included Administrative Assistant, Community Relations Director and Northern Arizona/Maricopa County Field Director for McCain for Senate (1986). Gullett served three years on Capitol Hill working for the U.S. Senate Republican Conference (1983-86)
Gullett is a native of Ottumwa, Iowa and attended The University of Iowa. He and his wife, former Arizona Representative Deb Gullett, have three children – Kelly, Catie and Nikki – and reside in Phoenix.
Click here to order a Trendsetters reprint.