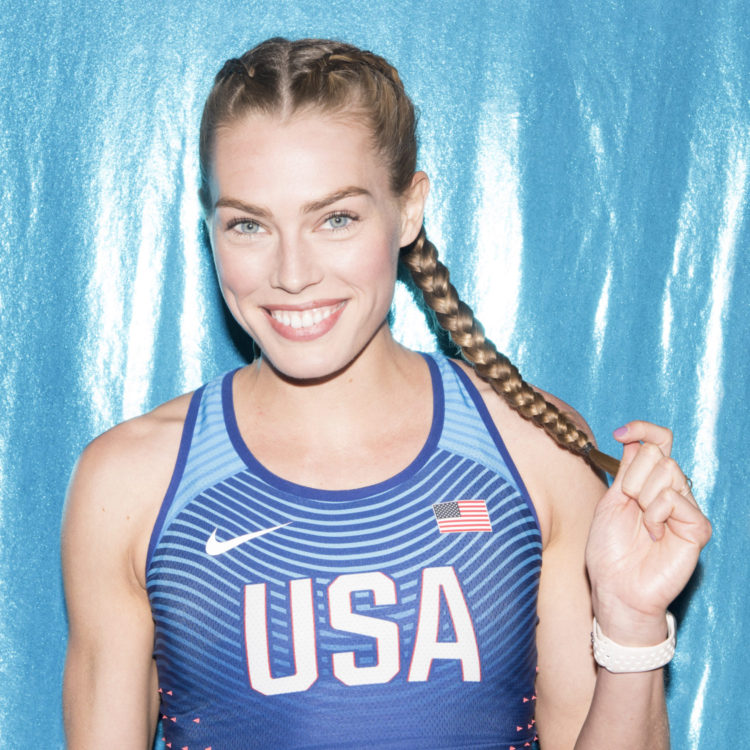 Photo by Fontaine Rittelmann, @frittelmann
Name: Colleen Quigley
Age: 26
Title: Olympic Steeplechaser
Married/Single: dating bf for 10 years ❤️!
Kids: not yet but someday!
City you live in: based in Portland, OR, but travel at least 6 months out of the year for training and competition
A typical day in my life includes…
an hour morning run, an hour in the gym, lunch, emails, nap, another run (or swim) in the afternoon, cook and eat dinner, bed by 10pm.
I was born…
in St. Louis Missouri.
My favorite thing about Arizona…
it's always sunny! Portland is ALL RAIN all fall and winter from Oct-April, so any time I can go to Arizona for training or to see my doc in Phoenix I enjoy the respite.
I'm listening to…
badass female artists who make me feel 💪🏼: Janelle Monae, Alessia Cara, Nicki Minaj, Leikeli47, Cardi B, Beyonce, Ariana Grande, Princess Nokia, Jessie Reyez.
My family…
I love my family! I don't want to move back to the Midwest, but it would be SO hard to be away from them. Both my parents are teachers, my dad coached me in high school, my mom homeschooled my brother, sister, and I until high school, my brother ran the steeplechase too, and my sister is a professional dancer.
If I could have dinner with anyone, it would be…
probably Ellen Degeneres or Megan Rapinoe.
One thing I cannot live without…
my dog! Is that a "thing"? I don't think there's any "thing" I literally couldn't live without. I have a Bernese Mountain puppy, @myfavoritepie, who is the best dog ever!
When I was younger, I wanted to be…
a professional dancer! I danced for 9 years, I loved it and thought I might do that for a profession.
I'm inspired by…
my followers who use #FastBraidFriday to tell their stories about hard work, bravery, and confidence powered by the confidence they gain from braiding their hair. I accidentally started the hashtag just for fun, but now it's become something so much more than I ever dreamed of and I love it! Every week, girls and women (and sometimes men too!) post about their fast braids (any type of braided hairstyle that makes you feel FAST) and how they felt confident in their hair and tackled a challenge in their life like running a PR in a 5k, finishing a half marathon, or qualifying for the Olympic Trials in the marathon.
I even get athletes from different sports like soccer, dance, horseback riding, cycling, triathlon, and swimming posting about their fast braids. Fast braids are any braid style that makes you feel confident, powerful, and FAST so that you stand on the starting line with your shoulders back and your chin up, ready to give it your best!
The one person who motivates me is…
so many people. Lately, very inspired by Allyson Felix who is an American sprinter who had a baby and came back to the sport.
She's the most decorated female track athlete, and recently gained the honor of having the most gold medals at World Champs every (even more than Usain Bolt). I love what she stands for- that she can be both a mother and an athlete, she doesn't have to choose or sacrifice her career to have a family.
If I could change anything in the world, it would be…
making people more dedicated to a lifestyle that would help us live in harmony with our earth and our ecosystem.
The perfect day would be…
my perfect day starts around 7am with a morning run. I would do coffee and a banana while I do my stretches and activations then hit the trails for an hour run, preferably through a forest or on a gravel path along the ocean. Then I come back, shower, and my boyfriend and I walk our dog to a nearby breakfast spot to sit down to a delicious breakfast of waffles, eggs, bacon, and fruit with a delicious cappuccino.
After breakfast, we would ideally spend a few hours at the beach hanging out and relaxing. In the afternoon we would take a long hike with my family (in my dream world they live nearby) and have a little picnic at the top of some mountain. Dinner would have to be my favorite food: pizza! And definitely ice cream for dessert. If we went out it would be at a concert, but we would probably end up just watching a movie at home snuggled up in bed.
My first job was…
babysitting! I loved babysitting in high school because it allowed me to have a super flexible schedule. I would hang out with the kiddos then just do my homework after I put them to bed, best gig ever!
My favorite escape…
the beach. I'm such a beach gal and always go to the beach for vacation. My boyfriend lives in CA and we went down to Cabo last year for a long weekend which was awesome, only a few hours on the plane and then you're on the beach with a marg in your hand!
My life…
is honestly pretty incredible. I'm a professional runner. I didn't even know that was a thing that someone could do as a job until the tail end of my collegiate career. I make good money to do what I love. I am surrounded by people I admire, who push me and support me every day as we all work towards our goals. Whenever I want to feel sorry for myself or have a pity party (we all do at times) I try to remind myself of these incredible gifts in my life.
I'm currently working on…
Expanding my newsletter, the Steeple Squigs Update, that I send out every few weeks when I have something interesting to share like advice about nutrition, a workout challenge, race updates, etc. You can sign up (for free!) on my website here.
Always…
be someone's cheerleader when you have the opportunity.
Never…
say no to pizza and red wine.
Favorite Quote…
"It ain't over till it's over!" – my dad/coach right before my last ever high school race at the State Meet. It means that at some point in the race you might be counting yourself out, you might not be in the place you planned on, you might feel tired and think those around you aren't… whatever it is, you can't count yourself out, you can't throw in the towel, you have to just stay in it and keep pushing all the way till the moment you cross the finish line. That advice has helped me salvage so many races that could have been bad but ended up being great.
Biggest Dream…
standing on the podium at the Olympics with a medal around my neck.
My Pet Peeve(s)…
when people don't pitch in on group stuff like roommates who don't do the dishes or never take out the trash and don't even realize that someone else has to take care of it for them. We were big on chores in my house growing up, so I think that's why I hate feeling like someone isn't doing their fair share of the work.