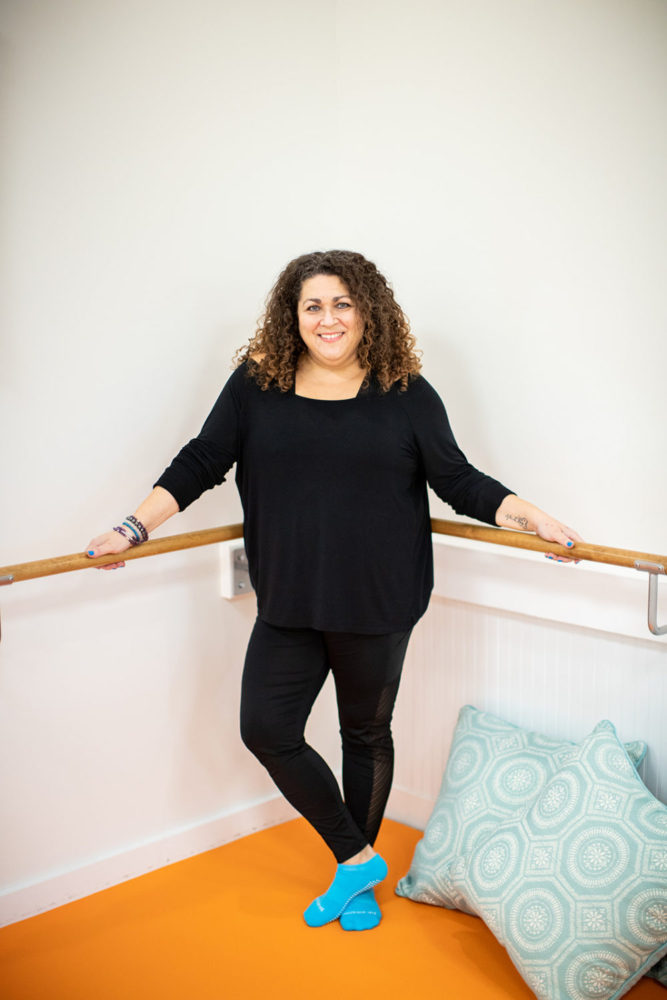 Age: 48 (yet always 27 in my head, for some reason)
Title: Owner
Married/Single: Single (for now)
Kids: 3 crazy rescue dogs and an amazing goddaughter
City you live in: Scottsdale
A typical day in my life includes… alarm goes off at 5:55am, I start by trying to stay off social media and focus on being present for a while, then the morning madness of before-school breakfast for my goddaughter and 3 hungry dogs between sips of my favorite coffee (shout out Passport Coffee's organic Tuscan blend), attempts to meditate outside for a least a few minutes, then finally on to the amazing busy-ness of my new role as the owner of ReBarre North Scottsdale
I was born… in Maryland, raised in the suburbs just outside of DC
My favorite thing about Arizona… too many to pick just one, honestly. I love the way the greenery is extra beautiful (when it is able to grow), the quick access to stunning scenery and destinations like Sedona and the White Mountains, the sunsets, the crispy coolness of winter mornings, the calm I feel here, I could keep going…
I'm listening to… The Embodied Podcast, The Mindset Game podcast, Sol Rising, Beautiful Chorus, Lana Del Ray, Billie Eilish
My family… is an amazing blend of biological and "by choice" family members who make me feel supported, valued and seen.
If I could have dinner with anyone, it would be… Sam Heughan(I imagine the answer is supposed to be about spending an evening with a pivotal figure from history, or someone with expertise in an important field, but all I can picture is a dinner date with Jamie from Outlander, lol)
One thing I cannot live without… Alter Eco organic dark chocolate truffles (seriously soooo good)
When I was younger, I wanted to be… a bunny rabbit, then a fox, then I realized I can't be an animal when I grow up so I decided I'd be a talk show host with a positive platform to do good
I'm inspired by… my amazing goddaughter, who has given me the chance to love and grow and expand in ways I did not have before she came into my life – she inspires me with her tenacity, strength, compassion and creativity, every day.
The one person who motivates me is… the future version of me, who I visualize every day. I'm motivated by what she does, how she feels, the decisions she makes, the good she contributes into the community around her. Might sound crazy to some but I'm inspired daily by who I evolve into, who I work toward and invest in, who I create and become.
If I could change anything in the world, it would be… a greater understanding of how connected we all are, how few differences exist between us when we strip back labels, and see the humanity that binds us to one another.
The perfect day would be… waking up without an alarm not a minute before I'm ready, my coffee already brewed and waiting for me, an open schedule to meander through the day with plenty of time for my mind (meditation in the pool), my body (a great, long walk), delicious food that someone else cooks, leading a workshop or event to help support others. Maybe a nap sprinkled in, then winding down the day with good company and dinner outdoors.
My first job was… making personalized plexiglass keychains and chocolate-filled gift boxes that I sold to my friends in middle school.
My favorite escape… a week or two reading and relaxing in Carlsbad.
My life… is one crazy ride, lots of plot twists and amazing experiences.
I'm currently working on… integrating this amazing adventure of taking over ReBarre with my existing business (Alli Rae Transformations), to deliver the empowerment, transformation, and body positivity coaching content that so many seek.
Always… lead with compassion, for the sake of your integrity.
Never… ignore an opportunity to tell the people you love that you love them, how much they mean to you.
Favorite Quote… "I've learned that people will forget what you said, people will forget what you did, but people will never forget how you made them feel." Maya Angelou
Biggest Dream… to share my messages of empowerment, self-acceptance, compassion and connectedness with as many people as possible
My Pet Peeve(s)… aggressive drivers, rudeness, the sound of someone scratching certain fabrics like denim and satin (weird, I know), arrogance, and cheating.