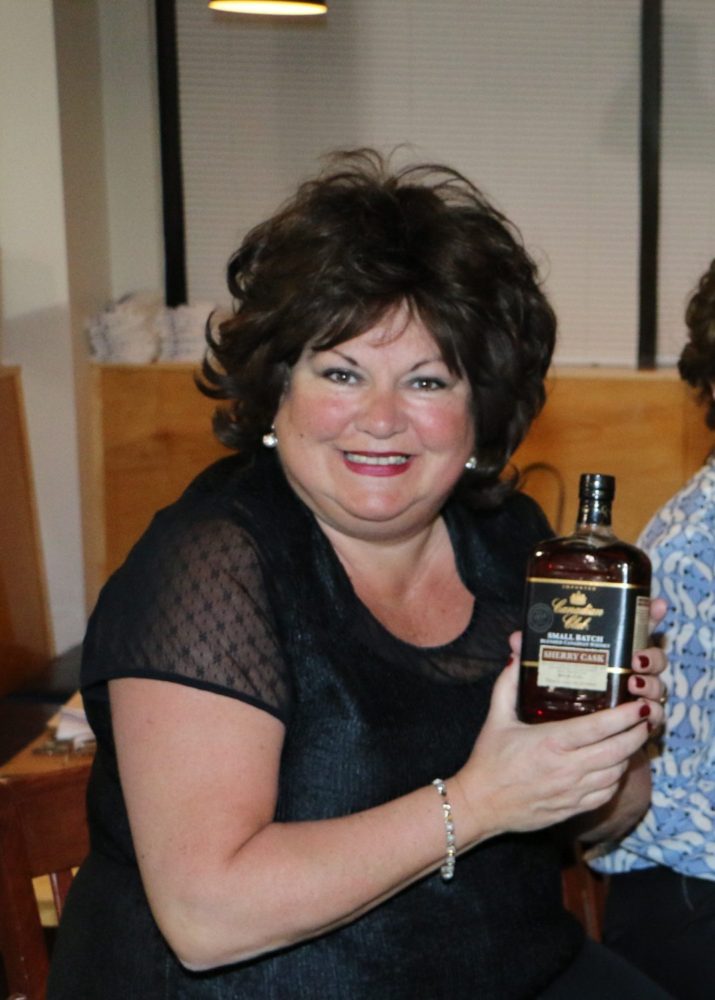 Name: Tish Harcus
Age:  54

Title: Manager & Global Ambassador, Canadian Club Whisky
Married/Single: Married
Kids: 2 sons
A typical day in my life includes…
as a vital member of the Global Canadian Club marketing team, the best part of what I do is that no day is the same! From spending time educating visitors to the Canadian Club Heritage Center in Walkerville, Ontario – where the heart and soul of Canadian Club resides – to sharing the story of 150 years dedicated to the craft of producing the world's best Canadian Whisky across the globe, I truly have the best job in the world!
I was born…
in Cape Breton, Nova Scotia.
My favorite thing about Arizona…
the beautiful weather and the stunning landscape!
I'm listening to…
all kinds of music! With the exception of classical chamber.
My family…
is my life!
If I could have dinner with anyone, it would be…
the original "C.C. Woman" – You see, Canadian Club Founder Hiram Walker had just one granddaughter, who went on to marry a Count (this was circa 1892 – a time when there were no women in the Canadian whisky industry at all); she then moved with her new husband to Eastern Europe, where C.C. was not available at the time, and made it a point to get her grandfather's whisky distributed into the likes of modern day Estonia, Latvia, and others. Ultimately I'm very proud to call myself the second Canadian Club Woman of Whisky!

One thing I cannot live without…
laughter!
When I was younger, I wanted to be…
a musician.
I'm inspired by…
positive people with a big laugh.
The one person who motivates me is…
my husband.
If I could change anything in the world, it would be…
to end all poverty.
The perfect day would be…
spent with my family, sharing stories.
My first job was…
a legal assistant. That is, until that fine day 26 years ago when I marched over to the Canadian Club Distillery and dropped off my resume for the heck of it – they hired me just a few days later.
My favorite escape…
my early morning whisky thief ritual; as the first person to arrive to the Canadian Club Brand Center every day, I often will sneak into the barrel warehouse and use the whisky thief – which is a tool used to extract small portions of whisky from an aging barrel to sample for quality control – to experience the magic of Canadian Club.
My life…
is pretty damn good! I really do have the best of all worlds; in addition to having a beautiful family and wonderful friends (not to mention I've traveled the world these last 26 years), I am taken on a new journey through history every day via archival materials and exploring the nooks and crannies of the Canadian Club Heritage Center, formerly the home of American entrepreneur and distillery founder, Hiram Walker. His close friends were some of the biggest innovators in history – Henry Ford & Thomas Edison and the basement's Speakeasy Room once served as the location for meetings with Al Capone and The Purple Gang. Further, the stories of how Canadian Club quenched the thirst of many U.S. citizens for 13 long years during Prohibition are absolutely fascinating.
I'm currently working on…
building the Canadian Club brand in my own backyard; you see, the brand is the #1 distributed Canadian Whisky in the world, however, my focus these days is on North America.
Always…
speak up! As a woman in an industry that is traditionally seen as "male-centric," having a voice is instrumental to getting to where you want to go!
Never…
mistreat other people – (hospitality is in my blood as the "C.C. Woman" of the Heritage Center in Ontario)
Favorite Quote…
"Whisky is liquid sunshine" – George Bernard Shaw
Biggest Dream…
for my sons to find the same happiness and success that I've been so lucky to have experienced.
My Pet Peeve(s)…
negativity (and vodka).
As the world's most widely distributed Canadian whisky, Canadian Club has been known globally for over 150 years as smooth, versatile, and easy to enjoy. Founded by Hiram Walker in 1858, the uniquely smooth whisky quickly gained popularity in the late 19th century Gentleman's Clubs throughout the U.S. and Canada and became known as "Club Whisky." Its popularity caused American distillers to petition Walker and the U.S. government added the word "Canada" to the name to make a clear distinction from competing American Whiskies and the name was ultimately changed to "Canadian Club Whisky." The famous whisky played a major role in history as the "unofficial" Whisky of Prohibition; located just over the Canadian border in Windsor, Canada, Canadian Club was able to continue legally producing whisky between 1920 and 1933 when the sale of alcohol was prohibited in the U.S. It is rumored that Canadian Club quickly became a favorite of Al Capone, who operated a lucrative business smuggling the spirit across the Detroit River to thirsty Americans. It is the only Canadian whisky that is "pre-barrel blended" before aging to allow the flavors to marry, which results in an exceptionally smooth flavor profile.
Click here to order a Trendsetters reprint.