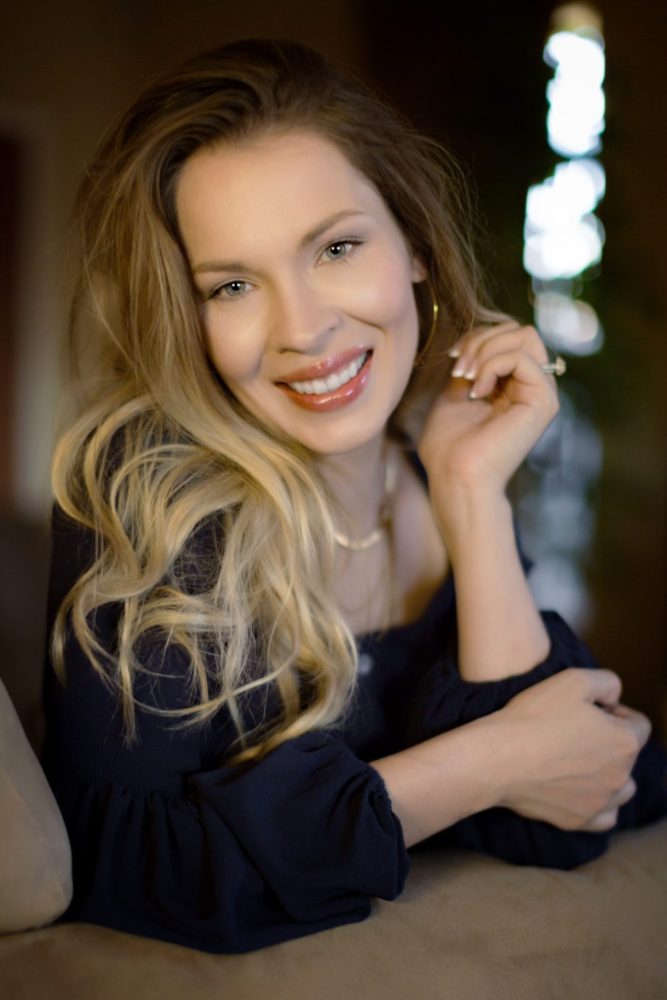 Name: Tiffany Sharp
Age: 35
Title: President of Platinum Companies, Inc.
Married/Single: Married
Kids: Two
City you live in: Phoenix
A typical day in my life includes…
honestly, every day is a little different. The only thing consistent is my morning routine. Beginning with the snooze button, my husband and I frantically move to get the kids up and ready for school while getting ourselves ready for work and inching closer and closer towards the door until we can finally close it and acknowledge that we forgot something. Ha! Once I get to the office, it's a day filled with activities that vary wildly by the day. One day I could be working on pricing our next big project, another day could be helping the schedule out in the field, and another day could be meeting with prospects, architects, or realtors to come up with a plan for an existing or new project. I also work closely with my management team daily to ensure we're continuously improving our internal business and processes.
I was born…
in Omaha, Nebraska. I graduated high school in Spencer, Iowa. I'm a midwestern girl at heart having spent my pre-college life between both, Nebraska and Iowa.
My favorite thing about Arizona…
about 9 months of amazing weather with no snow, the mountains, and I also love the easy proximity to everything… inclusive of traveling. San Diego, LA, Mexico, Las Vegas, and Zion are all just a small trip away.
I'm listening to…
just about everything, although country music and classic rock are in my soul. The Eagles, Beatles, Led Zeppelin, Lynyrd Skynyrd, and Pink Floyd have been my staples since high school. I honestly listen to almost anything with good lyrics and a beat. While at the gym, I put on the Imagine Dragons Pandora station.
My family…
is my everything. I am driven and motivated to be successful for them. I have the most amazing children and husband that provide the support I need to be successful in whatever I choose to do.
If I could have dinner with anyone, it would be…
my dad. He passed away twenty years ago. Having a chance to sit down with him and catch him up on all the amazing things he has missed so far would be incredible.
One thing I cannot live without…
music and ranch dressing. Yes, I'm one of THOSE people. :o)
When I was younger, I wanted to be…
an Architect. I went to college originally for Architecture, but one of my architectural design professors had given me such a hard time about my design and its structural integrity that I switched my major to structural engineering. I decided I didn't need someone to teach me how to design. I needed someone to teach me how to secure the design. After completing my internship in structural engineering (while hating every minute of the calculating), I switched my major again. Construction management was the practical combination of everything I was trying to accomplish for myself.
I'm inspired by…
passionate people. I love what I do and I love being around others that love what they do. I foster the idea of continuous improvement for myself, my business, and for others.
The one person who motivates me is…
there's two. My son and my daughter. I want to role model for them what a good person is. I want to teach them to be ambitious, chase their dreams, and be kind. That motivates me to lead by example.
If I could change anything in the world, it would be…
no lines at Disney World. Any parent that has stood in a two-hour line for one ride in scorching heat while listening to their 3-year-old and 9-year-old throw a fit will completely get this.
The perfect day would be…
a hike to the top of Angel's Landing where I can sit peacefully, listen to music, and watch the sun begin to set. If a glass of Chardonnay is possible, that would top it off.
My first job was…
a newspaper delivery girl for the Omaha World Herald. I still have nightmares of carrying 10lb Sunday Newspapers door to door in negative temperatures at 5am. Ha!
My favorite escape…
a good book. I am somewhat of a binge reader. Once I start a series, it consumes me. My husband just brought home the GOT series for me. You may not see me around for the next few weeks.
My life…
has been exciting to say the least. I've experienced a lot in a short time. These experiences have been both, bad and good. I wouldn't change any of them. I've learned so much over the years with all my wins and losses. I'm a firm believer that a loss is a lesson. Its's only bad if you didn't learn something from it.
I'm currently working on…
personally, I'm working on taking better care of myself with work/life balance. Professionally, I'm working on a very large list of strategic business objectives and improvement involving our marketing, operations, projects, networking, and growth.
Always…
do what you're afraid to do.
Never…
doubt yourself.
Favorite Quote…
"Life isn't about waiting for the storm to pass. It's about learning to dance in the rain."
Biggest Dream…
to become the President of the United States. There are a few people that will really get a kick out of reading that. Honestly, I am hardheaded about the idea of growing both, the custom home and commercial construction, sides of Platinum Companies. I would like to grow the company in to other states (California, Utah, Nevada, Oregon, Colorado, and Texas) with a goal revenue of $150M+. We have a lot of work to do to get there, but I'm excited for the prospect.
My Pet Peeve(s)…
nail biting, negative energy vampires, and people that don't pull their own weight.