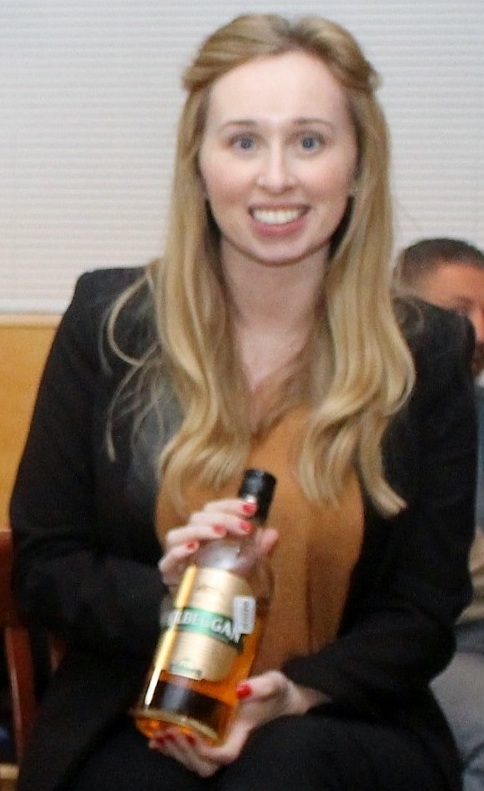 Name: Stella Lacken
Age: 28
Title: Beam Suntory Irish Whiskey Ambassador
A typical day in my life includes…
sharing my Irish heritage with the world! More specifically, educating consumers and members of the trade (bartenders, beverage managers, etc.) on the Beam Suntory Irish Whiskey portfolio – which includes Kilbeggan, 2 Gingers, Connemara Peated Single Malt, Tyrconnell Single Malt, and Greenore Single Grain Irish Whiskey. Whether I'm leading an industry seminar or a dinner, I am always sharing my Irish heritage and the passion for these amazing brands that I have the privilege of representing here in the States.
I was born…
in Dublin, Ireland.
My favorite thing about Arizona…
The breathtaking mountain views, the wonderful people and, of course, not having to wear my Northface jacket (which looks like a sleeping bag, honestly!) everywhere.
I'm listening to…
Sam Smith & Ed Sheeran.
My family…
is hilarious! Very entertaining, never stops talking and genuinely loves to have fun; in true Irish spirit, they're very happy they now have such easy access to some fine Irish Whiskies!
One thing I cannot live without…
my lip balm because my lips would fall of! Also, The Big Bang Theory – how could I live without Sheldon?!
When I was younger, I wanted to be…
a teacher! I was such a teacher's pet and was sure this was my calling. That is, until I met my cheeky 15-year-old self! In a way I suppose my role today with the Beam Suntory Irish Whiskies is similar to what I had in mind all those years ago
I'm inspired by…
my friends and colleagues; specifically, the whisk(e)y women I've had the good fortune of experiencing Arizona Cocktail Week alongside: Vicky Stevens (Laphroaig Scotch), Victoria MacRae-Samuels (Maker's Mark Bourbon) and Tish Harcus (Canadian Club Whisky). They are all such iconic women that have made important contributions to the whiskey industry – amazing examples of leaders that have pushed forward in what some may consider a male-driven industry.
If I could change anything in the world, it would be…
ensuring everyone's cars had manual transmissions. Oh, and they'd have to drive on the left side of the road!
My first job was…
a legal secretary! Really, this position actually kick started my career aspirations and drove me to pursue an education. So in addition to my role as Beam Suntory Irish Whiskey Ambassador, I'm also working part-time towards a Masters in International Business Development.
My favorite escape…
Thailand! I've been three times and would go back in a heartbeat.
My life…
is AMAZING. From the people to the whiskey to the food to the travel opportunities, I'm consistently surrounded by experiences that I'm truly grateful for.
I'm currently working on…
my Masters in International Business Development and rounding out my knowledge of other global whiskies.
Always…
look forward to what lies ahead!
Never…
dwell on the past. You can't change it and all that's left to do is learn from your mistakes!
Favorite Quote…
"Monday, Tuesday, Wednesday, Friday …" – The Godfather (Al Pacino's Italian wife)
My Pet Peeve(s)…
No eye contact during conversation, loud eaters, snoring!

Kilbeggan® Irish Whiskey is meticulously handcrafted using the finest hand-selected grain and barley and double-distilled to retain more flavor, using a blend from a 180-year-old pot still to produce a smooth and flavorful whiskey.  Since 1757, the award-winning Kilbeggan® Irish Whiskey was the best-kept secret in whiskey. The distillery and its whiskey have survived and thrived, and after 256 years, the secret is out for everyone to enjoy.