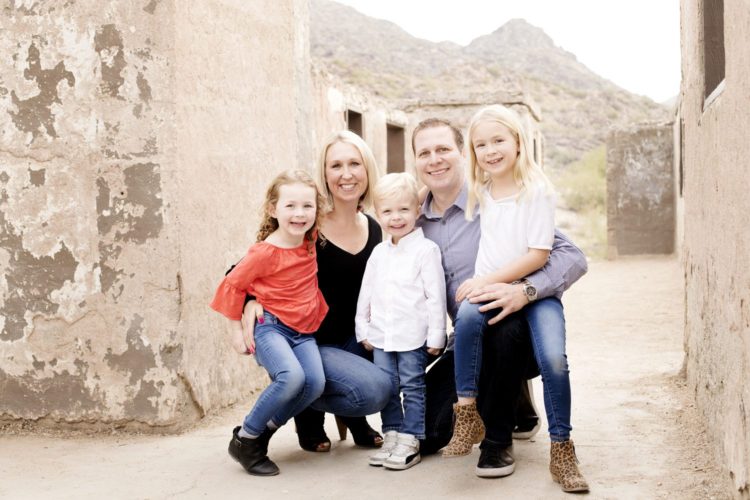 Name: Seth Garsha
Age: 40
Title: Owner/Franchisee of Diesel Barber Shop North Scottsdale
Married/Single: Married
Kids: 3 – ages 4, 6, 8
City you live in: Cave Creek
A typical day in my life includes…
working out for at least 30 minutes every morning before the kids wake up. It helps me get my day started and feel athletic. Then, I help get the kids ready for school, pack lunches and beg them to brush their teeth and make their beds. After dropping them off at school, I head to the barbershop where I spend my day doing work in the office or more preferably, interacting with customers. It is always interesting to see who walks through the door.
Whether it is a local businessman, pro athlete, someone on vacation, or kid, every day is a little different, but the banter is always fun. After work, I am usually consumed with kids' activities like dance, gymnastics, softball, tee ball, or whatever else is in season. When we get home, I love firing up the grill and cooking a delicious meal for the family.
I was born…
outside of Chicago in a town called Highland Park. I was very lucky to be raised in a great community with friends that I still see and communicate with regularly. Whenever we get together, it's like nothing has changed. After high school, I went to college at Indiana University where I studied business and majored in marketing and legal studies. I was pretty sure I wanted to be a lawyer, but as graduation neared, I decided I was a little tired of school and wanted to try something different.
So, I caddied all summer long, like I had since I was 13, saved up some cash, and moved to the French Alps to be a ski bum for the winter. It was an unreal experience going somewhere foreign, not knowing anyone, and skiing every day. After the ski season, I traveled around Europe for three months and continued to have the time of my life.
After returning from Europe, I moved to San Francisco where I had a job waiting for me as an assistant buyer for Meryvn's department stores. I worked my way up the corporate ladder there and landed a job at the North Face, which was like a dream job for me. We had tremendous growth and I was working with a product I was truly passionate about.
After getting married and having kids, my wife and I decided to move to Arizona to enjoy a better cost of living and to be closer to her family in Tucson. I landed another corporate retail job with Macy's, but after five years, I was looking for something more, and I found that in Diesel Barbershop.
My favorite thing about Arizona… the winter. It's hard to beat 70 degrees and sunny in January, especially coming from Chicago.
I'm listening to… rock, reggae, and hip-hop. I love music and have it playing constantly in my house and in the barbershop. The Grateful Dead is usually playing every morning against my kids' wishes, but they haven't figured out the sound system yet.
My family…
I am very lucky to have a smart, supportive, and extremely fun wife, Collette. She motivates me to be the best person I can be and keeps our social calendar packed. She is tremendously self-motivated and when she puts her mind to something, it happens.
It's infectious on me too. I have three kids, two girls ages 8 and 6, and a little guy who is 4. It has been great to see them grow and develop over the years. I love watching them perform, whether it is on stage or on the field.
If I could have dinner with anyone, it would be…
Martin Luther King Jr. – I have so much respect for him, the adversity he faced, the way he approached change, and what a motivational speaker he was. It gives me chills listening to him talk and his quotes are so profound.
One thing I cannot live without…
I hate to admit it, but my phone. My entire life is on it – photos, contacts, email, the internet, and stupid games. I would rather lose my wallet than my phone.
When I was younger, I wanted to be… a sports broadcaster. While growing up, I loved the local news sports anchor in Chicago, Mark Giangreco. I love sports and he would do great segments that were entertaining and funny. Getting paid to watch sports would be incredible, but I have a tremendous amount of respect for them too because it is hard work establishing yourself in such a competitive industry.
I'm inspired by… having fun outdoors. I love being out in nature, breathing the fresh air, and getting exercise while doing it.
The one person who motivates me is… my wife. She is always pushing me to do my best and be solution oriented. She is GREAT at her job and a well-respected leader at her company for a reason. Unfortunately for her, I am definitely her most challenging employee.
If I could change anything in the world, it would be… gun violence. It disturbs me to hear about shootings or senseless killing every week on the news, especially as a parent of three young kids.
The perfect day would be… waking up early to a sunny day in the mountains with 18" of fresh snow and sunny skies. Skiing all day long in untracked fresh powder. Then enjoying a cold beer on the deck, wolfing down some nachos, and chilling out in the hot tub while it starts to snow so I could do it all over again the next day.
My first job was… a caddy. I caddied and worked at a private golf club in my hometown for 10 years. It was a great job where I made a ton of cash, met some really cool people (and some awful ones), and got to hang out with my friends.
My favorite escape… any mountain town. Mountains charge my batteries. I love the pace of life, being outdoors, and adventure. I love to visit different ski towns because they all offer something a little bit different, but there is a vibe at the heart of each one that is similar.
My life… is constantly moving. I feel like I rarely relax. From 5:30a until midnight, I am busy. Whether it is waking up early to work out, getting the kids ready for their day, work, kids activities in the afternoon, cooking, cleaning, and laundry at night, putting the kids to bed, and then hopping back on the computer at night to tie up loose ends, I am constantly in motion.
I'm currently working on… making Diesel Barbershop the best barbershop in town. I want customers to really enjoy the Diesel experience because it is more than just a place to get your hair cut. It is a place to relax, hang out, escape, and walk out looking and feeling great. Additionally, I want the staff to enjoy coming to work every day in a fun environment that encourages teamwork.
Always… do the right thing, not what other people might do if the roles were reversed.
Never… drink and drive.
Favorite Quote… "When searching for excuses, look in a mirror, not a microscope." – Unknown
Biggest Dream… making enough money to retire at an early age. I don't need to be the richest guy in the room, have the biggest house, or drive the fanciest car. I just want to make enough money to support my family and retire at an age when my wife and I can travel comfortably. I'd also love to go in a F-16 plane, drive a race car VERY fast, and swim with sharks.
My Pet Peeve(s)… flakiness. If you say you are going to do something, do it.
More about Seth Garsha:
I was born and raised about 30 minutes north of Chicago with two outstanding parents and a brother who is two years older. I was very active and was happy to play any sport, regardless of my experience. As a young kid, I spent most of my summers going to overnight camp in northern Wisconsin where I gained an appreciation for the outdoors and would go extended backpacking and canoeing trips to remote areas of the northern US and Canada.
At 13 years old, I had to make money so I started work as a caddy at an upscale private golf club that was a short bike ride from my house. As an avid golfer, it was a great opportunity to do something I was already interested in, while meeting interesting people, including several Chicago area athletes that I looked up to.
After high school, I attended Indiana University to study business. At first, I wanted to study business with a major in marketing, but in my sophomore year I had a very influential teacher in a law class so I decided to pursue a double major in marketing and legal studies. I thought I wanted to go to law school straight after college and get a jump start on my career, but by the second semester of my senior year, I was feeling a little burnt out from school and was looking for something else.
My brother has always been an influential person in my life. We fought like crazy as kids who were very competitive with each other, whether it was with sports, school, or video games. Despite our competitiveness (that is still in full force today), we are also best friends. We were having a conversation where I was talking about going to Colorado with a friend to be a ski bum and he mentioned going to Europe to do it instead of staying in the US. Needless to say, telling my parents that I was not going to law school and that I decided to pursue a lifestyle as a European ski bum did not sit well.
Regardless, I committed myself during the summer to making as much money as possible caddying. In the end, my parents really respected my decision and the effort I put forth that summer. I showed up six days a week to caddy, usually carrying two bags for 36 holes each day. There were some days when I would come off the 18th hole, drop two bags off and put two different bags back on my shoulders for another round.
I did some research on European ski resorts, learned a little bit of French, bought a one-way plane ticket to the French Alps for the winter, and a Eur-rail pass for the summer. I ended up going to one of Europe's top ski resorts, Val d'Isere, where I spent most of my days skiing and my nights or early mornings doing a variety of odd jobs to help pay for my daily expenses. After the season, I traveled around Europe for three months with no real agenda.
I came back to the US, moved to San Francisco, and started work as an assistant buyer for Meryn's, a department store based outside of Oakland. I formed a great group of friends there, one of which turned out to be my wife. At first, we were just friends who would carpool together because parking was easier by my house. Eventually, our relationship became a lot more, possibly because her mom told her she should date guys more like me, and we got married in 2008.
In 2010, we welcomed our first child. We loved living in the Bay Area, but we wanted to be closer to her family in Tucson and the cost of living is absurd compared to Arizona. In 2011, we packed up, moved to Scottsdale, and have not looked back since. In 2012 we had our second daughter and in 2014 a son.
After a couple more years working in corporate retail, I was searching for something different. I came to a crossroads in my career where I would have to move to New York or travel 70% of the time if I wanted to advance. Since neither of those options were very appealing to me, so I started to investigate franchising.
Eventually, I landed on Diesel Barbershop. I loved the culture of the shop, their services, the vibe, and the business model.
More about Diesel Barbershop…
Diesel Barbershop was founded in 2011 by Shayne Brown. He had a vision of a dream barbershop that did not exist anywhere, so he decided to build it himself. An updated version of the corner barbershop that appeals to what today's men and boys want in a haircut experience. Welcome to Diesel Barbershop, the result of a 20 plus year journey that included feathered hair, mullets, goatees and faux-hawks. The look and feel of Diesel Barbershop is part barbershop, part salon, part old school record store, part mechanics garage, part tattoo shop, and part vintage arcade. A man-cave for great haircuts and an amazing overall haircut experience, that is free of gossip and drama.
Our goal is to provide an exceptional, reliable, and relaxing haircut experience in an edgy, 21st-century version of the old corner barbershop, where men can be themselves. You can enjoy services like the signature "Diesel Plus" (haircut, neck shave, shampoo, scalp massage, hot towel face treatment, and shoulder massage) and also watch movies or sports on TV, play video games, and listen to your favorite tunes..
Our services include, but are not limited to :
– Haircuts
– Hot towel face treatment
– Hot lather shaves
– Beard trims
– Line ups
– Head shaves
– Fades
– Scissor cuts
– Natural hair coloring for a younger, more natural look
We are also proud to be ambassadors for Wigs for Kids. They are a non-profit organization that makes wigs for kids suffering for hair loss at NO COST. If you have 12" of hair, we can help you donate.