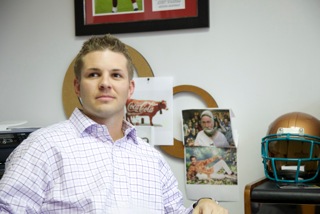 Meet Scott, this new dad loves sports and especially ASU Football.  Check out how Scott finished these 20 sentences.
Name: Scott Harkey
Age: 30
Title: Partner, Owens Harkey Advertising
Married/Single: Married
Kids: yes, a six month old son named Zack
I was born…
Tempe, Arizona
My favorite thing about Arizona…
ASU football, perfect weather and five hour trip away from the beach or mountains
I'm listening to…
Social Distortion
My family…
grounds me
If I could have dinner with anyone, it would be…
legendary UCLA basketball coach John Wooden
One thing I cannot live without…
my iphone and my wife's patience
When I was younger, I wanted to be…
ESPN Sportscaster
I'm inspired by…
Risk takers
The one person who motivates me is…
My son, Zack
If I could change anything in the world, it would be…
the education system. I believe best business practices and entrepreneurship should be taught at every high school.
The perfect day would be…
sitting at the beach and drinking beer with my family
My first job was…
selling sport memorabilia on Ebay when I was 14
My favorite escape…
ASU football
My life…
is never dull
I'm currently working on…
client planning for 2013
Always…
be honest
Never…
think something is impossible
Favorite Quote…
"The man who stops advertising to save money is     like the man who stops the clock to save time" –David Ogilvy
Biggest Dream…
Is to grow my business beyond my expectations. And of course, ASU football to be national powerhouse team
My Pet Peeve(s)…
when people don't take recreational/club sports seriously
Click here to order a Trendsetters reprint.