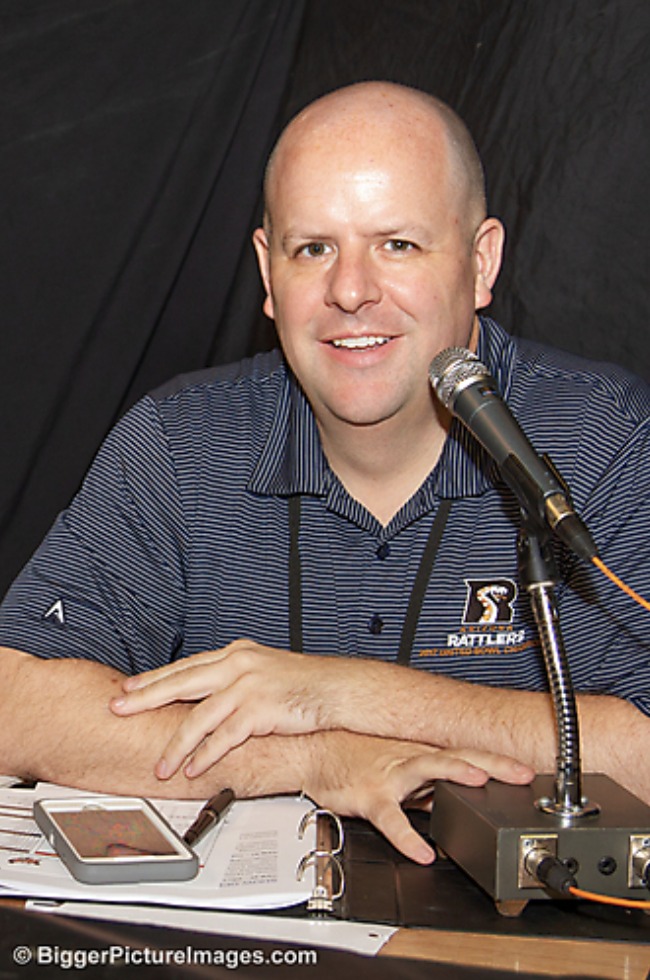 Name: Patrick Lagreid
Website: www.patricklagreid.com
Age: 40
Title: Depends on the day and hour, but PA Announcer for the Phoenix Mercury, Arizona Rattlers, Colorado Rockies during spring training, and the Salt River Rafter of the Arizona Fall League. I'm also a professional voice talent; partner, writer and editor for halfwheel.com; and I work in Major League Baseball's stats department.
Married/Single: Single
Kids: None
City you live in: Phoenix
A typical day in my life includes…
some combination of voice work, a pro sporting event, reviewing a cigar and writing about the premium cigar industry.
I was born…
for reasons I'm still figuring out as my life experiences and ability to contribute back to the world are still being discovered.
My favorite thing about Arizona…
is that my professional passions thrive here, notably baseball and cigars, and had I not moved here nearly nine years ago, I doubt I'd be doing what I'm doing or as happy as I am.
I'm listening to…
lots of podcasts because my iPhone is almost out of memory. TED talks in particular, but I have shows ranging from fashion to baseball to politics.
My family…
doesn't quite get what I do professionally somedays and probably gets flustered with my schedule, but are incredibly loving and supportive.
If I could have dinner with anyone, it would be…
my father, who made a choice not to be in my life and died over 25 years ago. As I get older, there are so many things I wish I knew about him and his family that I think would help me navigate life.
One thing I cannot live without…
my cell phone is the one that comes to mind first because it allows me to do so much, though sunscreen is a close second as I seem to have it everywhere.
When I was younger, I wanted to be…
an accountant, but then my voice changed between my sophomore and junior years in high school, and a whole world of using my voice opened up and redirected my career.
I'm inspired by…
everything. There are so many things I don't understand about how the world works, and everyone has something to teach me, so everything and everyone is a lesson to be discovered.
The one person who motivates me is…
someone I have yet to meet. I'm inspired and motivated by so many people that it would be impossible to pick one.
If I could change anything in the world, it would be…
restoring the venues for and respect of dialogue. No one has all the answers, and we all have our unique take on situations. Even with all the ways we can connect with one another, I often feel like we don't take the time and be present with other people in the same space to truly listen to them and then share our personal experience.
The perfect day would be…
a warm spring Phoenix day started with breakfast and a cigar, then some voice work on a big project with national exposure, announcing a baseball game, a great dinner with friends and conversation, followed by more conversation over cigars and drinks to close out the night.
My first job was…
a caddie at Seattle Golf Club, where I was fortunate to be around many of that region's most influential leaders and families, who taught me so much about being a professional and gentleman at a young age.
My favorite escape…
anywhere I can immerse myself in the local culture. A lot of my travel is to tobacco-growing countries such as Cuba, Nicaragua and the Dominican Republic, and being able to learn and get my hands dirty is an incredible recharge.
My life…
isn't for everyone, but it works for me.
I'm currently working on…
halfwheel's coverage of the IPCPR Convention & Trade Show, preparing for Rattlers' playoff games, the Mercury's regular season, and numerous voicework projects.
Always…
act with integrity and purity of intention.
Never…
forget to be grateful for everything the universe brings into life. It might not make sense at the time, but there's something to be learned and gained from everything and everyone.
Favorite Quote…
"Sometimes you win, sometimes you lose, sometimes it rains." – Crash Davis, Bull Durham.
Biggest Dream…
to have a voice that people instantly recognize.
My Pet Peeve(s)…
being interrupted when speaking to someone, people who don't dress for the occasion.