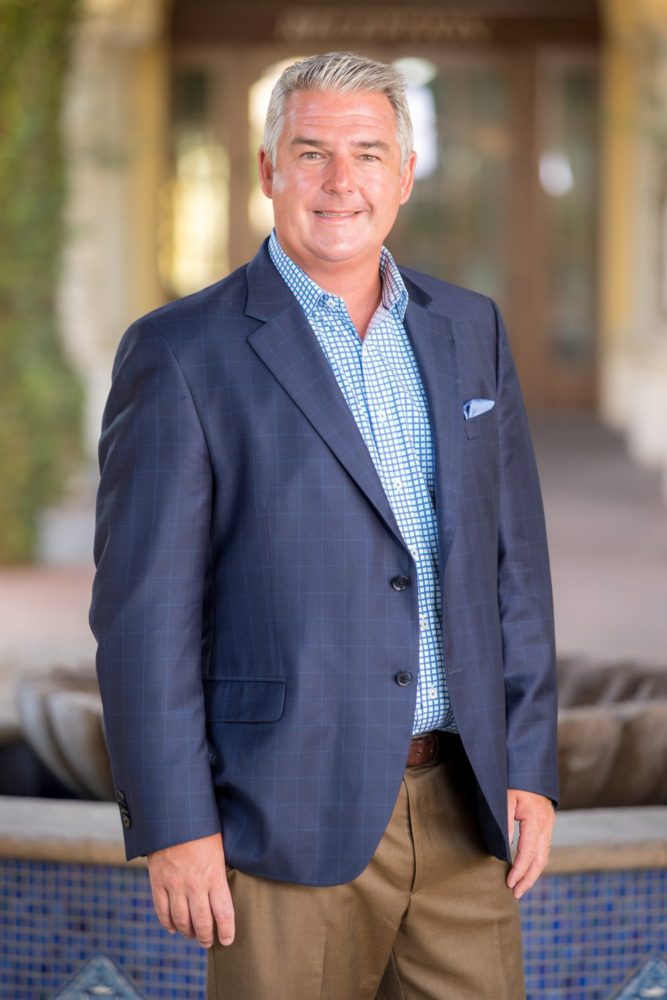 Name: Patrick Brophy
Age: 47
Title: General Manager, Omni Scottsdale Resort & Spa at Montelucia
Married/Single: Married to Julie
Kids: One son, Carson (8)
City you live in: Scottsdale, AZ
A typical day in my life includes…
a daily recap session with my son at the end of the day where we read together and chat about our day.
I was born…
in New Jersey.
My favorite thing about Arizona…
the beautiful mountain views, wildlife and endless outdoor adventures to be had.
I'm listening to…
a little bit of everything – Imagine Dragons, Sinatra, ACDC.
My family…
is my everything, my backbone, my foundation, my guide, my support system, my life partner!
If I could have dinner with anyone, it would be…
with my best friend – my Dad, who I miss every day since he passed.
One thing I cannot live without…
outside of my basic needs (air, food, shelter) it would be my family, followed by something sweet – Sour Patch Kids 🙂
When I was younger, I wanted to be…
a rock star like Bon Jovi, performing on-stage in front of a big crowd.
I'm inspired by…
seeing those that I work with excel in their careers with hard work, dedication and passion. I love seeing my colleagues proud of their accomplishments and achieving success .
The one person who motivates me is…
my wife Julie. She is resilient, embodies perseverance and is so fearless. I could not choose a better person to tackle the challenges life throws at us.
If I could change anything in the world, it would be…
to not have so much negativity between people, especially in world news. We need to trust more and be open to learning from our differences.
The perfect day would be…
starting with a family morning bike ride to our favorite lunch spot outdoors with a stop for ice cream and then wrapping up with a relaxing swim and dinner with friends.
My favorite escape…
is a bike ride up the Pacific Coast Highway.
My life…
is far from over with much still to accomplish.
I'm currently working on…
many home improvement projects as we settle into our new Arizona home and my greatest work in progress, giving my son Carson guidance.
Always…
come to work using a different door. My days will vary depending on the department I visit and the associates I can interact with before I even get to my office.
Never…
have a routine.
Favorite Memory…
is listening to my grandmother's stories. I have a large, outspoken family so there was always something to share.
Fun Fact….
my wife and I have moved 10 times in the course of our marriage.
Biggest Dream…
is leaving my mark by supporting others to achieve their dreams. It takes hard work and a little luck.
My Pet Peeve(s)…
trying to not be late.
Best advice…
go with the flow more often. Maintaining a healthy work-life balance is the key.
More about Patrick…
Omni Scottsdale Resort & Spa at Montelucia brings in seasoned hospitality expertise by hiring new General Manager Patrick Brophy to oversee the property's teams and enhance guest experiences at the luxury Arizona oasis.
Working in hospitality since he was 18 years old, Brophy's knowledge and leadership has been a true champion of Omni's culture and core values, nurturing talent within his team to pioneer growth and recognition within the Omni family.
"The Omni experience is driven by dedicated associates that embody energy, passion, drive and focus and I look forward to empowering this tremendous spirit to garner further success for this magnificent property. The Montelucia is a jewel within the Omni portfolio and its reputation for enlivening and delivering a world-class guest experience will be my privilege to continue to foster into its next decade of business," said Brophy.
Brophy joins Omni Scottsdale Resort & Spa at Montelucia after working within the Omni family for four years as general manager at Omni Severin Hotel, where under his leadership the hotel achieved its highest associate engagement scores.
Prior to Omni, the hospitality expert spent ten years in key leadership roles at various resort properties, such as the Don CeSar Beach Resort and the Ritz-Carlton, Amelia Island and multiple Hyatt Hotels. As hotel manager for the Don CeSar Beach Resort, a Loews Hotel, in St. Pete Beach, Brophy improved employee satisfaction scores each year, exceeding the company benchmark, and also directed the opening of its $11M, full service luxury Spa Oceana, which achieved the highest customer satisfaction core for the company. It was his work at St. Pete Beach that garnered Brophy with the 2012 GM Sales Leader of the Year by Hersha Hospitality Management. In each city that Brophy has resided, he is an active member of the community serving on multiple tourism and hospitality boards.
Brophy brings his wife Julie and son Carson to the Valley of the Sun and looks forward to the plethora of outdoor activities available including conquering the iconic Camelback Mountain which Montelucia is named after.
For more information on Omni Scottsdale Resort & Spa at Montelucia, visit www.OmniMontelucia.com.