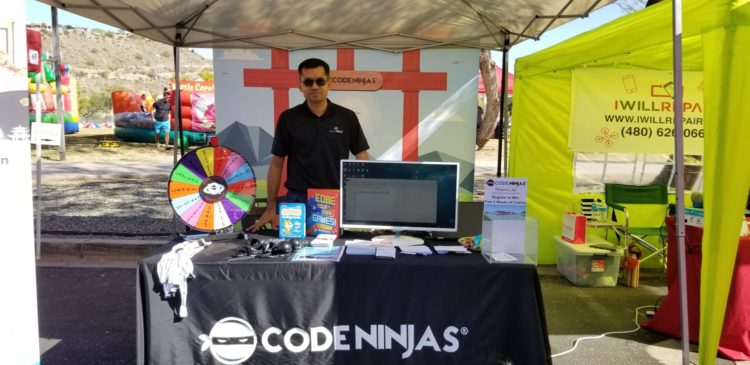 Name: Nikhil (Nik) Bhatia
Age: 38
Title: Owner of Code Ninjas Phoenix (Ahwatukee)
Married/Single: Married
Kids: Daughter, Ishita – 7 and son, Krish – 5.
City you live in: Chandler
A typical day in my life includes…
morning rush to ensure kids reach school on time, work and more work, some play time with kids and family dinner.
I was born…
with no silver spoon in my mouth.
My favorite thing about Arizona…
beautiful weather for 8 months in a year. I'll take sun over snow any day.
I'm listening to…
anything melodious, preferably soft rock.
My family…
is the ultimate source of my inner happiness. It brings peace and joy to see them happy and healthy.
If I could have dinner with anyone, it would be…
Mother Teresa who lived her life making sacrifices for other people. I try to live by her quote "The world is full of good people. If you can't find one, be one."
One thing I cannot live without…
my phone!
When I was younger, I wanted to be…
a sports star. I liked the idea how they made their living while doing what they love to do.
I'm inspired by…
those who bring happiness to others by helping them in any way and touching other person's heart.
The one person who motivates me is…
my wife. Love her confident, social and clear-minded personality. She is my emotional support pillar I always lean to.
If I could change anything in the world, it would be…
to somehow get rid of all untreatable diseases.
The perfect day would be…
a stress-free day spent with family and friends on a beach.
My first job was…
a great learning experience. Taught me how not to treat your clients.
My favorite escape…
nature. A nice walk outdoors in the early morning brings peace and clarity.
My life…
has treated me fairly. Throws obstacles in the course when it wants me to learn and adapt, smoothens the path when the going gets tough.
I'm currently working on…
finding a good work-life balance.
Always…
be ready to learn from anyone.
Never…
hurt anybody in any way.
Favorite Quote…
"Stay foolish. Stay hungry." Steve Job's ending comment in the Stanford Commencement in 2005.
Biggest Dream…
to touch people's lives in a positive way and leave a legacy.
My Pet Peeve(s)…
when I can't get a live person on a customer service call.
Bio on yourself/company
I moved to Phoenix, Arizona in 2007 from Virginia after graduating from Virginia Tech, did my second graduation in Business from Arizona State University and have been working as a software engineer in the field of semiconductor for more than 10 years. Last year, while looking for STEM education options for my kids, I came across Code Ninjas. The name and the concept intrigued me so much that I decided to visit their head quarters in Houston, Texas to learn more about the company and curriculum and decided to bring this option for children in Phoenix, Ahwatukee area.
Code Ninjas is a STEM center that provides a fun, inviting environment for kids at all levels to gain valuable life skills including coding, math, logic, and problem solving. Kids ages 7–14 learn to code in a fun, non-intimidating way — by playing and building video games they love. With a robust, nine-belt curriculum inspired by martial arts, Code Ninjas keeps kids engaged, while parents see their children gain life-changing STEM skills. Code Ninjas offers diverse programs such as after –school programs, parents-night-out events, drop-in sessions, camps, and open houses.