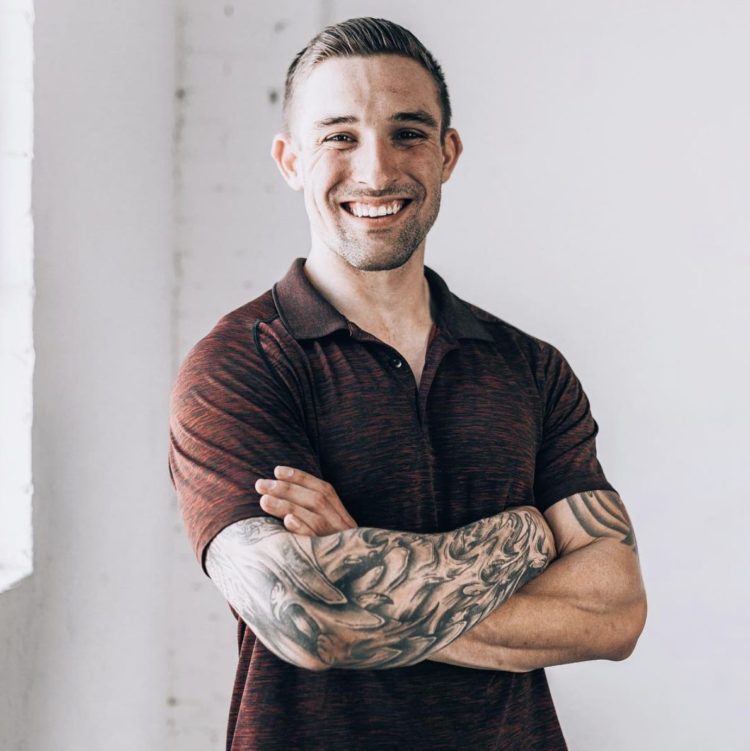 Name: Nathan Kohlerman
Age: 27
Title: Mobility Specialist, Movement Coach, and Founder of NeuIntention Health and Wellness
Married/Single: single
Kids: two; Natalie, 6 and Ares, 3.
City you live in: Scottsdale, AZ
A typical day in my life includes…
starting my morning with a meditation, listening to a podcast, journaling, and practicing Animal Flow. Once my morning ritual is complete, I work with my amazing clients, create content for 3 different businesses, and then focus my additional time and energy spending time with my family and developing myself spiritually.
I was born in…
inMission Viejo, CA.
My favorite thing about Arizona…
you can find anything you want to do here, and if you feel like going out of town, everything is a short drive away! The sunsets are absolutely breathtaking.
I'm listening to…
mostly podcasts (Aubrey Marcus Podcast, Hustle Sold Separately Podcast, On Purpose with Jay Shetty Podcast), audiobooks (Becoming Supernatural by Joe Dispenza, The Mastery of Love by Don Miguel Ruiz), Binaural Beats, and Chakra Chants.
My family…
consists of my 6 year old daughter, Natalie, my 3 year old son, Ares, and our boxer-sharpei, Zeke.
If I could have dinner with anyone, it would be…
Dr. Joe Dispenza.
One thing I cannot live without…
 movement in some type of way daily, whether that be mobility, movement, strength, or some type of flow training (Animal Flow, Steel Mace Flow, Kinstretch, Vinyasa, etc.)
When I was younger, I wanted to be…
a lawyer, because I grew up thinking there was too much injustice in the world.
I'm inspired by…
people who are growth-mindset oriented.
The one person who motivates me is…
one of my closest friends and business mentor, Matt Gottesman.
If I could change anything in the world, it would be…
to rid the world of addiction entirely.
The perfect day would be…
waking up, meditating, and journaling for the day. Making breakfast with my partner, waking my children up, and spending an entire day with my family in nature connecting and enjoying time being present with one another would fill the day. To end the day, watching a movie and spending the night in a living room couch fort would be the best day I could ask for.
My first job was…
bagging groceries and pushing grocery carts at Safeway when I was 14.
My favorite escape…
putting in headphones, throwing on some orchestra-electronica, diving into a meditation, and doing Animal Flow.
My life…
has shown me that pain leads to purpose. After battling heroin addiction in my teen years, serving in the military for 5 1/2 years, and experiencing countless injuries, my life purpose is to help others overcome all obstacles through empowerment. My life mission is now to redefine human optimization through mind, body, and soul by helping others overcome the nature of addictions by catalyzing consciousness, improve their quality of life through health and fitness, and heal others emotionally and spiritually.
I'm currently working on…
attaining my Transformational Recovery Pyscho-Spiritual Coach certification, becoming a spiritual healer through Delphi University and continuing my path through Gateway Healing, building online mobility and movement programs for others on a global level, and organizing retreats for those looking to improve their lives through mind-body connections and life-changing experiences.
Always…
be true to your identity. Live in your truth.
Never…
say never. Nothing is impossible.
Favorite Quote…
"The soul has been given its own ears to hear things that the mind does not yet understand."
Biggest Dream…
to rid the world of addiction and pain by empowering others to live happier and healthier lives. I am going to do this by redefining human optimization through mind, body, and soul by building a non-traditional mind-body and spiritual healing center where anyone experiencing mental, emotional, physical, or spiritual struggles can experience profound healings and propel their life in whatever direction they choose by catalyzing consciousness and by being empowered with the tools to rid themselves of pain forever.
My Pet Peeve(s)…
attention to detail. It's the small things that count!
More about Nathan…
Nathan Kohlerman is the founder of NeuIntention Health and Wellness. He serves as the Director of Health & Wellness for Earn Your Booze and Hunt Ready. He is a local lululemon ambassador for the Scottsdale Quarter and has a strong background in health, wellness, fitness, and sports ranging from mixed martial arts, football, wrestling, bodybuilding, and powerlifting. He served honorably in the United States Army for 5 1/2 years and achieved the rank of Sergeant. Being a 100% disabled veteran, Nathan made it his mission to empower others to live happier and healthier lifestyles, living a life pain-free, and redefining human optimization. NeuIntention Health and Wellness was born 2 years ago and is built upon the foundation of functional movement assessments, Dynamic Neuromuscular Stabilization (Sports Rehabilitation), movement optimization (mobility, stability, movement, and flow), and functional strength training.