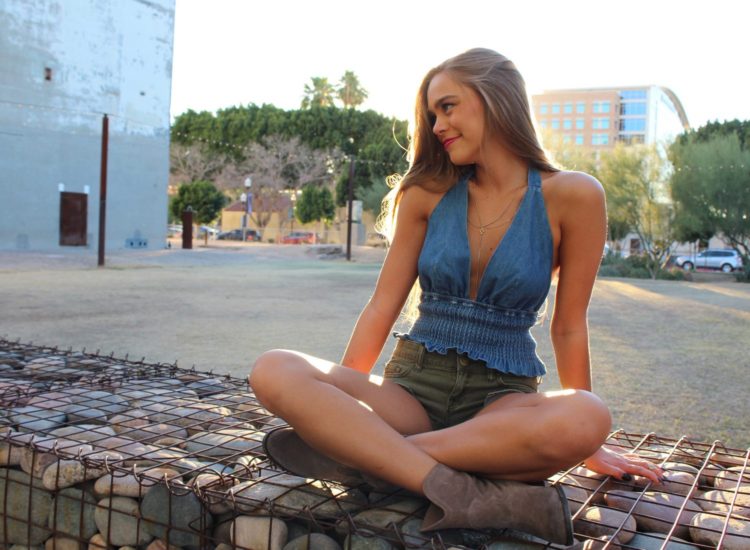 Name: Natasha Miller
Age: 21
Title: Aspiring Designer and Arizona State University Student
Married/Single: Dating
Kids: Waiting for a while
City you live in: Tempe, Arizona
A typical day in my life includes…
running, pilates class, homework, trying new recipes, and watching my favorite TV show reruns.
I was born…
In Hippieville, Oregon.
My favorite thing about Arizona…
the many luxury resort pools, amazing restaurants, and Cardinals football!
I'm listening to…
a favorite band of mine, Citizen. I'm excited because they're releasing their new album on my birthday in a couple weeks. They chose this day to honor my birthday 😉
My family…
is really close, I have two brothers and my extended family is enormous so family reunions are always crazy but such a riot.
If I could have dinner with anyone, it would be…
Elvis Presley, I've loved his songs since I was little.
One thing I cannot live without…
the support of my friends and family.
When I was younger, I wanted to be…
a preschool teacher so I could always have cookies and nap time.
I'm inspired by…
beautiful architecture and people showing kindness to others.
The one person who motivates me is…
my mom, because of her work ethic. She is the strongest person I know and always pushes me to be my best
If I could change anything in the world, it would be…
zero calorie donuts…and world peace.
The perfect day would be…
lounging on a beach with a good book.
My first job was…
lemonade stand entrepreneur, it was the best on the block.
My favorite escape…
I'm obsessed with pilates and yoga, and I go to the movies if I have a lot on my mind.
My life…
is unpredictable.
I'm currently working on…
my design portfolio.
Always…
remember to be sweet.
Never…
take yourself too seriously.
Favorite Quote…
one of my teachers showed me the poem Wild Geese by Mary Oliver, and my favorite part is, "You do not have to be good. You only have to let the soft animal of your body love what it loves".
Biggest Dream…
owning my own interior design firm and having a big family.
My Pet Peeve(s)…
when my hair gets tangled, it's long and gets knotted easily making me extremely frustrated. But my hairdresser gives me Moroccan oil hair masks, which I'm currently obsessed with.
Click here to order a Trendsetters reprint.