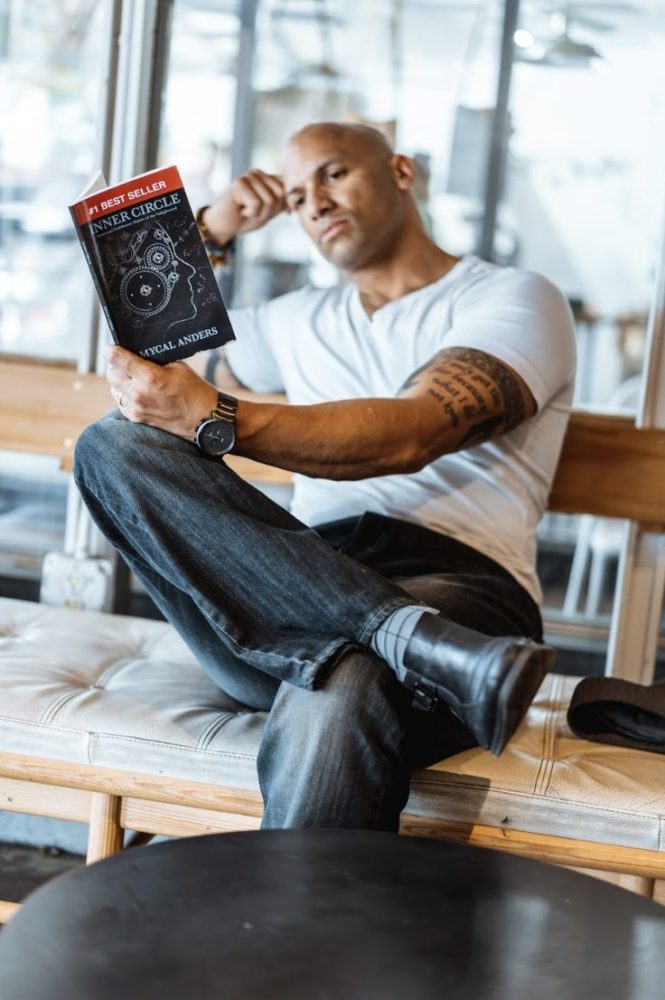 Name: Mycal Anders, MS, CSCS
Age: 35
Title: Founder of CrossFit PHX, Feed Me Fuel Me Podcast, & The 20 Percenters. Author of "Inner Circle: Focus & Fulfillment Habits of the Enlightened"
Married/Single: Married to Nicole Anders
Kids: My son Trystan (3), my daughter Camryn (1)
City you live in: Tempe, AZ
A typical day in my life includes…
4am wake up, set intention for the day & have a cup of coffee. 5am training session at CrossFit PHX. 6am-12pm coach classes and train my clients. 12-2pm shoot the Feed Me Fuel Me Podcast. 2-5pm meetings and Daddy Duty at the gym while Nicole trains. 5:30pm dinner & family time. 8pm relax with Nicole. 9pm lights out.
I was born…
in Madrid, Spain on Torrejon Air Force Base. My mother served 26 years in the Air Force.
My favorite thing about Arizona…
the sun and weather.
I'm listening to…
"Measure What Matters" by John Doerr on Audible. I'm huge into audio books!
My family…
is everything.
If I could have dinner with anyone, it would be…
Joe Rogan.
One thing I cannot live without…
journaling. I've kept a journal since I was 16 years old, and once I began to use with intention and manifestation, all the things I aimed to accomplish started to come to fruition!
When I was younger, I wanted to be…
a firefighter.
I'm inspired by…
the guests we host on the Feed Me Fuel Podcast who have amazing journeys that have lead to immense success. The CrossFit PHX Family who push each other to excel in all phases of life above and beyond the workouts we put them through.
The one person who motivates me is…
my wife, Nicole! She owns and operates a high speed executive consulting practice, handles two crazy kids (3 if you include me), and makes time for her fitness & wellness.
If I could change anything in the world, it would be…
I would give people the awareness of how much their thoughts effect their actions, which dictate the world they live in. We as humans have much more control than we give ourselves credit for.
The perfect day would be…
see my daily routine up top. Wake Up – train – shoot podcasts – hang with my family!
My first job was…
a stockboy at Bed, Bath & Beyond.
My favorite escape…
I love to travel and experience the adventures the world has to offer. I'll take a hike through nature any chance I can get. I'm hiking the Inca Trail & Macchu Pichu in December.
My life…
is the result of the paradox of learning. The more I am exposed to, the more questions I have. "I only got this far because of what I did not know." – Me
I'm currently working on…
building my Manifestation Group, The 20 Percenters. A collective of beautiful minds dedicated to enhancing each others efforts to maximize health, wealth, relationships, and time. The results have been amazing thus far, so I am really focused on taking this group to the next level!
Always…
wake up earlier than necessary to make time for yourself. You may not have it by the end of the day.
Never…
stop dating your significant other.
Favorite Quote…
"I took the road less traveled by. And that has made all the difference." – Robert Frost
Biggest Dream…
to get "Inner Circle" in the hands of over 250,000 people!
My Pet Peeve(s)…
tardiness. Timeliness and punctuality is a direct reflection of priority and respect.