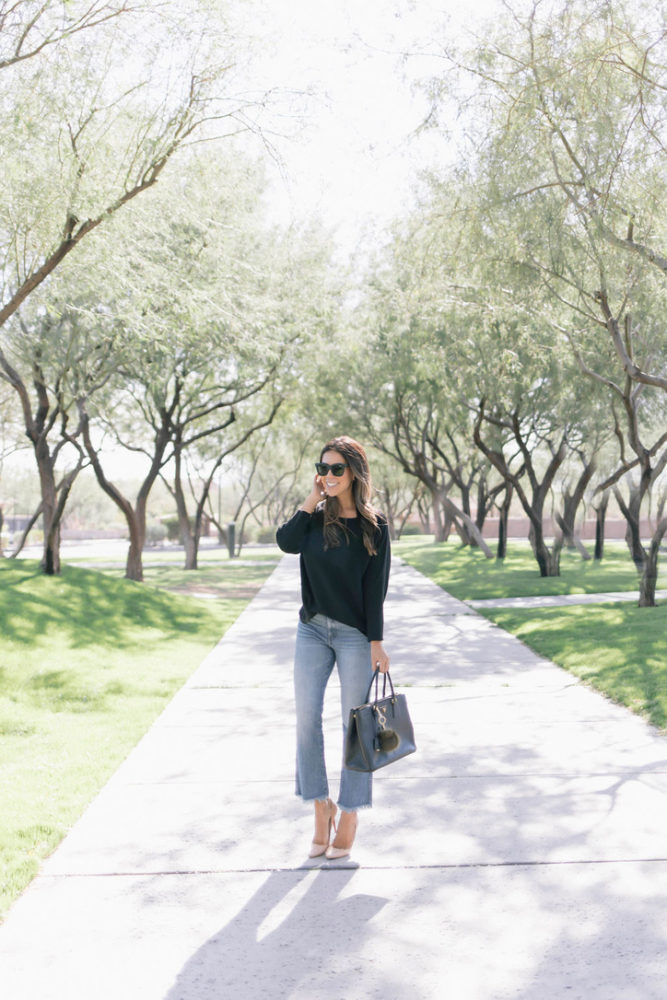 Name: Mika Perry
Age: 37
Title: Blogger/Podcaster
Married/Single: Married
Kids: Three – ages 4, 7, 14
City you live in: Scottsdale
A typical day in my life includes…
I wake up at 5am to give myself time before the kids wake up. This gives me time and space to meditate, pray, gather my thoughts, and drink my coffee in peace! I open all the blinds, turn on music, and get the diffusers going to create a peaceful atmosphere (and to help me wake up a bit).
Every day looks a little different, but during the school year, I get my girl's ready for school, out the door, and drop each of them off at different schools.
Many days, I'll take a workout class (right now I'm loving Pilates) around 8am. Then, I dive into my workday! This looks different every day but involves lots of emails, Instagram posts, and working on a few different projects I have in the works! We also record a podcast episode every Wednesday.
Around 3:30pm, I head to pick up my girls.
Once we're back home, I'll help them with homework and start getting dinner ready, most of which I've already prepped (I meal prep everything every Sunday!). Once dinner is over, we'll have some family time, and I get them ready for bed.
This is when I start my night routine which includes washing my face, setting up my coffee and lemon water for the next morning, reading, etc. Usually, I'm in bed and asleep by 10pm and ready to do it all over again the next morning!
I was born…
in Nagasaki, Japan.
My favorite thing about Arizona…
is that there are big open spaces, beautiful resorts, and good people!
I'm listening to…
A few of my favorite podcasts:
My family…
is my whole world! They make me laugh, and they're my favorite people to travel with.
If I could have dinner with anyone, it would be…
Meghan Markle because of her poise, grace, style, and drive, and I am pretty sure we could be best friends.
One thing I cannot live without…
good scents! I love anything that smells amazing. Candles and essential oils are a part of my daily routine.
When I was younger, I wanted to be…
a fashion designer.
I'm inspired by…
Ina Garten. She is iconic and effortless and fabulous. She just puts up a summer tomato tart or a simple roast chicken on her feed and reminds us all to not worry so much and truly enjoy the simple things in life.
The one person who motivates me is…
myself! I really believe that motivation needs to come from within 😉
If I could change anything in the world, it would be…
for all children to have love and safety in their lives.
The perfect day would be…
free time at home, trying a new recipe, and having everyone love it! It would end relaxing with family outside 🙂
My first job was…
the Gap at 16.
My favorite escape…
reading a food or home decor magazine in the peace and quiet.
My life…
is simple, happy, full, and ever-evolving 🙂
I'm currently working on…
my online courses! I just launched one on organizing and one on morning and night routines.
Always…
be grateful.
Never…
say never 😉
Favorite Quote…
"How we do one thing is how we do everything." – Dena Patton
Biggest Dream…
to have my own product line and store.
My Pet Peeve(s)…
people who loud-whisper in theaters and quiet rooms. WE CAN HEAR YOU.