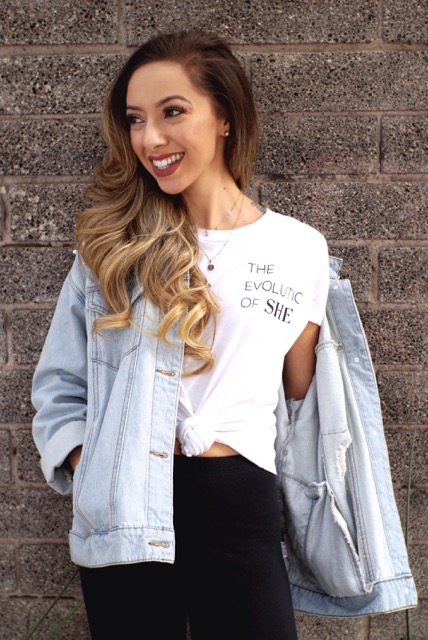 Name: Melanie Peralta
Age: 24 years young
Title: Founder of Woman 2 Womben
Married/Single: Single
Kids: one rambunctious 2 year old that keeps me on my toes!
City you live in: Mesa
A typical day in my life includes…
a cup of tea to start the day off, I looooove tea! "Bug hunts" outside and spider documentaries (my son is obsessed with bugs and spiders), meetings and event planning for Woman 2 Womben, yoga and audio books on audible (currently listening to "You Are The Placebo: Making your mind matter by Dr. Joe Dispenza).
I was born…
in Mesa on March 11, Pisces!
My favorite thing about Arizona…
the fact that I live just 2 hours away from Sedona! That's my ritual escape spot when I need to get away and reconnect.
I'm listening to…
a lot of Jhene Aiko right now, I love music with a message. Positive lyrics that I don't mind having stuck in my head all day, great affirmations.
My family…
is the most loving and encouraging support system I have. They are my backbone.
If I could have dinner with anyone, it would be…
Oprah Winfrey, that woman just exudes so much power and wisdom. I am so inspired by her journey!
One thing I cannot live without…
fun! I am such a free spirit; every now and then I always have to let my inner child out to play!
When I was younger, I wanted to be…
"A Grammy Award Winning Recording Artist", I love to sing and write music.
I'm inspired by…
people who live with courage and authenticity, the visionaries who take inspired action to bring their great ideas to life.
The one person who motivates me is…
my son, watching him evolve has been such a mirror. He is my reflection, which is why I am so devoted to becoming the greatest version of myself.
If I could change anything in the world, it would be…
the education system, we are raising robots and filling them up with a lot of information they'll never use in their lifetime. There should be more education on how to operate as the emotional, feeling and thinking beings that we are instead of just breeding workers to keep the economy afloat. I am all for educating people on how to be happy and whole humans.
The perfect day would be…
with my family and closest friends up at a cabin in Sedona, eating a delicious healthy meal that I didn't have to cook, swimming in the creek and soaking up some nature vibes.
My first job was…
at a shoe store called Bakers when I turned 16. Shoes, purses, and accessories, lets just say I was always broke but always fly 😉
My favorite escape…
singing, I don't have to go anywhere yet I still escape. I get into one song and literally lose touch with reality because I'm so focused and present with every note. I sing in the shower till the water gets cold, lol.
My life…
consists of 3 things, family, self expansion, and creating dope stuff for people to enjoy.
I'm currently working on…
the 3rd Annual Womben's Brunch by Woman 2 Womben. This is our biggest women's empowerment event of the year where we bring in some of Arizona's greatest empowerment leaders to share their wisdom and expertise with the women in our community. Providing complementary brunch and mimosas we have designed this event to be what we call "pampered empowerment", a true experience of self-care and personal investment.
Always…
move with pure intentions and a clear vision, bring your great ideas to life!
Never…
give away your personal power.
Favorite Quote…
"Happiness is when what you think, what you say, and what you do are in harmony" -Gandhi
Biggest Dream…
make Woman 2 Womben global and have centers called "The Womb" where we would implement our personal development programs to create a worldwide community of elevated thinking, feeling, and acting women.
My Pet Peeve(s)…
people who don't keep their word, other than that, I'm usually pretty unbothered, lol.
More about Melanie and Woman 2 Womben…
Woman 2 Womben is an empowerment community of elevated thinking, feeling, and acting women. I founded W2W 2 years ago shortly after I became a mother and realized just how vital the role of a woman is to humanity as a whole. We are literally creating the future so we better do a damn good job and sometimes "it takes a village". We are a village of our own. Woman 2 Womben is the platform to support a woman's personal development journey, the catalyst to the greatest versions of ourselves (I am on this journey as well). The "womb" in Womben is symbolic for the space that we create within our community. The womb is the place of origination and development. It's a safe, supportive and nourishing place that promotes growth. This is the environment that we create within our community at Woman 2 Womben. And the best part about it is that we all get to take on this journey together, building a sisterhood and bond that immensely contributes to our self expansion journeys'. Relationships, finances, motherhood and even personal power or identity issues, we address it all. This organization has mended and molded me into a greater leader, mother, and overall badass Womban.