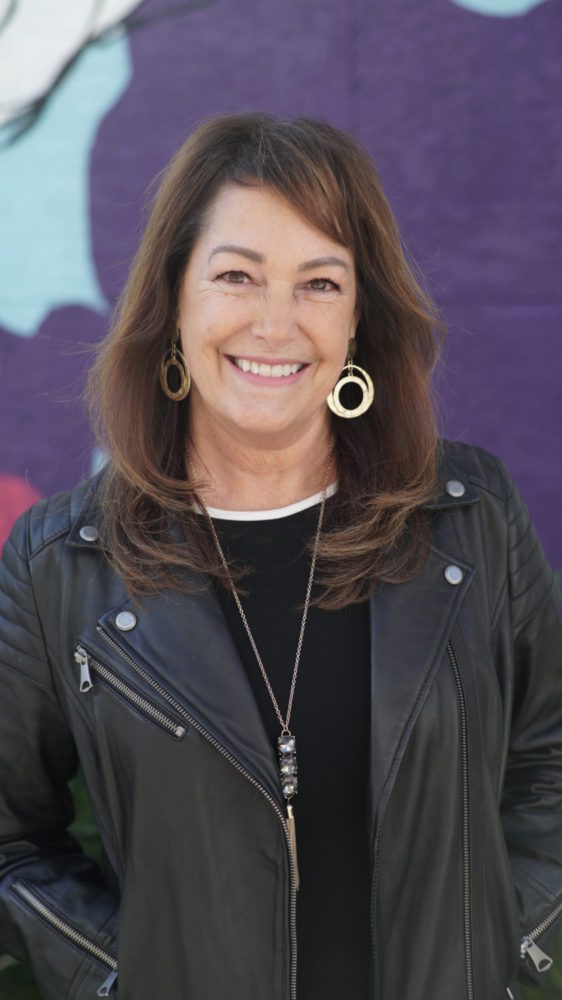 Name: Mary Murphy-Bessler
Age: Guess
Title: Executive Director, Downtown Chandler Community Partnership
Married/Single: I recently celebrated 25 years being married to my husband Don who is a hardworking, honest and dedicated family man with a great sense of humor that helps keep it all real.
Kids: I have three adult children with our youngest graduating from college this summer. Yippee! Our oldest son, Dylan, lives in Denver, daughter, Hannah, lives in New York City and our youngest son, Sawyer, lives in Tempe.
City you live in: Tempe or as our neighbors like to call it, South Tempe.
A typical day in my life includes…  
never having a typical day. I love how my days are not the same. I enjoy a good cup of coffee which is very easy to find in downtown Chandler. I enjoy a walk in our downtown area checking out all the shops and restaurants, and spending time with the business owners. I love the staff brainstorming sessions creating and planning new and exciting events and promotions. The hardest part of my day is deciding where to eat for lunch. With all the amazing independent restaurants we have downtown, it's a tough decision!
I was born…
in Appleton, Wisconsin and grew up in Neenah about 40 miles south of Green Bay on beautiful Lake Winnebago, Go-Pack-Go!
My favorite thing about Arizona…
is you can drive to your desired temperature and it's simply beautiful. 
I'm listening to…
jazz, blues or the live bands playing in Downtown Chandler.
My family…
is everything.
If I could have dinner with anyone, it would be…
my mom. My mother passed away at 51 years of age from breast cancer. I was in my late teens and twenties when she was sick and would love to have an adult conversation with her. I know it would be amazing.
One thing I cannot live without…
nature. For me nature keeps me grounded. I love it all from lakes, oceans to mountains and deserts and the beautiful creatures that inhabit them.
When I was younger, I wanted to be…
an airline stewardess and see the world.
I'm inspired by…
those who put service above self.
The one person who motivates me is…
my husband. He gives me perspective, encouragement, and support.
If I could change anything in the world, it would be…
to generate more love and understanding.
The perfect day would be…
some quiet time in my backyard, a good hike or walk during the day and end with a great dinner out with family and friends.
My first job was…
McDonald's, back in my day they would only accept young adults with a B average GPA or above.
My favorite escape…
a spa day in a beautiful, calm setting.
My life…
is right where I hoped it would be. My children are all independent, employed, hardworking and kind individuals who all like each other and their parents, imagine that! We enjoy our time together. I love my position with Downtown Chandler and all that is taking place in this beautiful charming downtown. From my staff to the businesses, they are simply the best.
Always…
know what your mission is and keep your eye on the ball.
Never…
forget the lessons you've learned.
Favorite Quote…
"To handle yourself, use your head. To handle others, use your heart." – Eleanor Roosevelt
Biggest Dream…
travel to Africa.
My Pet Peeve(s)…
dishonesty.
More about Mary and Downtown Chandler Community Partnership…
Mary Murphy-Bessler is the Executive Director of the Downtown Chandler Community Partnership (DCCP). The DCCP recently launched a brand new concert series coined Friday Night Live! Two musical acts will perform the third Friday of every month at Dr. A.J. Chandler Park West located at 3 S. Arizona Ave., from 6 to 9 p.m. The event is family-friendly and FREE to the public. Downtown Chandler (DC) is a vibrant community featuring eclectic shops, enticing restaurants, and exciting events throughout the year. From fine art to popular breweries, you can find it all here. The architecture of the DC makes it a unique area to visit, with original buildings from the early 1900s to the award-winning, modern City Hall. The walkability of the DC makes it a unique area to visit for an afternoon and after dark, the nightlife comes alive in the pubs, lounges, and eateries.