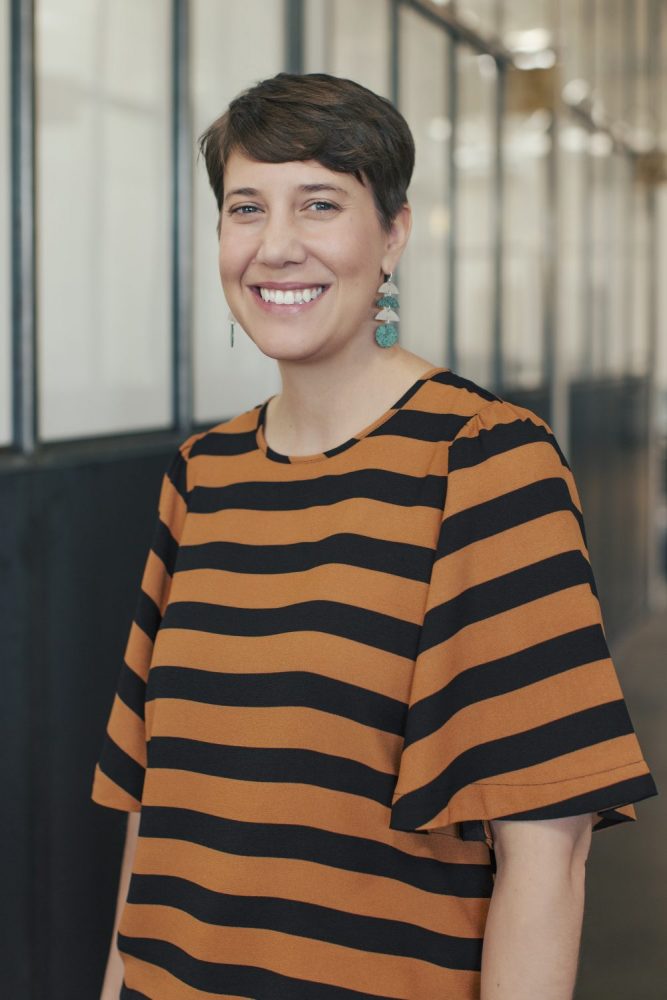 Name: Mackenzie Collier
Age: 36
Title: Owner/Lead Designer of Mackenzie Collier Interiors and Scheme
Married/Single: engaged
Kids: not yet
City you live in: Phoenix
A typical day in my life includes…  
7am black coffee, dog snuggles, morning yoga, working with my amazing design team and clients, dinner at home with my fiance and if I'm lucky, a sunset hike or kayak.
I was born…
on a farm outside St. Louis, MO.
My favorite thing about Arizona…
the diversity of landscapes here. You can get from snow to sun, from forest to canyon to desert in just a few hours. I love it!
I'm listening to…
60's on 6 on XM- very cool, I know.
My family…
is the best! We used to live all over the country once we left the nest, but my siblings and parents all eventually moved to AZ to escape dreary weather.  It's so much fun to be able to hang out regularly.
If I could have dinner with anyone, it would be…
my late grandma, Ina.
One thing I cannot live without…
my space heater is always under my desk.
When I was younger, I wanted to be…
an archaeologist or Tina Turner…or both.
I'm inspired by…
nature, always. I love exploring the southwest and traveling all over the world to adventure in the outdoors.
The one person who motivates me is…
my senior interior designer on my team, Aleah. We push each other out of our comfort zones constantly, which is really fun and terrifying.
If I could change anything in the world, it would be…
I'd make sure all children experience kindness, acceptance, empathy and security at home.  If they did, I think the world would be a lot better place as they grow into adults.
The perfect day would be…
backpacking with my fiance somewhere really remote in the mountains, a gorgeous sunset, a craft beer and a campfire under the stars.
My first job was…
nannying. I nannied for 12 years, through both of my college degrees and even continued for the first two years I was in business as an interior designer to supplement my income!
My favorite escape…
is being out of cell phone reception range – either in the mountains or exploring somewhere abroad like Bali or southern France.
My life…
is full of twists and turns, but is always an adventure.
I'm currently working on…
expanding my Interior Design business to both Portland and Denver in 2019.
Always…
speak your mind, kindly.
Never…
litter in nature!
Favorite Quote…
"Logic doesn't produce magic."
Biggest Dream…
to own a little cabin in the mountains.
My Pet Peeve(s)…
standing in line for food.
More about Mackenzie…
Mackenzie Collier, 36, is the owner and principal designer at Mackenzie Collier Interiors, a top-ranked residential and commercial interior design firm located in the heart of Downtown Phoenix. A recipient of a Bachelor of Science in Child and Family Psychology from Michigan State University and an honors graduate in interior design at Chicago's Harrington College of Design, Mackenzie regularly employs her multifaceted skill set into her day-to-day dealings at the design firm that bears her name, and she also makes periodic speaking appearances at national events focused on interior design, today's best business practices and similar topics. In addition to being an eight-year industry veteran with the same amount of time spent in her current role, Mackenzie has an inherent love of nature and an unquenchable thirst for adventure that shine through in her design efforts and allow her to create striking, sustainable spaces that reflect each client's signature style. And Mackenzie's latest adventure has been launching a sister company to Mackenzie Collier Interiors called Scheme, a room-by-room interior design solution for those interested in an easy, affordable decor makeover.