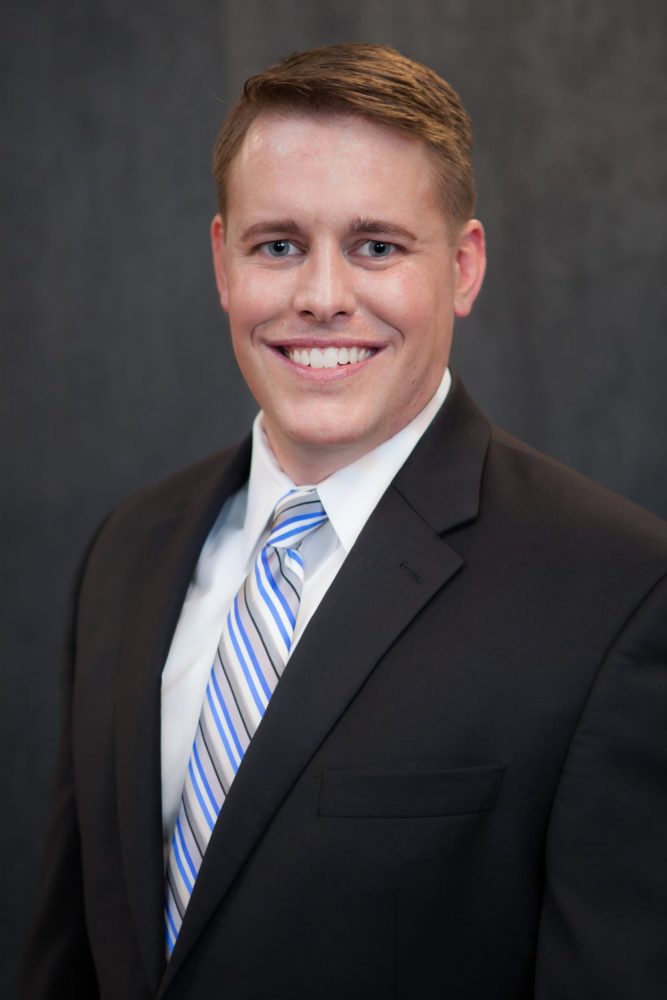 Name: Kyle McMillian
Age: 33
Title: Senior Vice President, Commercial Loan Officer at UMB Bank
Married/Single: Married
Kids: Two: Avery (4) and Frank (1).
City you live in: Peoria
A typical day in my life includes…
getting my kids ready for daycare (fixing girl's hair is quite the struggle), working with bank customers and prospects during the day, quick workout then home to hang with the family.
I was born…
in Kansas City, KS and spent the first 25 years of my life in the Kansas City area.
My favorite thing about Arizona…
it's January and it's 70 degrees outside, what's not to like?
I'm listening to…
podcasts or, if the kids are in the care, the "Trolls" and "Sing" soundtracks.
My family…
is everything. They keep me grounded, provide me joy and are a constant source of support.
If I could have dinner with anyone, it would be…
Michael Jordan. Not only was he the best all time, but he had a knack for making those around him better, which is a vital trait for a leader.
One thing I cannot live without…
my phone, as bad as that sounds. It keeps me plugged in to everything going on around me and more importantly, is my line back to family in Kansas City.
When I was younger, I wanted to be…
a doctor. Hours in an organic chemistry lab made me realize I would be better suited for a different career path and that there are different ways to help people.
I'm inspired by…
my parents, who taught me the values of hard work, integrity and to always treat people with respect.
The one person who motivates me is…
my kids (so technically two people). Their constant happiness and wonder ensure that my battery is always charged, so to speak.
If I could change anything in the world, it would be…
time zones. I also just traveled with kids across two time zones where sleep schedules were screwed up for a week, so I my perspective may be a bit skewed.
The perfect day would be…
sleeping in, spending time outdoors, having a nice dinner and seeing a movie or going to a sporting event.
My first job was…
a host/server at a Mexican restaurant.
My favorite escape…
is traveling overseas. I enjoy experiencing different settings and cultures.
My life…
is pretty awesome. I have a tremendous wife and two sweet kids, a great job/employer, live in a State with a business environment that rivals the amazing winter weather and am surrounded by great friends. The only thing missing is having immediate family nearby, but that can be fixed with a two and a half hour flight.
I'm currently working on…
a really awesome charity event called Brokers for Kids. Presented by the Scottsdale 20/30 Club, Brokers for Kids is a fundraising competition between teams within the commercial real estate industry that culminates in the "Olympiad", where teams compete in fun recreational games like bocce and bean bag toss. I'm honored to be the event Chairman in 2018.
Always…
be true to your word.
Never…
sacrifice your morals or integrity for personal gain.
Favorite Quote…
"Oh, take your time, don't live too fast. Troubles will come and they will pass." – Lynard Skynard
Biggest Dream…
since a pro athlete career and winning the lottery seem unlikely, I'll settle for good health, happiness and a world where opportunities are only limited to what your mind can envision.
My Pet Peeve(s)…
I'm a neat freak, so cleanliness and organization are very important to me. I also struggle with people that do not stick to their word.