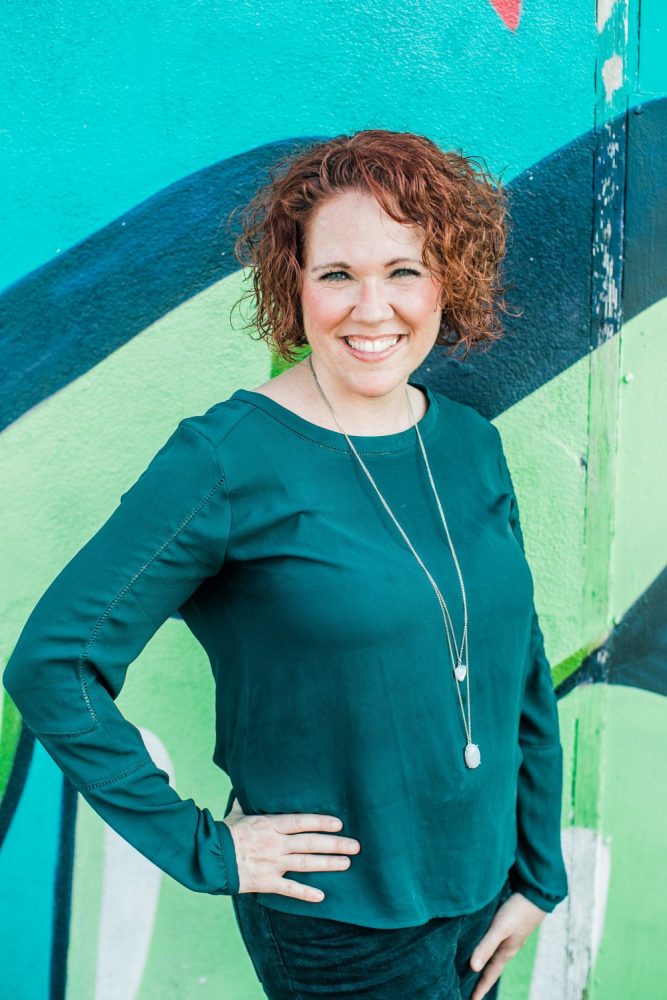 Name: Kim Vehon
Age: 36
Title: Founder and CEO of Foster Arizona
Married/Single: Married
Kids: 7
City you live in: Mesa
A typical day in my life includes…
a lot of organized craziness. My husband and I are constantly balancing who has what each day, including when someone needs to be picked up, dropped off or taken to appointments, and who has the most pressing work to do. We balance all the crazy by scheduling in fun as much as we possibly can. I think that is the best way to remember why we do what we do and why we love our life so much.
I was born…
in a small town in Missouri. I was sad when we moved to the city, but now I don't think I would know what to do if I didn't have the city activity.
My favorite thing about Arizona…
I am fairly obsessed with the sunrises and sunsets in Arizona. I also love that we are within driving distance to the beach, and that true winter is just a few hours' drive when I need a little snow fix.
I'm listening to…
Lauren Daigle, vocal jazz standards, Jason Mraz, Train.
My family…
is my heart. They inspire me daily to be better and to do better.
If I could have dinner with anyone, it would be…
Abraham Lincoln.
One thing I cannot live without…
my family. Stuff is stuff but people are really what makes life worth living.
When I was younger, I wanted to be…
a singer.
I'm inspired by…
innovation and creativity. I am inspired by the stories of leaders who do what people previously deemed impossible, and those who are not afraid to do what is right even if it costs them everything.
The one person who motivates me is…
Jesus. I want to love people and see the world through his example.
If I could change anything in the world, it would be…
that kids would not suffer.
The perfect day would be…
slightly overcast and breezy, sitting on the beach with a good book, my family playing and an empty schedule.
My first job was…
babysitting and painting house numbers on the neighbors' curbs.
My favorite escape…
the beach with my feet in the sand and a book in my hand.
My life…
is a gift that I don't want to waste.
I'm currently working on…
fundraising projects for development of our housing project and Foster Cooperative
Always…
believe in the possibilities.
Never…
quit. Too many people think that they have failed at something when, in reality, they may have just quit before the big breakthrough happens.
Favorite Quote…
"How do you eat an elephant? One bite at a time."
Biggest Dream…
every kid would have a place to call home and every family would be confident in themselves to meet the needs of their kids.
My Pet Peeve(s)…
whistling, fighting and other unnecessary noises… and crumbs in my bed…
More about Kim…
Kimberly Vehon is the founder and CEO of Foster Arizona, a nonprofit focused on educating, encouraging, and empowering Arizonans to positively impact the lives of kids in foster care. In 2018, Kim received the Congressional Coalition on Adoption Institute's Angels in Adoption Award for her work in foster care. Since the inception of Foster Arizona in 2013, Kimberly's mission has been to engage with the community in ways that allow children in foster care to thrive. Prior to starting Foster Arizona, Kimberly worked in local churches doing both production and worship. She continues to use her creative storytelling abilities and innovative leadership skills to help change the face of foster care. Kimberly is passionate about helping children find loving families because she has experienced the personal joy that comes from being a foster/adoptive mom. Kimberly is a proud mom of seven children and a grateful wife to an amazing husband who supports and encourages her to dream big and change the world.
 More about Foster Arizona…
Five years ago, in response to the increasing number of children needing homes and the urgent need for Arizonans to get involved in the foster care crisis, Kimberly Vehon established Foster Arizona. Under the Kim's direction, the nonprofit organization is focused on educating, encouraging and empowering Arizonans to positively impact the lives of children in foster care.
Foster Arizona hosted the first Kid Connection event in late 2015. Since that first event, more than 2,500 youth in foster care have gained life skills, formed relationships with their community, discovered resources, and had fun. Kid Connection events further Foster Arizona's mission by connecting the community with foster care and providing low-barrier opportunities for potential foster families, mentors, court-appointed special advocates, and advocates to safely explore connecting to kids in foster care with no expectation of commitment.
In 2017, Foster Arizona educated more than 100,000 people through its blog, its videos that highlight adoptable kids, and its community events and activities. In 2018, Foster Arizona launched a pilot housing program for teens aging out of foster care. We currently provide housing for 10 teens, extending our mission to impact the lives of young adults transitioning out of foster care.
Providing resources for those who are caring for at-risk kids is vital to a family's health, to foster parent retention, and to decreasing the number of failed adoptions. In response to the growing need for connection for those who are caring for foster kids, Foster Arizona is working to create an open-sourced, online platform of resources called Foster Cooperative to empower those who are caring for at-risk children. These resources, peer supports, and community connections will help to reinvent and improve communication about foster care.