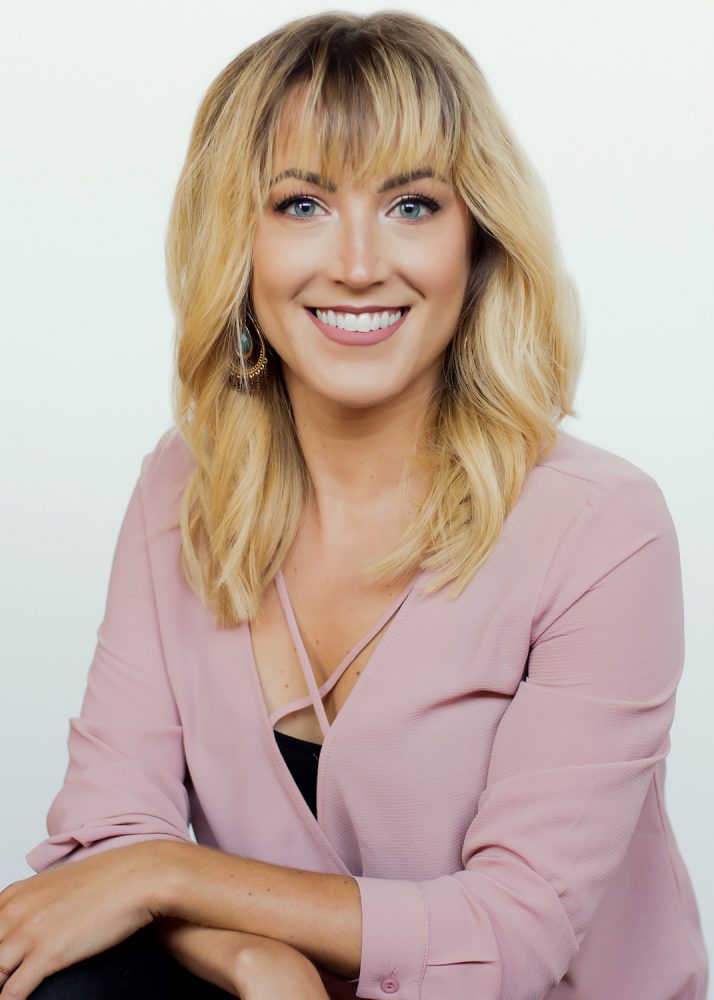 Name: Katie Thorson
Age: 28
Title: Director of Special Projects at St. Joseph the Worker, and founder of lookfeeldoPHX.
Married/Single: Married
Kids: No
City you live in: Phoenix
A typical day in my life includes…
waking up early, working out at the gym/reading/working on lookfeeldoPHX stuff, getting myself ready for the day with my makeup/hair and picking out an outfit that represents the way I need to feel throughout the day, going to work and doing the best that I possibly can that day, after work I do whatever I need to or want to do (happy hours with friends, walking or hiking with the doggo, lookfeeldoPHX stuff, projects around the house, yoga, reading, checking off to-do's), at night I hang out with my husband and animals, we usually cook, hang in our yard or watch a fun show to chill us out, then I have a long bedtime routine that I go through to put myself into calm mode and prepare for the following day 😊 Food is mixed in there when I'm hungry and I try to meditate each day at some point
I was born…
a Minnesotan!
My favorite thing about Arizona…
is the diversity of almost EVERYTHING. The landscape, people, food, and places to go. I can explore so many different interests in one state. I do, however, like the consistency of the sun.
I'm listening to…
podcasts (anything by Aaron Mahnke, Transform, To Live and Die in LA, One Day Job, My Dad Wrote a Porno), rap (I go through obsessive phases of people, producers, types of rap, etc. – at the moment I'm big into Atlanta rappers again), and meditations
My family…
is the most supportive, loving humans I could ever ask for. I don't know what I did to deserve them and I'm not letting them go. I count chosen family as family here as well.
If I could have dinner with anyone, it would be…
Leslie Knope.
One thing I cannot live without…
my "me time" routine each morning. I'm no good without it
When I was younger, I wanted to be…
a veterinarian, a makeup artist, a psychologist, a yogi, a geologist, a teacher…
I'm inspired by…
life. My own and the privilege being a part of others'.
The one person who motivates me is…
Leslie Knope.
If I could change anything in the world, it would be…
the way we speak to one another and listen to one another.
The perfect day would be…
a day full of new experiences, food, people, places and things to do.
My first job was…
babysitting.
My favorite escape…
my parents' cabin in Wisconsin or my backyard.
My life…
is ever-evolving and changing.
I'm currently working on…
myself. For years I was focused on working on other people, projects, organizations etc. I've taken real time and effort for myself and what really matters to me lately and it's been more therapeutic than I thought was possible.
Always…
be gentle with yourself.
Never…
let an opportunity pass to do something nice.
Favorite Quote…
"Ladies is pimps too" – Jay Z
Biggest Dream…
to meet everyone in the world (I know that's not realistic, but I would like to meet as many people as I can).
My Pet Peeve(s)…
I have a few, but as I'm thinking about them they each have to do with being inconsiderate of other people. Just be considerate of others (and yourself).
More about Katie…
Katie Thorson is a Masters of Education graduate from the University of Minnesota, Twin Cities. Born and raised in Minnesota, she moved to Arizona in 2014 to pursue a career in nonprofit. She has had the honor of serving in multiple organizations as staff, volunteer, board and committee member. Among her most proud moments is winning Young Network Professionals Network (YNPN) Phoenix's LINK in 2016. She currently works as the Director of Special Projects at St. Joseph the Worker, using her creativity, energy and passion to help people become employed. In addition to her nonprofit career, Katie is the founder of lookfeeldoPHX, her side hustle that helps to empower people to do their best through makeup.