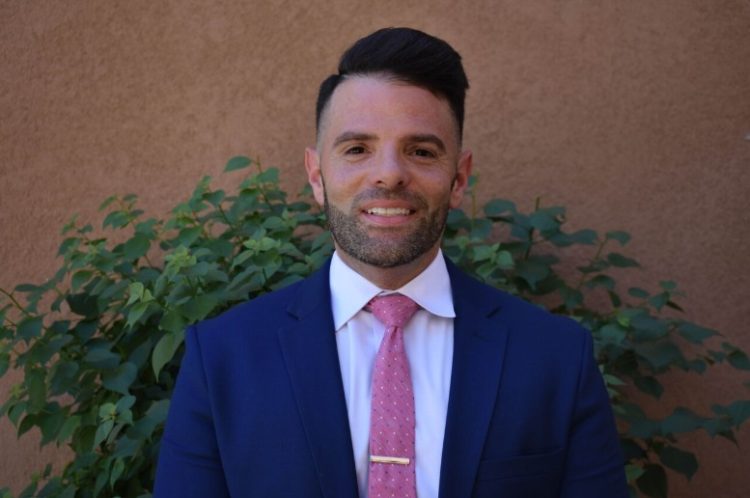 Name: Josh Fink
Age: 41
Title: General Manager of Nick's Menswear
Married/Single: Married
Kids: 2
City you live in: Scottsdale
A typical day in my life includes…
brunch at 11 then lay by the pool all day…jk. I  wake at 4 a.m. ish and in the gym by 5, back home to play with my kids for a few hours then off to work, either in store or out and about.  Home for dinner with the fam and put the kids to bed at 7 p.m. Work a bit more on emails and projects, then asleep by 9.
I was born…
in Minot, North Dakota on 7/7/77.
My favorite thing about Arizona…
gotta be the winters.
I'm listening to…
Freaky Friday by Lil Dicky on repeat.
My family…
is my why.
If I could have dinner with anyone, it would be…
my grandfather Stan.  He was admired by everyone and he passed away before I became an adult.
One thing I cannot live without…
Spinach Feta Turkey Burgers (shout out to Sprouts).
When I was younger, I wanted to be…
a golf professional.
I'm inspired by…
passion and perseverance.
The one person who motivates me is…
my wife and kids are my biggest motivators. They push me and motivate me to be the best I can be.
If I could change anything in the world, it would be…
hate and not seeing others point of view.
The perfect day would be…
sleeping in past 5 a.m., morning workout, breakfast with my family, golf with my buddies, nap, yoga, play with my kids at the park or pool, Sumits Yoga, dinner and cocktails.
My first job was…
working in my family's clothing store.
My favorite escape…
the lake, aka, Lake Metigoshe.
My life…
really couldn't get any better. I got lucky and am thankful every day for it.
I'm currently working on…
building our brand and educating people on the value of buying versus renting.
Always…
tip your bartender.
Never…
judge a book by its cover.
Favorite Quote…
"You can never be overdressed or overeducated"- Oscar Wilde.
Biggest Dream…
Nick's Menswear to be a household name.
My Pet Peeve(s)…
story toppers/one-uppers. You know who you are.
More about Josh…
I moved to AZ in January 1997 after freezing my tail off in ND and pursued my dream of becoming a golf professional at the Golf Academy of AZ. After that, I played professionally for a few years and found my niche in teaching. I was in the golf industry until 2011 and bounced around for about a year until I sat down with my aunt and uncle and talked about being a part of Nick's Menswear. My family had owned clothing stores in North Dakota pretty much my whole life and it was in my blood. I came on board and proved that I was the right guy for the job. Fast-forward almost 7 years later here we are, 4 stores, a booming wedding and prom business with unlimited growth opportunities. At Nick's our one job is to provide the absolute best service in the industry with the best fit and price. Because we live in Arizona, people aren't wearing suits on a daily basis, so our typical customer either has an old suit that doesn't fit anymore or doesn't have a suit and needs one quickly. Last year we clothed over 1,000 wedding parties and dressed nearly 5,000 local high schoolers, while donating back $50,000 to local schools…pretty cool.