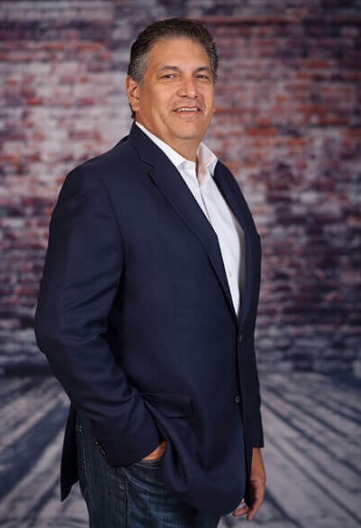 Name: José Valdés
Title: Vice President, Engagement, Equality Health
Married/Single: Married, have been with my wife my entire adult life.
Kids: One awesome son with an "old" soul and a heart of gold. Car enthusiast. Attending ASU.
City you live in: Ahwatukee
A typical day in my life includes…
waking up every morning with Prince EA's "Everybody Dies But not Everybody Lives" video playing in my head.   Making sure that my mother and father's sacrifices of bringing us to this country means something.
I was born…
in Mexico City and grew up in Tijuana until the age of 5. Parents made the decision to come to America with the "hope" of being able to provide a better life for us. The American Immigrant dream.
My favorite thing about Arizona…
I met my wife here in Arizona.
I'm listening to…
everything! From Maná to Santana, James Brown to Bruno Mars, Zydeco to Texas Blues. Cannot forget the Rolling Stones (first concert), Pat Benatar (first date with my wife), Journey (one of best concerts I saw with my then GF, now wife), Eagles, and even local artists like Obadiah Parker.
My family…
interesting like any other, but love them all. They have all influenced who I am today and tomorrow.
If I could have dinner with anyone, it would be…
my father, who left this earth one year before my first and only son was born. We would discuss politics, life, and I would share what has transpired over the past 24 years over a great dinner and great wine… a luxury he never had, but always aspired for us to have.
One thing I cannot live without…
family, love, art, wine, and respect.
When I was younger, I wanted to be…
an artist, but kept hearing the term "starving artist". Then, met the second most influential person in my life, the person I consider my second dad (he hates that description). He instilled the entrepreneurial, hard-work work ethic.
I'm inspired by…
my father, wife, and son every day.
The one person who motivates me is…
me. We are the sole decision maker as to whether we are going to be "positive" or "negative" every moment of the day and whether we are going to "react" or "respond" to live.
If I could change anything in the world, it would be…
racism.
The perfect day would be…
golf in the morning and then a great dinner and wine with my wife, son and close friends and family.
My first job was…
assembling and selling costume jewelry when I was 11 years old with my second Dad. I remember my mom making me come home so that I would get enough sleep to go to school the next day.
My favorite escape…
traveling within Latin America (San Miguel de Allende, Guanajuato, Michoacán, Buenos Aires).
My life…
has always made me feel that I have been blessed. At the same time, life is like a poker hand… The best hand doesn't always win. It is all about how you play the game. Yet, this is only possible in America.
I'm currently working on…
applying everything I have learned throughout my career and life and creating a next generation Mobile Engagement & Empowerment platform specifically targeting the Hispanic community at Equality Health and creating a New Culture of Care.
Always…
be positive. It is hardest thing to do.
Never…
be negative. The easiest thing to do.
Favorite Quote…
"Whether you think you can or you think you can't, you are right" ~ Henry Ford.
Biggest Dream…
still to run my own company.
My Pet Peeve(s)…
negative people.
Click here to order a Trendsetters reprint.