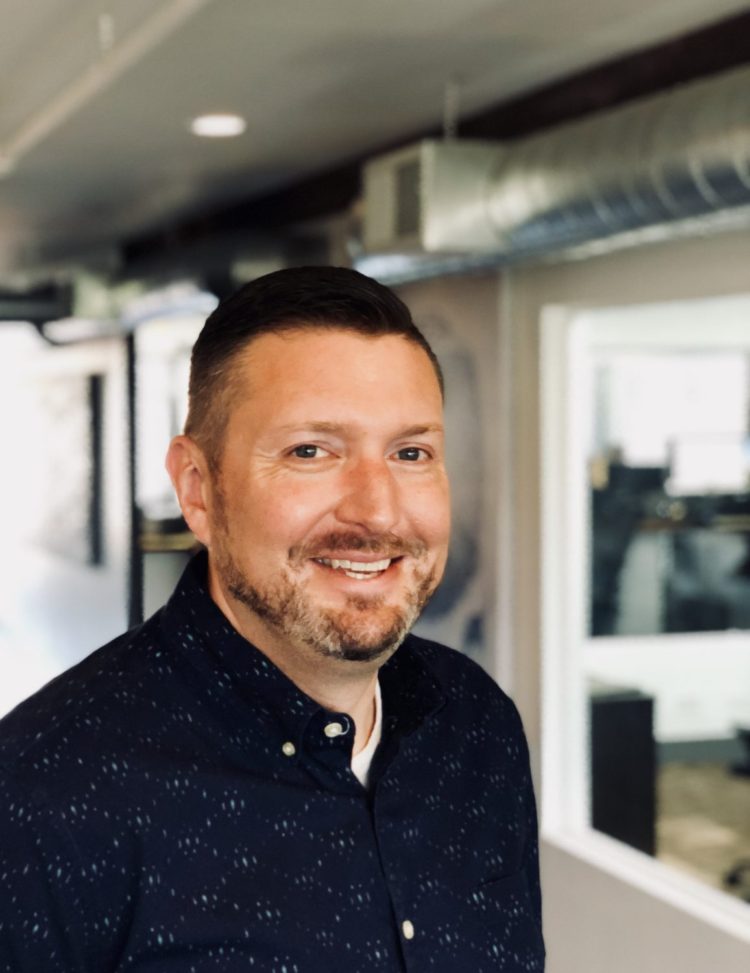 Name: Joel T. Coen
Age: 39
Title: Chief Digital Officer of Commit Agency
Married/Single: Married
Kids: 2, Isabella and Jackson
City you live in: Chandler
A typical day in my life includes…
waking up at 5:30a for High Intensity Interval Training at the gym at 6a. Breakfast includes oats, a banana and protein powder all mixed in the blender with some almond milk and then off to work. As the Chief Digital Officer, most of my day is about managing any issues that may come up that affect the agency. In addition, much of what I work on is related to strategy and making sure that everything we do is related to cutting edge techniques that will help our clients achieve the results they are looking for. Lastly, I try to read for at least one hour per day to keep up with best practices and make sure I am always learning.
I was born…  
in Santa Clara, CA. My birthplace is about 2 blocks from the new Apple headquarters which may explain my addiction to Apple products.
My favorite thing about Arizona…
the diversity in the landscape. I love that I can go 2 hours away and be at 7,000 feet above sea level in a pine forest. There is just so much to explore here and with as much as my family loves the outdoors, it makes it a perfect place for us. Additionally, I hate the cold, so there is that.
I'm listening to…
a lot of music. My team will tell you that I pretty much listen to alternative music non-stop and they wouldn't be wrong. I am always listening to new music which I get delivered via, you guessed it, Apple Music.
My family…
is something else. My wife works in aerospace and that's about all I know. If she told me more she would have to kill me. Isabella is a Junior in high school and loves the outdoors. In fact, she hopes to be a park ranger one day. Jackson is in Junior High and he loves reading, video games and wants to be an FBI agent when he grows up.
If I could have dinner with anyone, it would be…
living, I would have to say Barack Obama. Not because of any political leaning reason, but because I want to know what it was like during several key moments in his presidency in terms of how he dealt with adversity. If it would be the opportunity to dine with anyone living or dead, dinner with Jesus would be something.
One thing I cannot live without…
my time with my family.
When I was younger, I wanted to be…
a pilot.
I'm inspired by…
pure courage and people who stand up for the little guy. I am inspired by my family most, but when it comes to business I am inspired by my team and my business partners. It is amazing to have absolute trust in someone and we have built that over the last 3.5-4 years of working together. I am very thankful for that.
The perfect day would be…
working through Europe via train with my family. We love to travel and Europe is one of our favorite places.
My first job was…
running a landscaping business with one of my friends.
My favorite escape…
the Big Island of Hawaii.
My life…
I want to leave a legacy for those that were a part of my life. I want to matter. Everything I do, I do my best to make it intentional and meaningful. We all have to remember that life will end for us one day and it's best to not get lost in the distractions.
I'm currently working on…
staying the best at what I do. It is a constant challenge to keep up while also being a good boss and family man.
Always…
be honest, forthright and make a positive difference in the lives of those around you.
Never…
take what you have for granted. Never prey on those less fortunate than you.
Favorite Quote…
"Give me six hours to chop down a tree and I will spend the first four sharpening the axe." – Abraham Lincoln.
Biggest Dream…
I may be living it now. Owning a business with people I trust and being the best at what we do.
My Pet Peeve(s)…
people who take advantage of others.

Click here to order a Trendsetters wall plaque.