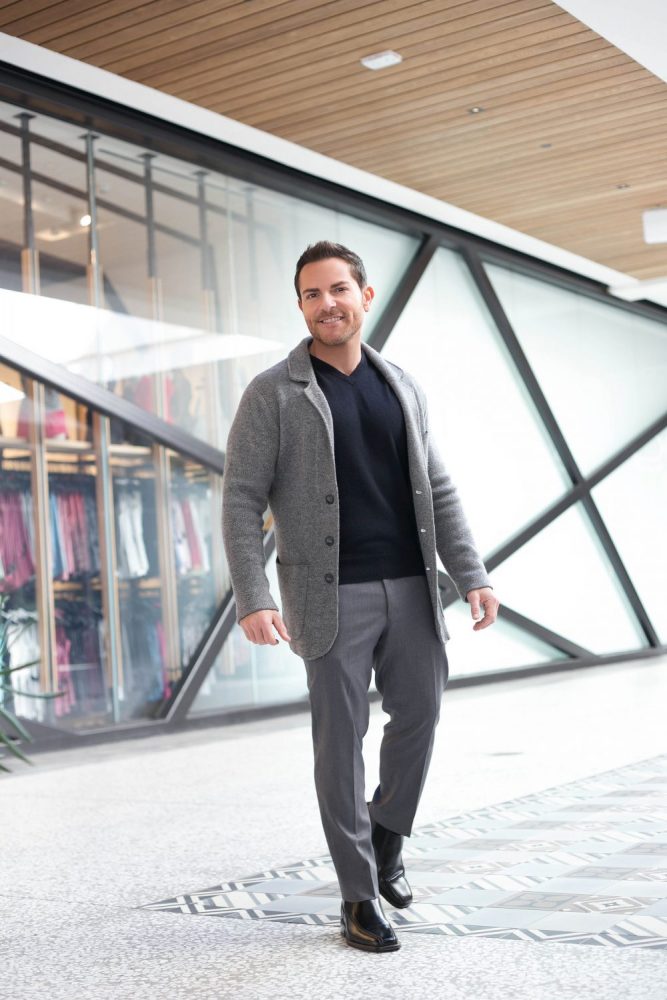 Name: Jason Rosell
Age: 38
Title: TV celebrity lifestyle, wellness, branding and relationship coach. Founder of Caliente Fitness.
Married/Single: single 
Kids: none
City you live in: Scottsdale, Arizona and Studio City, California
A typical day in my life includes…
daily meditation, body weight training workouts, making and eating yummy meals, working in front or behind the camera with client, taking a daily "siesta," and spending time with family and friends.
I was born…
in Queens, New York and my first language is Spanish from Spain where my parents are from.
My favorite thing about Arizona is…
the happy attitude of people that live here.
I'm listening to…
1990's top hits.
My family…
is amazing and live all over the world.
If I could have dinner with anyone, it would be…
Denzel Washington. I find him super interesting.
One thing I cannot live without…
water.
When I was younger, I wanted to be…
a radio/TV host. Funny enough, I have worked in the television world for 15 years now. My podcast, which will be released soon, includes a lot of motivation, interviews with amazing people and Arizona companies to look out for. The name of the show is "Get Inspired With Jason Rosell." and is aired on YouTube, iTunes podcasts and Spotify.
I'm inspired by…
myself. I say that because anything I have imagined and worked towards, I have achieved. One of the many things I've worked for is transforming my life and body from being obese to getting in great shape mentally and physically. Now I help celebrities as well as thousands online and in person in both Los Angeles and Arizona do the same.
The one person who motivates me is…
my mother. She is a true super woman.
If I could change anything in the world, it would be…
making people treat each other with nothing but respect.
The perfect day would be…
waking up in Bora Bora, going swimming, dancing on the beach, and eating yummy foods with amazing people.
My first job was…
working at McDonald's making burgers.
My favorite escape…
music, it helps me focus and feel even happier than I already am.
My life…
is very fulfilling because I am doing all the things I love.
I'm currently working on…
making new, quality professional and personal connections in both Arizona & Los Angeles.
Always…
realize how blessed you are. Someone always has it worse than you.
Never…
assume. You never really know anything about things or people unless you take the time to understand.
Favorite Quote…
"Mind right, body tight" – me, Jason Rosell J
Biggest dream…
to travel all over Europe and Latin America.
My Pet Peeve(s)…
bad hygiene, inconsiderate people, negative people, and laziness.
More about Jason…
Jason Rosell is an American/Spanish TV personality, life coach, celebrity trainer, author, social media influencer, premiere lifestyle and wellness expert and the founder of the award-winning global wellness brand, Caliente Fitness.
Rosell has successfully built his brand by helping thousands of women and men transform their mental, physical and spiritual mindsets, lose weight and achieve their wellness goals through his carefully curated life coaching and fitness & food programs including his current Yummy Healthy Dinners and Yummy Healthy Recipe books.
His incredible health & beauty transformations have been featured in several global publications including Women's Health and Men's Fitness. Recently Rosell became the winner of Jillian Michael's reality, fitness competition television series, Sweat Inc. His additional television appearances include Steve Harvey, "Hallmark's" Home & Family, The Adam Carolla Show, Hollywood Today Live, American Latino, All My Children, Saturday Night Live, VH1's I Love New York, I Love Money, Entourage and more.
Rosell also serves as a social media and branding strategist for individuals and companies seeking to revamp their online presence. His most recent e-book, Instagram Power Growth released in 2019.
For Jason Rosell, his fitness and life-coaching program is more than just a lifestyle – it is a lifesaver. At the age of 21, he reached his heaviest weight of 225 pounds. Standing at just 5 feet 6 inches, he was 75 pounds overweight, physically unhealthy, insecure and depressed. His daily routine of eating an entire box of Oreo cookies after work reached a turning point when one night, he dropped a cookie, couldn't find it and after relentless searching finally found the cookie stuck to his oversized belly. At that moment Rosell made a profound commitment to change his life through diet and fitness. He developed his own unique health and fitness regimen by pairing his love of music with customized, small but highly effective workouts through which he ultimately lost 75 pounds and dropped 10 pant sizes. 
In 2010, he founded Caliente Fitness, a high-energy fusion of music, dance and workout routines designed as an alternative for people wanting to lose weight and build muscle both inside and outside of the gym. Renowned for his colorful, DVD and digital fitness video series including Everybody Work it Out and Sexercise, (featured on the Steve Harvey and Today shows) he has dramatically transformed thousands of lives with his out-of-the-box programs.
As a renowned, certified personal trainer, a healthy eating, weight loss expert and a dynamic, accredited life coach, Rosell has become one of todays most recognized and effective lifestyle renovators. His approach combines positive thinking with aligned action to develop new, constructive belief and wellness systems through fitness and nutrition.
As bilingual speaker (born in New York, raised in Spain) and currently residing in Los Angeles, and Scottsdale, Arizona Jason outreach is worldwide.
Click here to order a Trendsetters reprint.