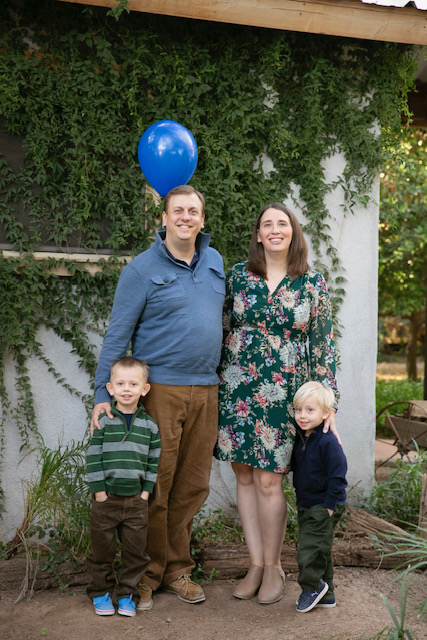 Name: Jake Adams
Age: 41
Title: Chief Development Officer for Southwest Human Development
Married/Single: Married to Cassie Adams
Kids: 3 – Henry, Oliver and Jack
City you live in: Melrose District in central Phoenix
A typical day in my life includes…
making snack packs for the boys, getting them dressed and off to preschool, then meetings with people who believe in early childhood.
I was born…
in the back of a pick-up truck camper on a commune in Tennessee to a midwife on my dad's birthday (no, I'm not kidding).
My favorite thing about Arizona…
is the diversity of climates and geography. Desert in the south, forest up north and the Grand Canyon. Also there are lots of people who are not from here.
I'm listening to…
my 4-year-old is still singing Rudolph the Red-Nosed Reindeer and NPR!
My family…
is amazing.
If I could have dinner with anyone, it would be…
Todd Bol, founder of Little Free Library, who passed away very quickly last year. I didn't get a chance to have a last conversation with him.
One thing I cannot live without…
coffee.
When I was younger, I wanted to be…
a helicopter pilot who caught drug dealers.
I'm inspired by…
Little Free Libraries (I'm a member of their board of directors).
The one person who motivates me is…
my wife, Cassie.
If I could change anything in the world, it would be…
for scientists to figure out the cause of SIDS. My oldest son Henry, who I share a birthday with, passed away in 2013 of SIDS. I miss him everyday.
The perfect day would be…
going for a nice, long hike and camping beside a lake when the fish are biting.
My first job was…
a shop assistant at an auto mechanic's shop.
My favorite escape…
using power tools to build things.
My life…
is pretty damn good!
I'm currently working on…
not watching Netflix and reading more.
Always…
take responsibility when things go wrong and share the credit when things go well.
Never…
ask someone to do something that you're not willing to do yourself.
Favorite Quote…
"Life is too serious to be taken seriously."
Biggest Dream…
travel the world in a mega yacht.
My Pet Peeve(s)…
when people park their car, trash or recycling on the sidewalk – that's for pedestrians! Think about people with strollers or in wheelchairs.