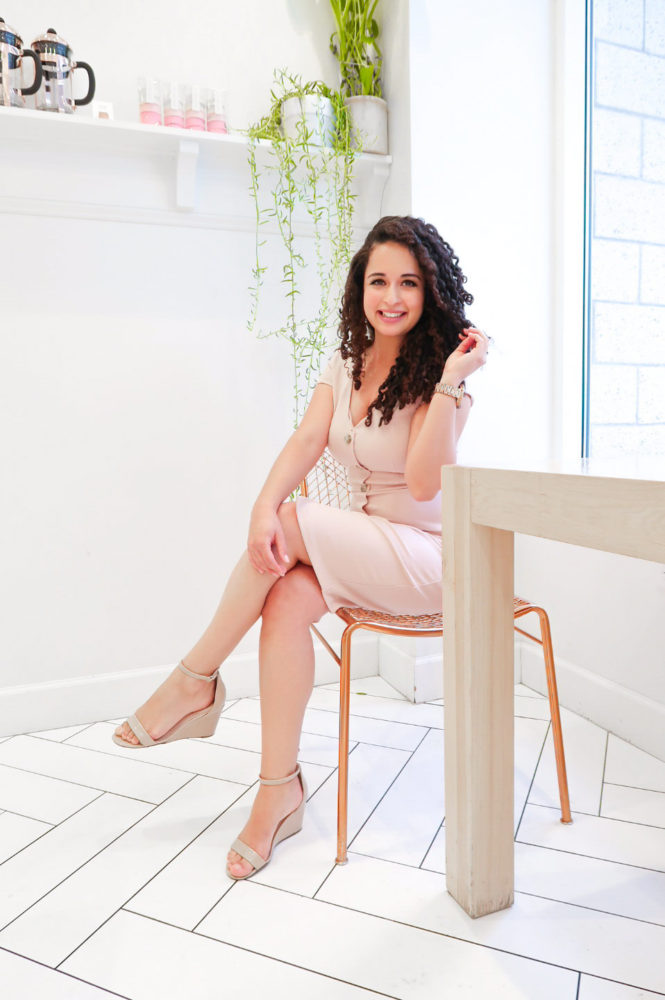 Name: Grecia Olachea
Age: 28
Title: Social Media Manager
Married/Single: In a relationship
Kids: Taco the pug (@itstacobean on Instagram!)
City you live in: Phoenix, Arizona
A typical day in my life includes…
my day starts off with a big cup of coffee with a bigger splash of cream. I spend most of my time at the office creating social media posts and email campaigns for clients and having long discussions with my coworkers about social media and TV shows. After work, I usually hang out with my boyfriend and our sweet little pug or with my parents at home. The end of the day usually includes lots of Netflix, catching up with texts and scrolling on Instagram.
I was born…
in a sunny desert not too far away from here: Mexicali, Baja California, Mexico.
My favorite thing about Arizona…
is that there's so much to do and so many hidden gems! From cute local coffee shops to a spontaneous day trip to Sedona, you can never get bored in this state.
I'm listening to…
Crime Junkie podcast. I'm the biggest scaredy-cat, but I LOVE true crime podcasts. I never listen when I'm home alone though.
My family…
is the most caring and sweetest group of people I know.
If I could have dinner with anyone, it would be… 
the Friends cast! Maybe they'll tell me how they always got the best table at Central Perk.
One thing I cannot live without…
coffee, coffee, coffee.
When I was younger, I wanted to be…
an Interior Designer — a famous one! I remember walking into places at a very young age and always thinking of ways to improve these spaces. Once I went to college, I realized I had a huge passion for marketing and pursued that as a career — although I will always love interior design!
I'm inspired by…
my sister Barbara. At her young age, she's already accomplished so much and I can't wait to see what's next for her. 
The one person who motivates me is…
my boyfriend Michael. He's my biggest supporter and is always there to keep me going. He's also amazing at what he does, motivating me to go after my goals.
If I could change anything in the world, it would be…
to live in a world where everyone is treated equally.
The perfect day would be…
a day in Hawaii with a piña colada in my hand and no responsibilities the next day.
My first job was…
babysitting. I used to babysit my nephew when he was a newborn — and I was eleven years old! (Insert terrified face emoji here)
My favorite escape… 
would be traveling to a new place and trying the local food, while also learning about a new culture.
My life…
is pretty awesome! I'm surrounded by the people I love and I'm very happy with my career. I'm always excited to see what the next chapter will bring for me.
I'm currently working on…
social media content and a couple of fun collaborations for my personal account.
Always…
be kind.
Never…
let anyone dull your sparkle.
Favorite Quote…
"Create the life you can't wait to wake up to."
Biggest Dream…
to have a cute, happy family of my own and a beautiful home.
My Pet Peeve(s)…
messiness and unpunctuality — two things in life that make my eyes twitch!