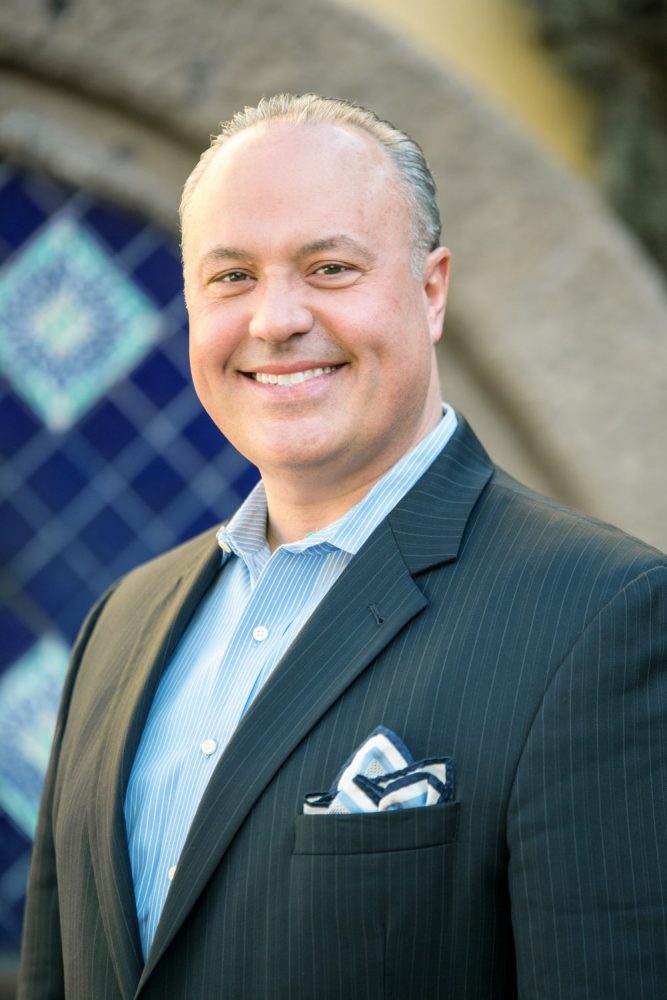 Name: Frank Ashmore
Age: 50
Title: Area Managing Director, Omni Hotels & Resorts
Married/Single: Happily married to Cathy for 26 years
Kids: Nicholas (age 24), Anthony (21) and Rio (Rescue dog 12 – in human years)
City you live in: Scottsdale, Arizona
A typical day in my life includes…
wake-up, read news of the day, walk Rio, kiss Cathy goodbye, call mom on my way to work, do what I can everyday to optimize the service I provide to my associates, my guests and my owner.
I was born…
Detroit, MI (aka, Motown, Hockeytown, The Motor City – pick your fave).
My favorite thing about Arizona…
the smell of the creosote bushes after a fresh rain and the beautiful skies in October.
I'm listening to…
Bruno Mars and Howard Stern.
My family…
is the center of my life.
If I could have dinner with anyone, it would be…
a family reunion with all relatives and generations – in the basement of course!
One thing I cannot live without…
Michigan football – who am I kidding? Anything Michigan – Go Blue!
When I was younger, I wanted to be…
an architect.
I'm inspired by…
my faith and those who are genuinely serve others.
The one person who motivates me is…
my wife Cathy is my best friend and my alter ego.
If I could change anything in the world, it would be…
to create a world where it was inherent for each of us to love and respect the differences we are all entitled to have without ill will towards one another. A world filled with respect, peace and love.
The perfect day would be…
waking up to the sounds of the ocean, a walk on the beach, and an afternoon nap followed by a great bottle of wine and dinner with family and friends. To end the day, lots of great stories, reminiscing and perhaps even a late night euchre game or two.
My first job was…
cleaning a manufacturing facility (sweeping, bathrooms, mopping) when I was 14 years old.
My favorite escape…
spending time at mass with Cathy reflecting on all of our blessings.
My life…
is a gift from God.
I'm currently working on…
setting my personal and professional goals for 2018.
Always…
honor your mother and father.
Never…
lie, cheat or steal.
Favorite Quote…
"If you want to test a man's character give him power." ~ Abraham Lincoln
Biggest Dream…
to leave a lasting impression on the world and with those I love – give meaningful memories to others when defining the "dash" between my year of birth and my death.
My Pet Peeve(s)…
people who are not accountable to themselves and pass the buck or lay blame on others.