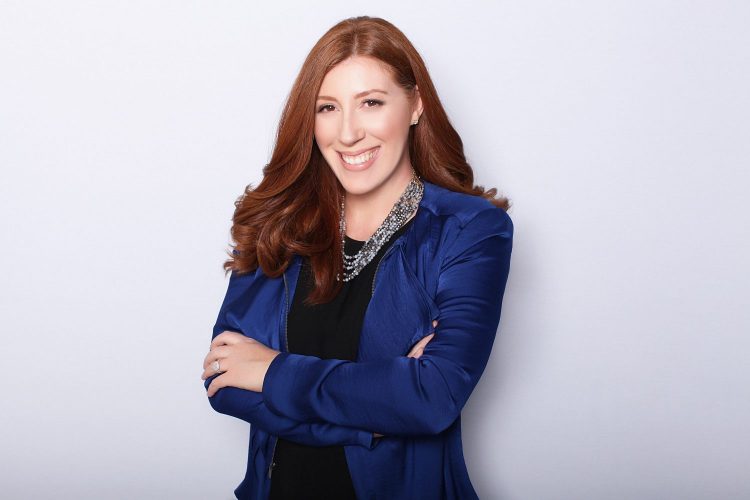 Name: Felicia Taghizadeh
Age: 41
Title: CEO at Arizona Facial Plastics
Married/Single: Married
Kids: Asher, 13; Arden, 10; Atticus 3
City you live in: North Central Phoenix
My day is like…
riding on a merry-go-round where I keep hopping off to address different issues, talk to all kinds of people, and make decisions that range from product selection to accounting to doing a Facebook live video. Most days it is a pretty and fun ride, with good music in the background!
I was born…
in Minnesota, and then left when I was 4. My parents moved us to Cameroon, West Africa and I spent 15 years living in different countries around the world.
My favorite thing about Arizona…
is the blue sky.  I love that about the West—blue sky as far as the eye can see. It's easier to be happy and have a positive outlook on life when it is sunny outside!
I'm listening to…
Billie Eilish. I love her music. And I wonder—how can someone so young have so many dark insights into life? Also, Alec Benjamin, his songs also have relatable lyrics and I love songs that make me reflect on my own life, helping put my blessings and challenges in perspective.
My family…
is my rock. I am very close with my parents and three siblings—we grew up moving around the world, which meant we didn't have friends stay in the same place for very long. We can always count on each other to be there for the good and bad, and to help each other grow. My kids have the funniest personalities, and it is so interesting to see them develop into bigger versions of what they have always been. Nature/Nurture—it's always both! Finally, my husband. He thinks big and sees far into the future, which inspires me to be more and grow because together we bring the ideas to reality.
If I could have dinner with anyone, it would be…
myself 40 years from now. I would sit down with 80-year old Felicia, and hopefully old me would look at now me and smile and say "You did a good job. Smile. Laugh. Find your joy."
One thing I cannot live without…
is meditation. I started meditating in 2009, and I have a fairly regular practice. Through meditation I have an easier time managing all the stresses that come with being a mom of three young kids while owning and growing a business. I have been able to let go of a lot of the guilt that I used to experience about not doing enough on all fronts, and instead now reflect on how much I actually get done, and the impact I have on the people in my life. It helps me see my choices so that, if I don't like an outcome I get, I can make different choices the next time I am faced with a challenge.
When I was younger, I wanted to be…
someone important, a leader. I didn't really know of what, but I wanted to be significant. I've realized over the years that leadership shows in who you are every day, and that significance comes from making a difference in individual lives. Whether I am very well-known or not by the time I die doesn't matter as much as it used to. What matters to me today is making sure that I have as positive an impact on the people I know as possible.
I'm inspired by…
wisdom and spiritual concepts that are universal. For example, I love the concept of "Mudita". Mudita is a Buddhist practice where one experiences joy for another person's happiness. I also love the quote "Blessed is he who prefereth his brother before himself" because it helps me shift my focus to others instead of dwelling on my own issues. Spirituality is an important part of my life and is what inspires me to continually grow and strive to make a difference in people's lives.
The one person who motivates me is…
honestly me. Motivation is internal for me, I have to want to do something and have a reason to do it. Otherwise, I won't waste my time.
If I could change anything in the world, it would be…
oh gosh, where to start? Actually, it would just be how to change my own responses to negative stimuli. Everyone is on a journey, and if I just started waving my wand I would deprive them of their joys and challenges!
The perfect day would be…
waking up to ocean waves, taking a yoga class with my sisters, playing with my kids and their cousins at a pool (I love being by the ocean, just not IN it), having a delicious fresh seafood dinner, and reading an amazing fiction novel. And going to bed at 9pm. I love going to bed early.
My first job was…
working for tips as a coat-check girl at a fancy Italian restaurant in Columbia, Maryland. My mom was a server there. My favorite part was that I could order dinner for free each night that I worked. They had this little Italian grandmother who would come in every day and make these amazing fresh pastas—I still haven't tasted anything as good as hers!
My favorite escape…
is a yoga class. I look for tiny escapes that rejuvenate me, and I have so much fun challenging myself in yoga class. I've been practicing for so long that now I can just laugh when I fall out of a pose, or sit and admire someone who has a really beautiful Warrior B. It takes my mind off almost everything.
My life…
is blessed. I have so many opportunities for personal and professional growth right now, which translates in to "how do I navigate all these challenges with integrity and joy?". I read somewhere that one's blessings equal one's challenges. I was bummed at first, because it is human nature to want the blessings to exceed the challenges. But that hasn't really been my experience, nor most people's I'd imagine—so my opportunity is to focus more on the blessings.
I'm currently working on…
overhauling our social media and launching a customized membership program at Arizona Facial Plastics. Bespoke memberships.  Kidding, that word is overused right now. But they are totally customized membership where we do whatever the individual needs to look their best. Terms and conditions apply 🙂
Always…
be kind and make amends when you aren't.
Never…
make decisions motivated by fear. Unless you are being chased by a wild animal.
Favorite Quote…
"Don't worry if you make waves by being yourself. The moon does it all the time."
Biggest Dream…
to feel as confident as I look.
My Pet Peeve(s)…
people chewing with their mouths open and professional misuse of apostrophes.