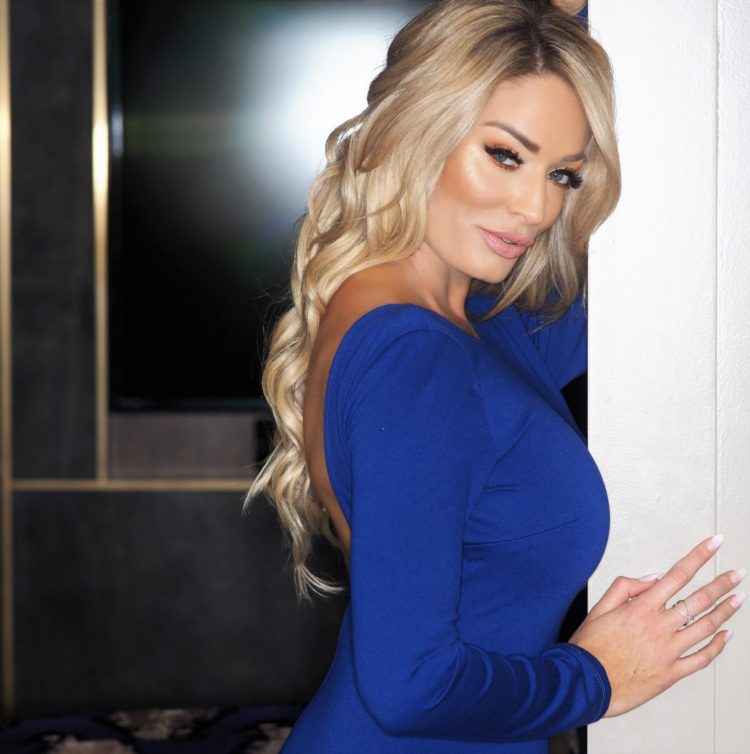 Name: Fawn Cardinale
Age: 34
Title: Sales and Marketing Specialist for Dr. Gingers
Married/Single: Married
Kids: No human children yet, but I have had my 12 year old Pomeranian since he was 6 weeks old and he's been good practice.
City you live in: North Scottsdale
A typical day in my life includes…
wake up, juice my celery, go to work then head to the gym after. I typically end the night catching up on my favorite TV shows with my husband and our two dogs.
I was born…
in Portland, Oregon. I survived the rainy weather for 26 years then packed up my Pomeranian and moved to Arizona.
My favorite thing about Arizona…
the cotton candy sunrises and sunsets. They are truly spectacular.
I'm listening to…
lately I'm loving Alina Baraz and Halsey.
My family…
all lives in Portland, Oregon. Gives me a good excuse to back home and visit the Oregon wineries.
If I could have dinner with anyone, it would be…
Jared Leto. He is truly my favorite artist. I would just want to listen to him talk. He's brilliant.
One thing I cannot live without…
snacks. I'm always starving. Always.
When I was younger, I wanted to be…
a mermaid…but then I chose dentistry because everyone has teeth, so I'll always have a job.
I'm inspired by…
my husband. He's honestly the kindest and happiest person I've ever met. I always wake up laughing and fall asleep laughing. It's a gift to touch people's lives the way he does. I feel very lucky to be his wife.
The one person who motivates me is…
my peers and girlfriends. I'm lucky to be surrounded by awesome girl bosses. My friends are all doing incredible things at different stages of their lives.
If I could change anything in the world, it would be…
that every animal has a loving home. Every animal deserves to be loved, cared for and happy.
The perfect day would be…
being at home with my husband and dogs. We travel often so being at home is wonderful.
My first job was…
the Vanna White of pizzas. I worked in the takeout section of an Italian restaurant. I would open the box and show the customer their order before they took it. One night a man laughed and goes "you're like the Vanna White of pizzas". That was way cooler then takeout girl.
My favorite escape…
Positano, Italy was hands down the most magical place I've been to. The food was exquisite and the people were so kind.
My life…
is going to get cuter! We're adding a new puppy to our home this week. We are so excited to welcome a third dog to our family. My twelve year old Pomeranian Tyson and five year old Labradoodle Jezzebelle will welcome a brand new carmel colored Labradoodle puppy.
I'm currently working on…
learning yoga. I've been lifting weights for five years and never incorporated anything different. So I'm jumping right in and going on a yoga retreat in a few weeks with a group of girlfriends.
Always…
floss.
Never…
throw recyclables in the trash.
Favorite Quote…
"Life is short, smile while you still have teeth".
Biggest Dream…
to continue to travel and see the world. Traveling, culture and meeting new people is such a treasure.
My Pet Peeve(s)…
poor customer service. Pretty much every job requires you to at least be nice to people and so many professions seem to lack that skill.
More about Fawn & Dr. Gingers…
after 16 years as a Clinical Dental Assistant, Fawn decided to start the next chapter in her dental career by joining her longtime employer Dr. Ginger Price, in the Dr.'s start up venture, Dr. Ginger's.
Dr. Ginger's is an all-natural coconut oil based oral care line. After 30+ years of experience as a dentist, Dr. Ginger translated the ancient practice of oil pulling into handy toothpastes, mouthwashes, flosses and whitening pens. The results are oral care products that give you all the natural benefits of coconut oil without the tedious processes, weird tastes or even weirder ingredients found in other brands.