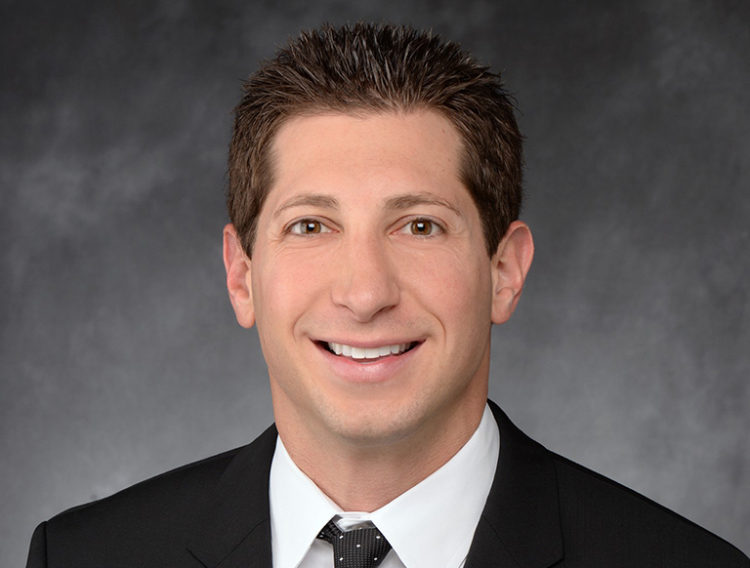 Name: Evan Koplan
Age: 34
Title: First Vice President with CBRE
Married/Single: In a relationship
Kids: No
City you live in: Scottsdale
A typical day in my life includes…
waking up and heading to the gym for about 45 minutes to an hour. Then get home to make breakfast and play with my dog, Tucker the Bouvier. Check emails and get ready for a day at the office and meeting with clients. After a day at work, I come home to take Tucker for a walk then unwind and relax, usually a little TV or reading before I hit the pillow.
I was born…
in Highland Park, IL.
My favorite thing about Arizona…
is its versatility. Arizona offers everything; great weather, hikes, lakes, restaurants, etc.
I'm listening to…
it all! Nothing beats Biggie (period.) but I listen to country, rap/hip-hop, rock, etc.
My family…
is just as crazy as I am. I am lucky to have my older brother Jordan, and younger sister Stephanie.
If I could have dinner with anyone, it would be…
my Dad. I would give anything to sit down at a table with him just one more time to crack jokes and hear him laugh!
One thing I cannot live without…
change.
When I was younger, I wanted to…
be a doctor. I always thought it was extremely rewarding to get people better and save lives.
I'm inspired by…
positivity, perseverance, success, failure, loyalty, change, confidence, balance.
The one person who motivates me is…
can't select just one!
If I could change anything in the world, it would be…
to have a cure for every disease. No person in this world deserves to have their life cut short over any type of disease/sickness.
The perfect day would be…
when no one has to worry about sickness, diseases, cancer, war, violence, hate and money.
My first job was…
a busboy at the Good Egg.
My favorite escape…
is to see my Dad every Sunday. Although, I wish he were still here with us each and every day, it is the time where I can fully relax and clear my head.
My life…
is ever changing.
I'm currently working on…
accelerating my career and finding a cure for blood cancers. Proud candidate for the 2018 Leukemia & Lymphoma Society Man & Women of the Year Campaign!
Always…
push forward.
Never…
be the smartest person in the room.
Favorite Quote…
"Keep trying. Persistence and consistency is the best thing. As long as you keeping it real, and you keep trying, keep banging that wall and it will fall." – Biggie Smalls
Biggest Dream…
as long as I have my family, close friends, health, fun, laughter, a good balance paired with a successful career which allows me to always be on the move, then I would say I am living a pretty big dream!
My Pet Peeve(s)…
when someone clips their nails in the office, when a person sneezes so loud it scares you, being late, people who spend most of their time in the fake world (social media) vs. real life.
More about Evan…
Evan Koplan is a First Vice President with CBRE and specializes in the sale and lease of industrial properties. He has been in commercial real estate for more than 11 years and holds an active SIOR designation. Evan earned his Bachelor of Science degree in Regional Development with a minor in Business Administration from the University of Arizona. Originally from Chicago, he has lived in the valley for 24 years.
Click here to order a Trendsetters reprint.